10 Foods You Should Never Order at Your Mall's Food Court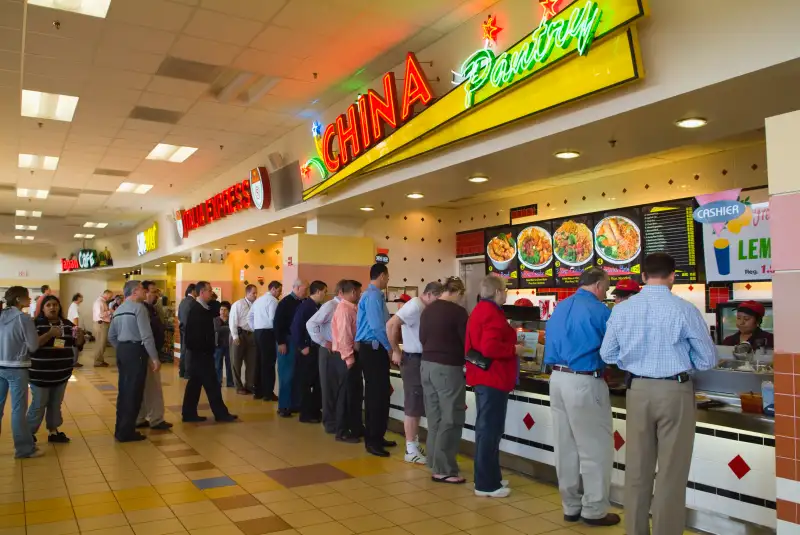 Richard T. Nowitz—Getty Images
Shopping while hungry has its hazards. First of all, if you're at the mall, you'll come home with more stuff. Researchers from the Carlson School of Management at the University of Minnesota analyzed the purchases of 81 department store shoppers and found that those who were hungry bought more items and spent about 64 percent more money than those who weren't famished.
But you'll also likely end up taking in extra calories. That's because the scent of cinnamon rolls or char-broiled burgers can lead you by the nose directly to the mall food court, where you can easily pack half a day's worth—not to mention loads of fat, sodium, and sugars—into a single meal or snack.
Your best defense against shopping on an empty stomach is to have something healthy and satisfying before you leave the house (or stuff a snackinto your backpack). But if you're stranded and starving, there are ways to avoid dietary disaster at the mall food court.
You're not doomed to salads sans dressing either. To help you make smarter choices when hunger strikes, Consumer Reports dietitians scanned the menus at several popular mall food-court chain restaurants and found better alternatives to some dietary don'ts on the menus.
Au Bon Pain
Small swaps at this mall food court eatery can make a big dietary difference. A simple change in salad dressing on the Chicken Caesar Asiago Salad results in a savings of 140 calories and 16 grams of fat.
Craving something sweet? Don't be tricked into thinking muffins are healthy options; most of the time they're essentially cake. In fact, you can have a Double Chocolate Cupcake in place of the Double Chocolate Chunk Muffin for 260 fewer calories and 15 fewer grams (about 4 teaspoons) of sugars.
Auntie Anne's
Pretzels have a reputation for being a low-fat snack, but that's only if you're talking about the ones that come in bags. At Auntie Anne's, these chewy temptations are slathered in butter and rolled in salt—a double-header of nutrition no-nos.
Fortunately, the chain gives you the option of holding the butter and salt, which cuts calories, fat, and sodium. If only dip'll do ya, go for the marinara. The other dips cram extra calories, fat, sodium, or sugars into these twisters.
California Pizza Kitchen
The Quinoa and Arugula Salad With Grilled Chicken sounds healthy, especially when you consider that it's packed with nutritious foods such as quinoa, sun-dried tomatoes, and pine nuts.
But even the half order has too many calories for a single meal and is too high in sugars. Choose the Roasted Veggie Salad with Chicken (half order) and you'll still get a hefty dose of vegetables—artichoke hearts, asparagus, and eggplant, to name a few—with substantially fewer calories and less fat and sugars, along with a little less sodium. To cut calories, fat, and sodium even more, get the dressing on the side and use just a little bit on your salad.It's likely, though, that when you go to a restaurant with "pizza" in its name, you want pizza. Unfortunately, not one Original Hand-Tossed Pizza has less than 1,000 calories, and some have more sodium and almost all the saturated fat you should have in a day. Changing the crust won't help. The thin crust saves only 10 calories per pie, and the whole-wheat crust actually adds 140 calories, 10 grams of fat, and 14 grams of sugars to any pizza. Our advice: split a pie with a friend (or two) and choose the California Veggie pizza. It's one of the options lowest in calories and sodium, and highest in fiber, so having a smaller portion will satisfy your appetite.
Cinnabon
The siren song of the Cinnabon scent makes it nearly impossible to walk by without stopping, and we can swear that the aroma alone must be fattening. So if you find yourself tempted, choose the Churro over the Classic Roll, or the CinnaSweeties instead of the Stix.
Be sure to say no thanks to the frosting cup: it adds 210 calories, 13 grams of fat, 6 grams of saturated fat, 21 grams of sugars, and 120 mg of sodium.
Five Guys
Portion control is the secret to having the burger you crave without going overboard. The "little" options are still a satisfying 6 to 7 ounces, compared with 9 to 11 ounces for the regular-sized burgers.
Forgo the fries, though: A regular order here will set you back 953 calories, 41 grams of fat, and 962 mg of sodium.
Panda Express
You wouldn't expect a beef dish to have the equivalent of 6 teaspoons of sugars (24 grams). Some of the sugars in the Beijing Beef at this mall food-court Chinese restaurant come from the onions and red bell peppers, but it's likely that a fair amount is found in the "sweet-tangy" sauce everything is tossed in. Avoid this beef bomber and choose the Broccoli Beef instead.
The Veggie Spring Rolls are a respectable choice, but the Chicken Potstickers actually edge them out as a better nutritional pick, proving that just because "veggie" is in the name, it doesn't always win the game.
Starbucks
Though turkey breast is a low-calorie, low-fat deli meat, you can't assume all turkey sandwiches are the same nutritionally. We suggest the Smoked Turkey and Swiss Sandwich (Protein Box) over the Turkey Pesto Panini. The ingredients are similar—turkey, cheese, peppers, bread—but there's a big difference in the calories and fat. Plus it comes with apple slices and baby carrots, which are factored into the nutrition numbers.
But how much diet damage can you do if you pop in just for a coffee? It depends. The Caffè Mocha is made with 2 percent milk and comes topped with sweetened whipped cream. Skip the whip and the calories drop to 290, the fat to 8 grams, and the saturated fat to 5 grams. The Skinny is made with nonfat milk, sugar-free syrup, and no whipped cream. These nutritional values are for the 16-ounce Grande; order a Short (8 ounces) and you'll slash the numbers in half.
Subway
Have a hankering for beef? Roast beef is one of the leanest cold cut options. Adding cheddar cheese increases the calories by 55 and the sodium by 95 mg.
Fish is really healthy, right? Not when it's mixed with a load of mayo. You'll get fewer calories and less saturated fat with the Rotisserie-Style Chicken. Plus, all the chicken served at Subway has been raised without antibiotics. In a recent survey from Consumers Union, the policy and mobilization division of Consumer Reports, and other consumer organizations, Subway was one of the 14 fast-food chains out of the top 25 that have made at least some commitment to serving meat raised without antibiotics.
No matter which sandwich you choose, skip condiments if you can—they add lots of sodium and sometimes calories. For example, mustard is practically calorie-free, but you can cut 115 and 120 mg of sodium from the roast beef and chicken sandwiches, respectively if you skip it. Add extra veggies for flavor and moisture instead.
Taco Bell
The Fresco Soft Tacos are on the small side, but you can eat two and still be way better off nutritionally than if you picked—surprisingly—the Fiesta Taco Salad. And the sodium count of the Grilled Stuft Burrito—just about 100 mg shy of your maximum daily allotment—is a good example of why it's best to stay away from food with XXL in its name. We found a hearty alternative—the Beefy Nacho Loaded Griller—that has less sodium, far fewer calories, and much less saturated fat.
TCBY
Sorbet Fizz sounds so light, doesn't it? When you look at the numbers you see it's anything but. The drink is made with sorbet and Sprite. Nutritional information depends on the flavor of sorbet and the serving size; what we used here is the best possible scenario. The counts can rise far higher—up to 610 calories and a whopping 111 grams of sugars. That's 28 teaspoons. Plain sorbet is a far better pick, or if you want something creamy, frozen yogurt is okay—just watch what you top it with.
Consumer Reports has no relationship with any advertisers on this website.
This article originally appeared on ConsumerReports.org.