The 2019 Retail Apocalypse Continues With Another Major Chain Closing All Its Stores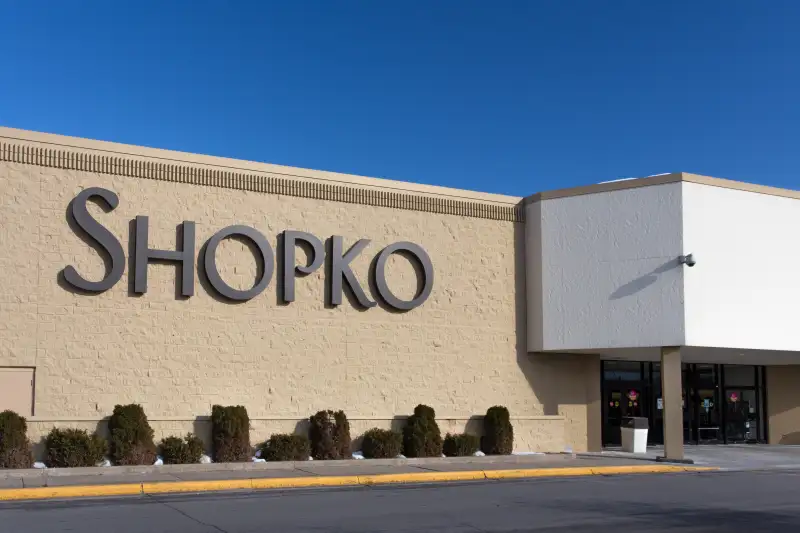 The retail apocalypse strikes again. Major retailers like Payless ShoeSource, Gymboree, and Charlotte Russe have recently announced that they are going out of business and closing all stores, and now another big retail chain is set to disappear in 2019: Shopko, a discount retailer based in Wisconsin that had over 350 stores, will shut down for good by June.
Shopko announced in mid-January it was filing for Chapter 11 bankruptcy and restructuring debt. While trying to stay afloat, the struggling retailer said over the past few months that it would be closing about 250 stores. Yet the plan still called for roughly 120 stores to stay open.
That plan changed as of Monday. Bankruptcy proceedings scheduled an auction of Shopko assets this week. But on Monday the auction was cancelled, and Shopko said it would liquidate all of its assets and close all of its stores by June 2019.
"This is not the outcome that we had hoped for when we started our restructuring efforts," Shopko CEO Russ Steinhorst said in the statement this week, according to the Green Bay Press Gazette. "We want to thank all of our teammates for their hard work and dedication during their time at Shopko."
The first Shopko store opened in 1962 in Green Bay, Wisconsin. The retailer reportedly employed more than 15,000 workers nationwide.
"Shopko is the department store of rural America. And like urban/suburban department stores it's woefully irrelevant," Brian Kelly, president of retail consultancy firm Brian Brands, explained to RetailDive.com at the end of 2018, when Shopko had just announced it was closing a few dozen stores. "Add that to the economic collapse of rural America. [Shopko is] another retailer broken by debt and … caught in the death spiral."
Like so many other retailers, Shopko failed to figure out to stand out and compete against the likes of Amazon and e-retail in general, as well as dollar stores and Walmart. As of Tuesday, anyone heading to the Shopko website found that it was "currently unavailable." It is unclear if and when shoppers may be able to browse and make purchases at Shopko.com ever again. Shopko liquidation sales are expected to launch soon at all remaining stores, if they haven't already begun.
As with other retailer liquidation sales, shoppers should expect mediocre to decent discounts when Shopko going-out-of-business sales begin — with bigger and bigger discounts applied to merchandise as store closure dates draw nearer. Shoppers should expect all Shopko liquidation sales to be final, with no possibility of refunds or exchanges.
While Shopko, Payless, Gymboree, and Charlotte Russe are closing all stores in 2019, many other big retailers are shuttering dozens or even hundreds of stores as they try to navigate the overcrowded, ultra-competitive retail scene today. During one particularly dramatic 24-hour period in early March, J.C. Penney, Gap, and Victoria's Secret announced they would be closing more than 300 stores combined. Sears Holdings, which operates Kmart and its iconic Sears flagship department stores, has also been struggling to survive, and many believe it won't last through 2019.