$209 Created This Office Alcove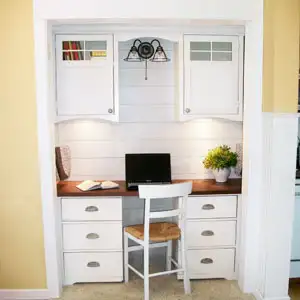 Courtesy of This Old House
Tight quarters often inspire creative solutions. Just ask Carrie Gray, who dreamed up this charming office nook after years of having only a single drawer in which to store supplies and lesson plans for homeschooling her four children.
To create a workspace in their small 1914 bungalow, in Chardon, Ohio, veteran DIYers Carrie and her husband, Mark, cleared out a wide catch-all closet in the family's dining room and cut away the wall beside the door to open up the recess.
Finding the closet's plaster in rough shape and not wanting to invest the time or money for a redo, Mark used a nail gun to attach 6-inch planks of plywood to the walls, ceiling, and floor; then Carrie painted them white. Mark added an area rug underfoot, cut to fit the space.
To make a perfect-size desk from a secondhand dresser, he cut out the middle drawers to create knee room; Carrie painted the base white, and Mark added new cottage-style bin pulls and reattached the top. After wiring in a new sconce, Mark installed two wall cabinets made from old cabinet boxes, leftover lumber, and 100-year-old glass taken from their kitchen in a previous remodel. To finish the nook, he trimmed the opening using leftover plywood, baseboards, and MDF. Now, Carrie says, "It's the one space that I have to myself in the house, and I love it."
Courtesy of This Old House
The Project Tally:
• Removed the closet wall to make an open nook $0
•Covered the walls, ceiling, and floor with plywood cut into planks $60
•Added an area rug underfoot, cut to fit the shape of the space $15
For the fully tally, see the original story at This Old House.