Why the $245,000 Cost of Raising a Child Shouldn't Stop You From Having One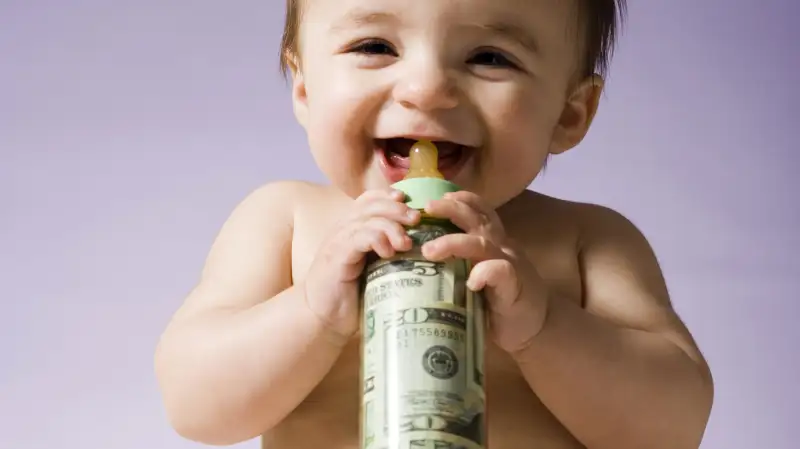 Even if you've got baby fever, new data out today from the U.S. Department of Agriculture could have you reaching for the prophylactics.
For a middle income family (before tax $61,530 to $106,540), a child adds an average $14,970 in annual expenses to the bottom line. And to raise that kiddo born in 2013 to age 18 will cost on average $245,340 in total—up 1.8% from last year.
Yikes.
But before you go telling your honey you have a headache, keep in mind that four million babies are born in the U.S. each year, and most of their parents adjust just fine to the new costs. And if you wait until you feel completely financially ready, you may never realize that bundle of joy.
"Having a child is an exciting but scary step, and money can be a big part of that worry," says financial planner Matt Becker, father of two and founder of the blog Mom and Dad Money. "I wouldn't dive in without considering the financial consequences, but I also wouldn't let them scare you off."
You'll just need to make room for in your budget for baby. These five steps can help you feel secure enough to add to your family.
1. Assess your current expenses. First step, get a handle on how you are currently allocating your income. Mint.com can help you track your spending.
2. Estimate future income. Then consider how your income might change after the baby, says San Diego financial planner Andrew Russell, who's also a dad of two. For example, will you or your partner stay home part time or full time? Will you take any unpaid parental leave?
3. Estimate future expenses. Once you know what your post-baby income will look like, get a rough estimate of the new expenses you will be footing, both one-time (like maternity clothes, hospital costs, car seat, crib) and ongoing (childcare, food and diapers). Becker recommends using Babycenter's child cost calculator.
You'll also want to factor in the cost of basic protections like life and disability insurance, which can help ensure your child will still be provided for if a parent dies prematurely or is seriously injured. "These will add to your monthly budget, but are well worth the cost for the financial security they provide," says Becker.
4. Cut costs. You may find through this exercise that your future expenses with baby exceed your income. If so, look for any fat in your budget to cut out—particularly recurring expenses that require a one-time effort to change like switching to a cheaper cell phone plan, cutting cable, or moving to an area with less expensive rents. Keep in mind that while some of your costs will go up, your entertainment costs—like bar tabs and restaurant bills—will likely go down in the first few years.
And what if, like a lot of Millennials, you have some $20,000 in student loan debts standing in your way? See if you qualify for any loan forgiveness programs. If not, dial back to the minimums. "Obviously this is a big life goal with a certain time frame, and if there is not that much room to cut back on spending, then you need to minimize the amount you pay back on loans," says Russell. "If the debt is too large for you to take a good chunk out of it in the next few years, you're going to have to move forward with it."
While the lower payment will add to your interest over time, the federal tax deduction on student loan interest—if you qualify—will offset some of the cost. Plus, every time you and/or your partner receive pay raises and bonuses, you can funnel that additional income toward the debt.
5. Practice your new budget. Once you've figured out your post-baby budget, start living on it—even before you get pregnant, Becker advises. And put the money you would be spending into a savings account.
Besides helping you see if you can handle the budget, "this helps you build up a savings cushion that will relieve a lot of the financial anxiety that can come with a growing family," says Becker. You will need to plump that cushion before the baby's arrival anyway: With the general rule being to have cash reserves equaling six months of living expenses, you'll need to make sure your emergency fund now reflects all the new costs you'll be covering.
In the end, you might be surprised at how easy it is to adjust your spending. especially when the prize is so sweet.
Related: