28 Must-Try Meals from Around the World That Cost $5 or Less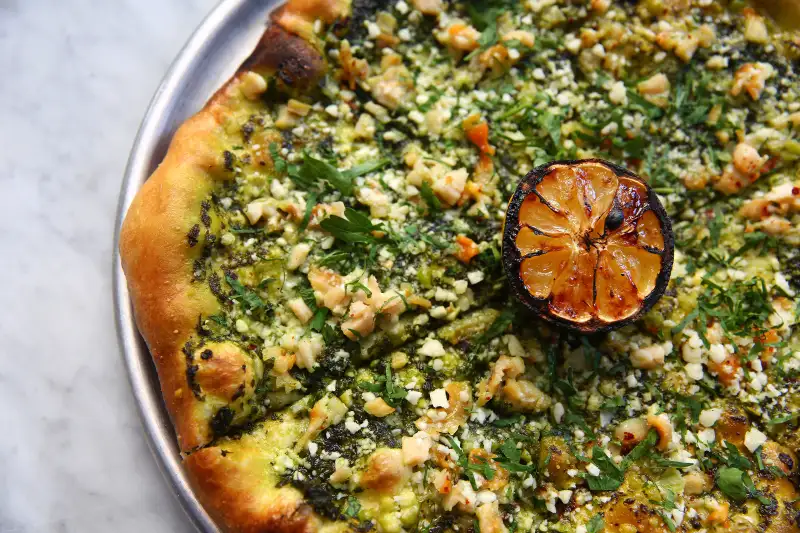 Boston Globe—Boston Globe via Getty Images
Despite the zigzagging American stock market, the developed world is in the midst of a return to luxury. Restaurants in the U.S. are going formal again, posh conglomerates such as Kering SA are roaring back, and air travel has gotten fancier than ever. Those enjoying fat bonuses from 2017 can do some serious shopping.
Yet there are still terrific values when it comes to food. We've tapped local experts to reveal more than two dozen places from 18 global cities that serve destination dishes for less than $5, without a Happy Meal in sight.
---
EUROPE/MIDEAST
LONDON
Lahmacun (Turkish Pizza)
Iskelé, Whitecross Street Market, 13 Whitecross St.
You can pay for a meal in the Iskelé Turkish restaurant, or you can just go to the stall in Whitecross Street Market, which dates back to the 17th century. These days it's a lunchtime food destination, and there is no better value than the lahmacun, a spicy flatbread hot from the grill and topped with lettuce, tomatoes, and pickles, for a little over 3 pounds ($4).
Beigel With Smoked Salmon
Beigel Bake Brick Lane Bakery, 159 Brick Lane
Beigel Bake is so good, it would be popular in any city. But in London, where bagels are not celebrated, this bakery is both a destination and a sensation. There's always a line, day and night, at this 24-hour bakery on a rundown street best known for curry houses. The smoked salmon offering comes with a good amount of fish and a swath of cream cheese for 2 pounds. An oft-told tale has Mariah Carey turning up in a limousine with her entourage and being ordered to the back of the line.
---
AMSTERDAM
(Photo by VI Images via Getty Images)
Bitterballen (Fried Meatballs)
Ballenbar, Foodhallen, Bellamyplein 51
The quintessential Dutch deep-fried treat bitterballen makes an appearance at chef Peter Gast's Michelin-starred 't Schulten Hues restaurant. A budget edition of Gast's ragout-filled balls can be found at Ballenbar in Foodhallen, a Borough Market-inspired indoor food market in a renovated tram depot. The most traditional options are the beef balls: crunchy on the outside, gooey and flavorful on the inside, served with a dollop of grainy Dutch mustard for 3 euros (less than $4).
---
ROME
Allesso di Scottona Sandwich
Mordi e Vai, Mercato di Testaccio Box 15, Via Beniamino Franklin 12E
Retired butcher Sergio Esposito makes sandwiches using family recipes. The alesso di scottana sandwich is comprised of simmered beef brisket sliced up and served with dandelion greens on a ciabatta from Panificio Passi, aka the best bakery in Rome. The bread gets a dip in the brisket cooking juices before it's filled. "This sandwich is ridiculous," pronounces Rome's expert tour guide and cookbook author, Katie Parla. It costs 4 euros.
---
TEL AVIV
Boryka
Shuk HaCarmel Market, HaCarmel St.
In Tel Aviv's busiest marketplace, a lesser known specialty among the fruit stands and displays of baklava is the boryka. A thin sheet of dough fried with an egg in it (think North African spring roll) gets stuffed inside a pita with spicy harrisa and cherchi (a pumpkin and lemon condiment). Cost: 15 shekels, a little more than $4.
---
AMERICAS
SAN FRANCISCO
Clam and Garlic Pizza
Golden Boy Pizza, 542 Green St.
A giant neon sign points the way to Golden Boy, which has been providing North Beach with generous squares (and giant sheets) of Sicilian-style pizza since 1978. The greasy, crisp-bottomed pizza has a variety of toppings including sausage ($3.25), but the more interesting options are the vegetarian pesto or the signature clam pizza topped with a notable amount of garlic.
Chicken Korean Taco
Namu, 1 Market St.
On Thursdays and Saturdays, the team at the modern Korean minded Namu offers a street food menu at the Ferry Building farmer's market. Think stonepot market vegetables and kimchee fried rice with artisan hot dogs. For $3.50 you can get a Korean taco made from seasoned rice, kimchee salsa, and kimchee remoulade and filled with caramelized chicken.
---
NEW YORK
Spicy Cumin Lamb Burger
Xi'an Famous Foods, multiple locations
This no-frills mini chain got recognition when Andrew Zimmern of Bizarre Foods fame shouted out their original stall in the basement of a Queens mall. Xi'an specializes in hand-pulled noodles but one of their best deals is the lamb burger, featuring fall-apart-tender chunks of spicy stewed lamb, heavy on the cumin, wrapped in a doughy flatbread for $4.
Mole Poblano With Chicken Tamale
Factory Tamal, 34 Essex St.
This tiny new storefront on the Lower East Side specializes in one thing: tamales. Owner Fernando Lopez makes the masa, then steams them with fillings like a deeply flavored chile mole with shredded chicken, for $4. For the same price you can also get a bacon and mozzarella cheese tamale, or a breakfast egg sandwich on a brioche bun with his chipotle-spiked special sauce.
Peking Duck Sandwich
Vanessa's Dumpling House, 118 Eldridge St.
The biggest bargain on the menu are the juicy pork and chive fried dumplings ($1.50 for four). But the greatness of Vanessa's, which has outposts in the East Village and Williamsburg, Brooklyn, is their sesame pancake-styled sandwiches, filled with ingredients like kimchee, ham and egg, and roasted pork. The peking duck sandwich moistened with hoisin is superb. (At the Brooklyn outpost, the sandwich is $4.25; it's $3.50 in Chinatown.)
---
LOS ANGELES
Chicken Chivichanga
Sonoratown, 208 E 8th St.
Named for the North Mexican desert region, this stellar little shop in downtown LA has $2 tacos and carne asada cooked over mesquite wood. The Chivichanga boasts two handmade flour tortillas stuffed with shredded chicken, Monterey Jack, Cheddar, blistered tomatoes and chile.
---
SEATTLE
Kalua Pork Tacos
Marination Ma Kai, 1660 Harbor Ave. SW
There are multiple locations of the Hawaiian-styled Marination. The newest is near the Amazon campus; the best is in West Seattle with killer views of the city. Among the $3 tacos are tofu, kalbi beef, and sweet kalua pulled pork, served on two corn tortillas, topped with housemade pickled jalapeños and their signature sauce.
---
TORONTO
Mini Big Mac
416 Snack Bar, 181 Bathurst St.
A globetrotting menu of tapas is the name of the game at this casual restaurant, with dishes that range from Scotch eggs to falafel to pakora (all less than $5). On Sundays, the special is mini-mac sliders: A mini Big Mac with a beef patty, American cheese, mustard, dill pickle, on a seeded bun, that's a stellar version of its namesake.
---
MEXICO CITY
Milanese Cemita (Pueblan-style sandwich)
Ochentaocho, multiple locations
The crunchiness of the bun and generous stuffing of avocados, chipotle, and a Mexican herb called papalo make these sandwich staples from Puebla a new category in contrast to Mexico City's ubiquitous tortas. Choose among options ranging from the basic quesillo (shredded cheese) to a Biscayan style cod panini. The real star is the cemita de Milanesa, stuffed with a breaded, pounded thin veal cutlet for 75 pesos ($3.99).
---
BUENOS AIRES
Argentine White Pizza
El Cuartito, Talcahuano 937
Influenced by generations of Italian immigrants, thick-crusted Argentine pizza is now a Buenos Aires staple. The best in the city is El Cuartito. Since 1934, it's been serving up slices of fugazzeta (white pizza with plenty of gooey cheese and onions), juicy Napolitana, and sausage-based Calabresa in an unassuming venue surrounded with signed posters of boxers, soccer stars, and folklore singers. For a real throwback, order soda in a siphon. Slices start at $1.75.
Sandwich Completo
El Buen Libro, Reconquista 631
Nestled in the middle of Buenos Aires' bustling Microcentro, El Buen Libro fools you with its inconspicuous, convenience store vibe—unless you walk by at lunchtime, when a line goes out the street for its build-your-own sandwichs. In addition to the classic veal Milanesa, a local favorite is the homemade matambre completo sandwich, the Argentine take on cold steak roulade. Top it off with vegetables and condiments and come hungry: portions are large. The Milanesa grande will set you back about $3.
---
LIMA
Menu of the Day
Sabor y Vida, Calle Gral Recavarren 156, Miraflores
The specialty at this hole in the wall is Peruvian-style vegetarian cooking. Potatoes feature in most plates (after all, 4,000 varieties grow in the Andean highlands). The menu of the day, including a starter, main course, dessert, and drink, is an astonishing value at $4, and might include vegetable soup with corn and manioc, Andean lasagna, and freshly made vanilla pudding.
---
ASIA + AUSTRALIA
MELBOURNE
Barbecue Pork Roll
N Lee Bakery, 4/61 Little Collins St.
You can normally spot this place because of the lunchtime line of city workers. The classic Banh Mi pork roll comes complete with fresh coriander, chili and homemade butter with the option of barbecued or crispy fried pork, or pork loaf, salad and a choice of roll baked on premises (wholemeal, multigrain, sourdough). A basic sandwich is A$5 ($3) and costs a bit more with all the trimmings.
Cheese & Spinach Borek
The Borek Shop, Deli Hall, Queen Victoria Market
A tour of Melbourne's 140-year-old market is worth the trip just for the superb, Victorian-era Deli Hall. It's even better if you pick up a Turkish borek for just A$3.50. The ladies can barely keep up, so be prepared to jostle for your fresh, crisp pastry filled with feta and spinach. There's also a tasty spicy lamb for meat lovers or a potato and vegetable option. If you happen to be late and lucky, you might find a 'two for A$5' discount.
---
SINGAPORE
Chicken Rice
Fook Seng GoldenHill Chicken Rice, 37 Jalan Rumah Tinggi #01-431
Nearly everyone in Singapore has an opinion on where to find the best Hainanese chicken rice. This eatery nestled between public housing blocks in the city-state's central district has an especially loyal following. Chef-owner Ronnie Chew gets all the elements of this ubiquitous Singaporean dish working in harmony: the stock-infused rice is fluffy and the chicken moist, with plates from S$3 ($2.30). Pro tip: Balance out the garlicky and savory chili dip with some aromatic minced ginger.
Braised Noodles
Xin Mei Xiang Lor Mee, 51 Old Airport Rd.
Be prepared to wait for a bowl of hearty braised noodles from this stall in Singapore's Old Airport Road food market. Thick yellow noodles, pork belly slices, chunks of fried fish, and a well-seasoned hard-boiled egg are doused in rich, flavorful gravy and finished with a garnish of cilantro and sliced red chiles. Bowls start at S$3.
---
TOKYO
Katsudon (Pork Cutlet)
Katsuya, locations throughout Tokyo and Japan
A freshly fried pork cutlet is simmered with an egg and sweet soy sauce just long enough before it's heaped atop a bowl of rice—the perfect meal, for just 500 yen ($4.64) at any of Katsuya's 345 restaurants around Japan. Normally a higher-priced item that you have to wait for, your katsudon is ready in minutes at this fast-food style franchise. Options abound, including fried shrimp, and an array of condiments.
Nori Toast
Coffee Shop Ace, 3-10-6 Uchikanda, Chiyoda-ku
Japanese coffee shops usually have "one-coin morning sets," breakfast sets with coffee, toast, and sometimes a side of boiled egg and salad, all for a single 500 yen coin. Coffee Shop Ace in Kanda, an area best known for its bars and izakayas, has been around for four decades and is famous for its "nori toast" morning set: buttered, dried seaweed toast plus coffee. It may sound like a strange combination, but the butter and nori gives the toast a nice umami kick.
Napolitan Japanese Spaghetti
Little Koiwai, 1-6-1 Otemachi, Chiyoda-ku; Otemachi Station
Tucked away in an underground shopping alley in the heart Tokyo's financial district, Little Koiwai offers what many locals grew up eating: Japanese-style pasta. Soft-boiled spaghetti fried with bits of onion and green pepper, plus sweet tomato sauce is known as "Napolitan" priced at 540 yen. Other favorites include the soy sauced-flavored "Japone" and cod roe-mixed "tarako." You'll see a long line of Japanese salarymen standing in front of the shop if you go at lunch.
---
SEOUL
Tteokbokki (Stir-Fried Rice Cakes)
Jaws Tteokbokki, multiple locations
This restaurant chain, with outposts that resemble cozy hot-dog stands, serves jaw-dropping, spicy Korean rice cakes soaked in gochujang, the traditional hot pepper paste. A bowl full of the chewy cakes, usually more than a dozen pieces, accompanied by a bowl of oden soup (in a dashi, soy sauce broth) that costs about 3,000 won ($2.80). More adventurous dinners can partake of blood sausage, called soondae, for just a little more.
---
HONG KONG
Black Pepper Pork Buns
Hing Noodles, Shop J Kok Cheung Street, Tai Kok Tsui, Kowloon
This Shanghai-style noodle joint has a small, no frills dining room. But Hing offers sensational little dumplings, or buns. Two pan-fried black pepper pork buns are HK$24 ($3). Don't be fooled by their modest appearance: The buns are hot, pan-fried to order and extra juicy with a good hit of spice. For about the same price, you can get the non-spicy pan-fried BBQ pork buns for HK$22.
Wonton Noodles
Mak Man Kee Noodle Shop, G/F, 51 Parkes Street, Jordan, Kowloon
This cozy, brightly lit noodle place has been around for 60 years. The enduring specialty is the signature wonton noodles: Crinkled, tender dumplings stuffed with shrimp and pork, with eggy ribbon-shaped noodles in a fish-infused broth. A bowl costs about HK$34. Enhance it with a side order of greens.
---
MUMBAI
Masala Dosa with Vegetable Stew
SNDT Churchgate Khau Galli, New Marine Lines-Churchgate
Mumbai is arguably the world capital of cheap eats. It's hard to walk 15 minutes through India's financial hub without finding street hawkers offering samosa, pakora, and other fried gems for pocket change. Seek out this pedestrianized alleyway lined with food stalls, both vegetarian and meat-focused. A fine starter from India's south is the masala dosa, a crisp pancake of fermented lentils with three chutneys. Across the way is the main event, the Lenin Pav Bhaji Center. After five minutes: a stainless steel tray filled with the hearty vegetable stew, pav bhaji, red onions and two pan-seared white-flour rolls drowning in butter to mop up the juices. Finish with fresh pineapple juice. Total cost: 120 rupees ($1.87).
---
Editor's Note: All dishes were below $5at press time, but with the U.S. dollar fluctuating, some prices might change.
"One-coin lunches" for 500 yen are a popular budget option in Tokyo. True, it converts to be a bit more than the rest of this list, but in pricey Tokyo still represents a comparable value.