5 Options to Consider if You're Over $20,000 in Debt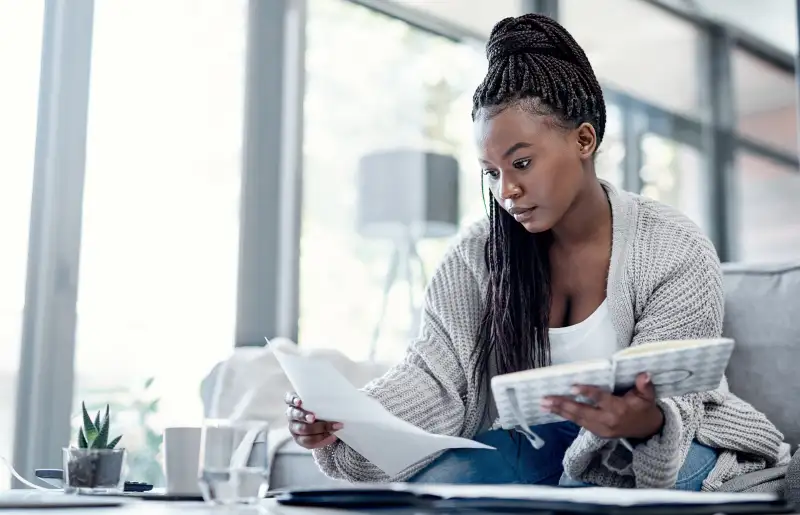 Getty Images/iStockphoto—www.peopleimages.com
Debt can weigh you down and control every choice you make. Even if you make regular payments, it may feel like you're never really making any progress because of the high interest.
Whether you're dealing with credit card debt, car payments, hospital bills, or student loans, there are a number of accredited companies that could help you get out of debt faster, and in some cases, even settle or eliminate your debt altogether.
Below you'll find 5 options to help you get out of $20,000 or more of debt, so you can start your journey toward financial freedom.
1.) Pay no interest on purchases & balance transfers for 15 months (if you have good credit)
Pay no annual fee and earn unlimited 3% cash back on dining, entertainment, popular streaming services, and at grocery stores (excluding superstores like Target and Walmart), plus 1% on all other purchases with the card_name.
Enjoy balance_transfer_intro_apr,balance_transfer_intro_duration and a reg_apr,reg_apr_type APR after that. (Note that there's a 3% fee on the amounts transferred within the first 15 months)
Plus, earn bonus_miles_full.
The rewards won't expire for the life of the account, and there is no cap on how much you can earn.
---
2.) Ask this company to pay off your debt
If you're struggling with high-interest debt and steep minimum payments, you could consider debt consolidation.
To break it down in simple terms, debt consolidation involves rolling multiple debts into one fixed monthly payment and paying it off using a new debt under typically better terms.
A popular option is taking out a debt consolidation loan with a potentially lower APR than what you're currently paying.
Simple Debt Solutions' online platform offers a variety of loan options from lenders that accept a wide range of credit scores. Better yet, checking rates has no impact on your credit.
Simple Debt Solutions has an easy pre-approval process with instant decisions on loans starting at $10,000 up to $100,000, as well as flexible repayment terms based on your budget.
Get an approval decision today
---
3.) Get out of $20,000 or more in credit card debt
Credit card debt can be suffocating and emotionally and physically draining.
If you're drowning in $20,000 or more in credit card debt and unable to make your monthly payments, you could seek the support of a debt relief company to help you get out of debt faster and potentially save you money in the long run.
Freedom Debt Relief's debt experts negotiate with your creditors to get them to agree to settle for less than the full amount you owe, so you can resolve your debt for less and in less time than other debt solutions.
With over 850,000 clients enrolled to date, Freedom Debt Relief has resolved over $15 billion in debt since 2002 and has a 4.6/5 stars rating from Trustpilot.
Get your free debt relief consultation
---
4.) Borrow up to $50,000 to help pay off your debts
Are you looking for some cash to help pay off your credit card debt? A personal loan could help.
Instead of going from lender to lender to find something you qualify for, AmOne will match you with loan options that fit your specific needs in just minutes.
Skip the long and tedious waiting process, and possibly get your funds in as little as 1 day from approval for loans ranging from $2,500 to $50,000 — depending on your credit score.
Just fill out one quick application and they'll show you multiple loan offers all at once. There's no application fee and no minimum credit score needed to apply. Also, checking rates won't affect your credit.
---
5.) Reduce or eliminate your late tax debt
Owing money to the IRS can be stressful and intimidating. If you have more than $10,000 in tax debt, you might be eligible to lower the amount you owe, or eliminate your tax debt completely.
Anthem Tax Services' provides a variety of tax debt resolution options and if you're eligible, could save you up to 99% on tax debt by negotiating or settling your debt with the IRS on your behalf.
Keep in mind that you could approach tax debt resolution on your own; however, a tax relief company may provide the legal knowledge necessary to prepare and position your case, and streamline the process to help you tackle your tax debt faster.
Anthem's tax relief specialists are there to support you through the process every step of the way.
Learn if Anthem Tax Services is right for you
---
Bottom Line
Managing debt can be overwhelming, but understanding how different types of debt relief work is necessary for choosing your best option. It's important to note that each person's financial situation is unique, and what works for one person may not work for another. It may be best to seek the advice of a financial professional or credit counselor to determine the most advantageous course of action when it comes to managing your debt.
The information provided on this page is for educational purposes only and is not intended as financial advice.