7-Eleven Has FREE Slurpees Today for 7/11. Here's How You Can Get One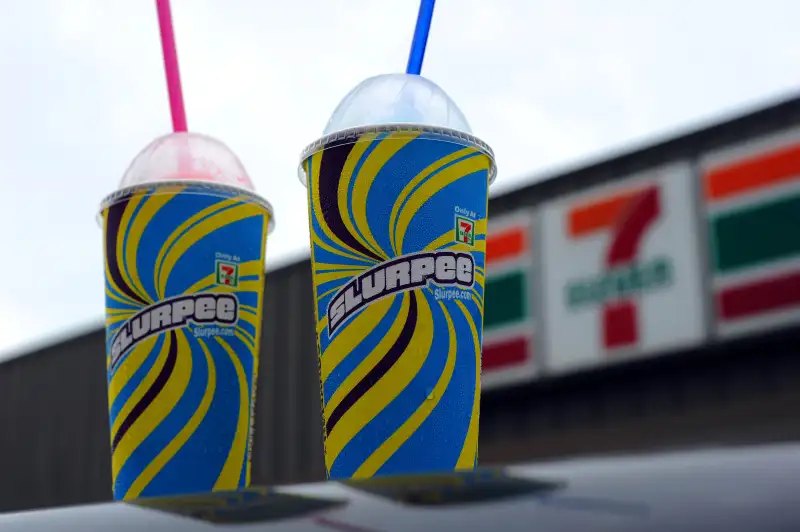 TIM SLOAN—AFP/Getty Images
If you're a fan of 7-Eleven Slurpees, you probably know that July 11 is a very special day: It's 7/11, or 7-Eleven Day, when anybody can pop into one of the convenient store chain's many locations and get a free Slurpee—no purchase required.
7-Eleven has been celebrating 7-Eleven Day by giving out free Slurpees for years. It's the simplest of freebies. All you need to do to snag the deal is show up to a participating 7-Eleven store during the specified time period — between 11 a.m. and 7 p.m., get it? — and help yourself to a free small Slurpee.
Customers can help themselves to any Slurpee flavor, totally for free, including the newest frozen concoction that incorporates an iconic cereal, Cap'n Crunch's Crunch Berries.
7-Eleven says that it expects to give away upwards of nine million free Slurpees on Wednesday, July 11, 2018, in 7-Eleven locations in the U.S. and beyond.
After everyone gets free Slurpees on Wednesday, 7-Eleven is hosting seven more days of deals — and these offers are only available for members of the company's 7Rewards loyalty program. What's more, all of the deals after the big free Slurpee day require some other purchase before customers get anything "free."
The following deals will pop up in members' 7Rewards app, on the specified day:
• Thursday, July 12: Free 7-Select Pure water with purchase of a BODYARMOR sports drink
• Friday, July 13: Free Big Gulp fountain drink with purchase of a share-size Snickers candy bar
• Saturday, July 14: Free 7-Select popcorn with purchase of a 20-ounce Smartwater
• Sunday, July 15: Free single-size Reese's candy with purchase of a share-size bag of 7-Select Gummies
• Monday, July 16: Free 20-ounce Coca-Cola with purchase of any flavor Cheez-It baked snack crackers
• Tuesday, July 17: Free single-serve bag of 7-Select chips with purchase of any fresh sandwich
• Wednesday, July 18: Free single-serve 7-Select tortilla chips with purchase of any 7-Select nuts