8 Ways to Make Your Home a Staycation Paradise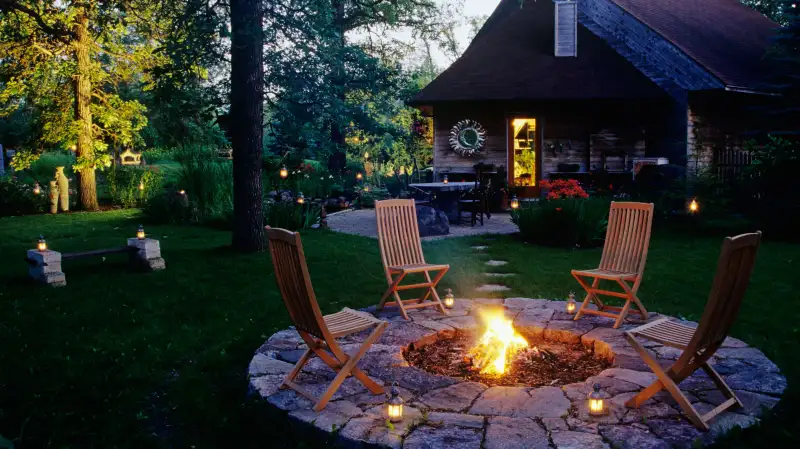 Longing to escape? Summertime entertainment and relaxation doesn't have to mean taking a trip away from home. The most enjoyable outdoor retreats incorporate basic, and familiar, elements: earth (landscaping, container gardens), water (fountains, swimming pools), and fire (firepit, candles). Add to that quality outdoor furniture, some fun elements and thoughtful design, and your deck, balcony, porch, or patio can easily become a destination. Designing outdoor entertaining areas in your home takes a bit of planning, but these tips can help turn your basic backyard into a staycation paradise.
Before you begin, be sure your outdoor areas are safe and in good condition. Call a decking contractor if you feel your deck might need reinforcement or repair. Cracks in the patio can be hazardous; fill them in or replace the damaged sections. Prepping your outdoor area is no different than preparing your interior rooms. Start with a good clean slate you can enjoy all summer long.
1. Establish your entertaining zones
Maximize your outdoor space by setting up specific zones or areas. Think of your outside space like the inside of your home: Do you want space for cooking and eating as well as a bar? Do you want special seating for lounging or hosting guests? Do you want everyone to face a particular view? Even if your outdoor area is small, you can still create various "zones" by arranging the furniture or containers. Help define the different areas by adding outdoor throw rugs, using containers as "room" dividers, or letting an arbor or gazebo create a separate space. Don't forget that even the farthest areas can be focal points. A distant tree is a perfect place for a bench, a small hill can be a spot for a birdbath.
Pro tip: Even the smallest of outdoor spaces can have zones. If you only have a small balcony, consider creating good transition spaces from the indoor to outdoor areas. If you want to grill on the deck but need to eat inside, make sure that the transition between the two feels connected. Or simply reserve the balcony for a cozy post-dinner spot.
2. Give the eye a place to rest
Not every home has a million-dollar view, but even an undesirable background can be made to feel pretty. Looking at natural greenery and giving our eyes a chance to rest upon nature is a great way to make a space feel larger. Arrange your outdoor zones so that guests face a trellis "wall" of ivy or fast-growing bamboo. Or add a small fountain, birdbath or pretty ceramic container as a focal point. Tall objects, like trees, arbors or fences, make the eye travel upwards, creating a larger sense of space.
Pro tip: If your space allows, think about arranging your outdoor furniture zones around focal points. For example, lounge chairs could be grouped around a fire pit, or the dining table could be placed so that the guests view a beautiful tree or outdoor swing.
3. Maximize usable space
Clear and trim away low hanging branches to open up the view, sweep away leftover spring debris, power-wash hard surfaces, and organize storage areas. Not only will cleaning and clearing the outdoor space make it usable, it will make it safer to walk around and play outside, even when the sun goes down (related: Power Washing Columbus). Make sure to leave enough room around high traffic areas like doorways and grills. If you've been thinking about extending the patio with paving stones, call in an expert to level the area and add drainage. Now is the time to make your outdoor areas available for entertaining and fun!
Pro tip: Landscaping crews can be hired to do a summertime cleanup of your yard, including power washing, trimming and hauling away debris. You can also ask neighbors to organize a front yard clean-up event so that the whole neighborhood benefits from an upgrade.
Related: Make a Landscaping Budget You Can Stick To
4. Add color to create movement
Believe it or not, as our eyes travel around a space, the mind is tricked into thinking that the space is larger than it is. Create a larger-than-life entertaining area by adding pops of color that force the eye to travel throughout the yard. A collection of flowers in colorful containers, decorative pillows on the seating, or strategically placed garden whimsey will create movement as well as style. Whether you prefer a monochromatic color scheme or want a multi-hued yard, variation creates movement and depth that will make the area feel spacious and retreat-like.
Pro tip: Having trouble choosing outdoor colors? Head to your closet! We tend to wear colors we love so if you gravitate towards blues or purples, consider adding those hues to the yard. Warmer tones like red, orange or pink also coordinate well with lots of greenery.
5. Play interior decorator
The most desirable outdoor spaces look and feel as though a professional designed them. Many professionals like landscape designers, interior designers, and even home stagers, can be hired for a consultation. Their advice might be just the help you need to get your outdoor retreat started. If you want to DIY this project, much of this work can be achieved by simply taking the time to think about your outdoor space as you do your indoor space. If your outdoor space is subject to the elements, start with high-quality outdoor furniture that is designed to last, and purchase a fitted protective cover. If you like to change your colors each season, purchase cushions from a source that will allow you to buy covers separately – this way you can be assured of a good fit from summer to summer. Don't be afraid of adding patterns or colors; the expansive sky outside allows a lot of room for bold designs.
Pro tip: The best time to find trendy outdoor decor is in the spring. But even old pieces can be given new life with a fresh coat of paint. Scrub away moss and dirt and be sure to use spray paint in a well ventilated area. Experiment with stencils or painter's tape to create unique designs from season to season.
6. Bring inside elements out
Anytime you can bring your favorite indoor designs outside, it creates an environment that feels tailor-made and unique. Adding an outdoor chandelier, laying down an outdoor-safe rug, or setting the table with quality linens and real silverware will help make your outdoor space feel inviting. Outdoor buffet tables or console tables are not only functional, they make outdoor entertaining easy and the space feel customized.
Pro tip: Do not use an indoor-rated lamp outside. It's not sealed against moisture and may corrode, possibly causing electrical hazards. Outdoor-rated pendants are easy to find. Keep in mind you can always spray paint to the desired color or use a candle chandelier for added elegance.
7. Just add water and fire
A true destination not only allows us to escape, it draws us in and makes us feel welcome. Both fire and water elements instantly transform an outdoor space into something really exclusive. People have always gathered around a fire for warmth, safety and food. Large outdoor fireplaces or small tabletop versions create an immediate gravitational pull. Candles or outdoor string lighting can help create a similar ambience. Group them en masse to create a stronger affect. Similarly, not every outdoor space can have a swimming pool, water feature, or pond. But a bubbling water fountain can be a great substitute and can be found in a variety of sizes and prices.
Pro tip: It's easy to build your own water feature. You'll need a container or receptacle that can hold water as well as a small pump (like this submersible pond pump, available for $15). Decorate the water feature with water plants, rocks or water-safe pond lights. You'll need to place the fountain close to an exterior outlet and be sure to add anti-mosquito drops to the fountain to keep it bug-free.
8. Mimic your favorite vacation spot
If you desire a true paradise in your own backyard, go ahead and add elements that remind you of your favorite retreats. Love the beach? A grass umbrella, beach chair, fluffy towels and seashells can make you feel like you've escaped. Is your ideal vacation filled with quiet reading time while submersed in nature? Style a cozy reading nook next to a bubbling water fountain and scented plants like rosemary or lavender. Adding reminders of your favorite hotel or vacation spots can help you extend your holiday time without leaving the home.
Pro tip: Want to incorporate elements of your favorite hotel or spa? Make a list of the top 10 items that remind you of that place: the scenery, the scents, the view, the colors, particular designs…you can probably find replicas of these pieces and add them to your outdoor area.
More from Porch:
Who Builds More Decks: Boston or Dallas?
Tiny Yard? Best Tips for Creating a Big Garden
Anne Reagan is the editor-in-chief of home improvement website Porch.com.