Why Abercrombie & Fitch's Stock Just Dropped 21%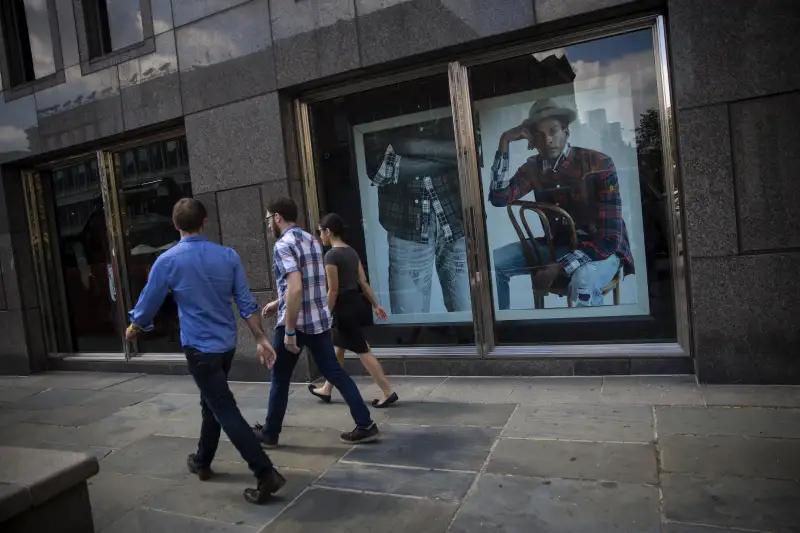 Bloomberg via Getty Images
Teen apparel retailer Abercrombie & Fitch Co posted its 14th straight quarter of declining sales and said it no longer expects comparable sales to improve this year, highlighting its struggles to win back shoppers.
The retailer's shares tumbled nearly 21% on Tuesday, set for their biggest one-day percentage drop since 2001.
Abercrombie and other retailers have struggled to compete with the trendier and often cheaper products at fast-fashion retailers such as H&M and Inditex's Zara as well as with online and off-price retailers.
To win back shoppers, Abercrombie is investing heavily in its online business and on remodeling stores, and closing underperforming stores. It has hired designers from top brands to keep its trends fresh and is selling fewer of its once-popular logo-centric designs.
Still, Abercrombie's comparable sales fell a slightly steeper-than-expected 4% in the second quarter, due to lower traffic, including from tourists, at its flagship stores and fashion missteps in women's tops.
"Comparable sales (will) remain challenging through the second half of the year, with a disproportionate effect from flagship and tourist locations," Abercrombie said.
Read More: Why Women are Shopping Less for New Clothes
The retailer had, in May, forecast comparable sales would improve later this year as its product assortment improved and investments in marketing and store management paid off.
Abercrombie's remodeled Hollister stores had been nursing the brand back to health. It remodeled 32 Hollister stores in the second quarter and plans to revamp 20 more this year.
The company also said it was working on a new A&F store prototype, hoping to replicate its success with Hollister.
While, Abercrombie's cost of sales, and stores and marketing expenses dipped, it was not enough to offset the drop in sales.
Gross margin dropped 140 basis points to 60.9%, also hurt by the weaker pound following Britain's vote to leave the European Union in June. Margins are expected to fall in the current quarter as well.
Abercrombie said there were "minor disruptions" in traffic and sales over the weekend of the Brexit vote. The UK is the company's biggest market by store count after the United States.
The net loss attributable to Abercrombie increased in the quarter. Its adjusted loss of 25 cents per share was bigger than analysts average estimate of 20 cents, according to Thomson Reuters I/B/E/S.
Net sales fell 4.2% to $783.2 million, beating analysts' estimates of $782.7 million, in part helped by strong growth in its online business and an uptick in its European business.