Can We Fix the Affordable Housing Crisis With Empty Office Buildings?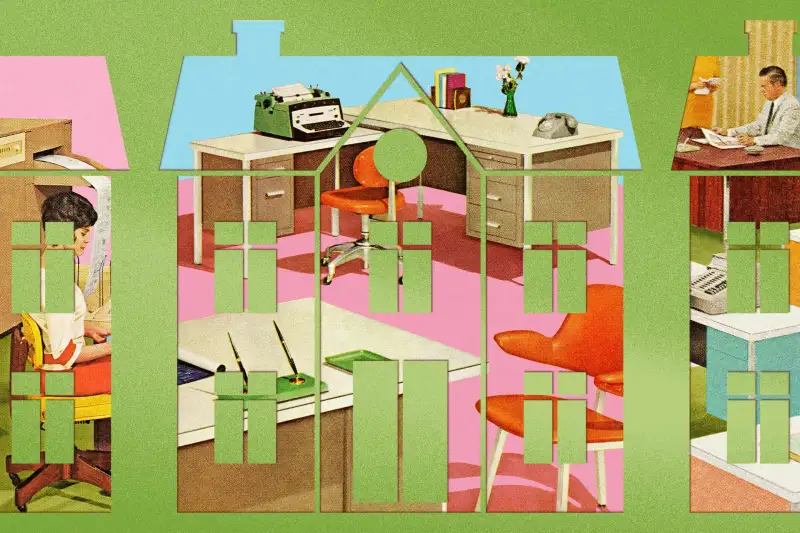 Olive Burd / Money; Getty Images
This is an excerpt from Money Moves, a weekly newsletter where real estate editor Leslie Cook writes about issues affecting today's homeowners, buyers and revelers. (Plus some of the wildest homes on the market.) Don't miss the next issue! Sign up at money.com/subscribe and join our community of 60,000+ real estate nerds.
There's been a lot of buzz lately about converting vacant — or nearly vacant — commercial buildings into residential apartments. The idea is to kill two birds with one stone: Remote work has left a lot of property owners with a lot of empty office space (and a lot of bills to pay) and the housing market is suffering from an acute lack of available homes. Why not marry the two and see what comes out of it?
Last month, the mayor of New York City, Eric Adams, outlined a proposal that would make office-to-housing conversion easier. The program would facilitate expedited construction approvals and zoning changes, creating more residential space like single-family homes and supportive housing in the process.
The Big Apple isn't the only city eyeing this type of retrofit: San Francisco, Chicago and a few other major cities have already started to convert their own commercial spaces into housing. And the extra inventory is more than welcome.
In New York City, for one, there's a shortfall of about 100,000 housing units, according to Ran Eliasaf, founder and managing partner of real estate private equity firm Northwind Group. Converting office space into apartments could add between 15,000 and 20,000 new residential areas to the city — not enough to solve the local inventory shortage entirely, but a good step in the right direction.
There are other potential benefits to these programs, says Jeffrey Havsy, commercial real estate industry practice lead at Moody's Analytics.
Done right, office-to-home conversions could help revitalize neighborhoods that, in the absence of 9 to 5 foot traffic, are in danger of falling into disrepair. With more people living in an area, more retail businesses like supermarkets, restaurants and shops will likely follow.
"All of a sudden, the area that might have been on its way to being blighted because no one is going into that office anymore. . . starts to thrive," he says.
Repurposing old office buildings makes sense from an environmental perspective, too, Havsy says. Manufacturing new concrete is expensive, and creates significant amounts of gasses like carbon dioxide that contribute to climate change.
Of course, there are some obstacles.
Purchasing a vacant (or nearly vacant) building costs millions of dollars. Renovating it into a liveable building costs millions more. To offset the financial risk involved, developers will need incentives, such as generous tax abatements, "for these projects to really make sense economically," Eliasaf says.
The reality is that any developer undertaking a project like this will want to make sure it's profitable. In all likelihood, most of the homes built under these initiatives will be luxury apartments, not affordable housing.
"The math makes it challenging," Havsy says.
Another barrier is the fact that only a few former office buildings have a suitable footprint for this kind of retrofit.
Think of the challenge, for instance, of turning an entire office high-rise with dozens of floors, each outfitted with a communal bathroom in the center of the floor plan, into individual units. Converting these spaces into individual units means installing individual plumbing, ventilation and light systems — all while maintaining the structural integrity of the building's steel frame.
"Conversions are complex, and not every investor or developer can execute on this strategy," says Joey Chilelli, managing director of real estate investment firm Vanbarton Group.
Still, under the right circumstances, repurposing an older building takes less time than starting a new construction from scratch, and the "vibrancy" of adding new living spaces to a neighborhood "will undoubtedly have a positive impact," Chilelli says.
More from Money:
Want to Buy a Home in This Market? You Might Have to Build It Yourself
How Airbnb 'Bans' Could Affect Your Local Housing Market