America's Lowest-Price Supermarket Is Finally Accepting Credit Cards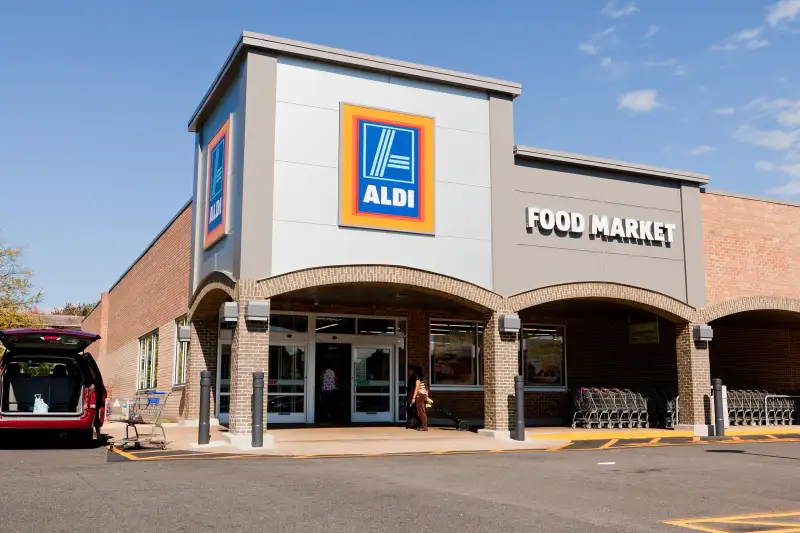 Aldi, the no-frills, lower-priced sibling to Trader Joe's that has been expanding rapidly in the U.S., is not your average supermarket. The quirks of shopping at Aldi include relatively small stores, few brand names on the shelves, minimal staffing, and shopping carts that only work if you place a quarter in a slot.
All of the policies above help Aldi keep costs down, making it possible for stores to offer grocery prices that are routinely cited by consumers as the best values throughout the industry.
One of Aldi's other cost-cutting quirks—and, plainly, a hassle for many shoppers—was that the only forms of payment accepted in U.S. have been cash and debit cards. Credit cards, you see, come with high processing fees, so Aldi refused to accept them.
This policy is gone as of March 1, however. Aldi just announced that all U.S. stores now accept credit cards as payment—your choice of Visa, MasterCard, Discover, or American Express. To some degree, the move is a matter of self-interest as much as it is pleasing customers eager to pile up credit card loyalty points and enjoy the convenience of using whatever plastic they have on hand. After all, consumers tend to spend more when using credit cards as opposed to cash or debit.
Read next: 7 Emerging Low-Cost Supermarkets That'll Save You Big Money on Groceries
The move to accept credit cards comes in the same month that Aldi is opening its first stores in a major new market, southern California. By the end of 2018, Aldi expects to be operating almost 2,000 stores in the U.S., up from around 1,200 in 2013.
If there's no Aldi in your neighborhood (or even if there is), check out these 29 ways to save hundreds on groceries.