Four Theories on What Jeff Bezos and Amazon Are Really Up To
Money is not a client of any investment adviser featured on this page. The information provided on this page is for educational purposes only and is not intended as investment advice. Money does not offer advisory services.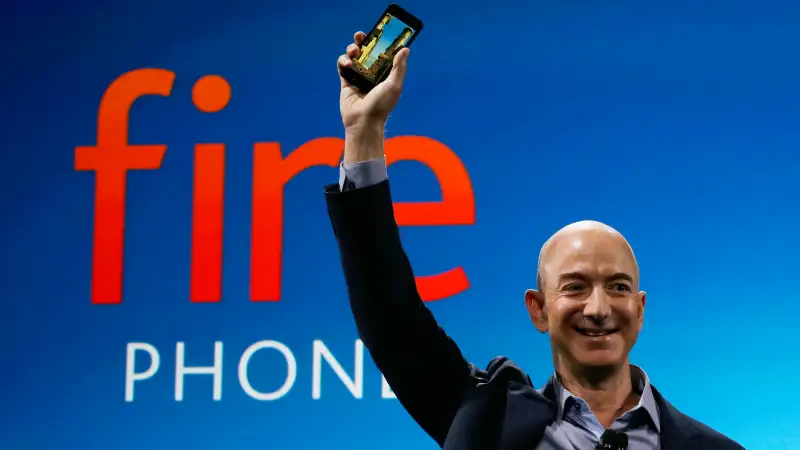 The big question was never what Amazon.com would unveil on Wednesday. Most observers knew it was the company's first smartphone, called the Fire Phone — the first smartphone on the market with a 3D display.
No, the real question is: What is CEO Jeff Bezos' endgame?
Why does this online retailer, which has recently branched out into tablet computers and flying delivery drones, want to inch its way into the crowded smartphone space that Apple and Samsung, two bigger companies with much deeper pockets, already dominate?
Theories abound, but here are the contenders:
Theory #1: Bezos wants to be king of all media — and advertising.
Most observers regard Amazon as either a retailer or an up-and-coming player in tech, thanks to its Kindle tablets and cloud computing service. But people forget the company's roots are really in media — Amazon started out as a book seller with Bezos working out of a rented garage.
Big recent moves reinforce the notion that the company wants to dominate this space. Last week, Amazon launched a streaming music service that will compete with the likes of Spotify and Beats Music, which Apple just acquired.
The service will be offered free to Amazon Prime subscribers who pay $99 a year to get unlimited two-day shipping from the retailer. Those Prime members already get access to Amazon's streaming video service that competes directly with Netflix . (Like Netflix, Amazon has also begun to produce its own original content, like the show Alpha House, starring John Goodman).
Just as Kindles are starting to perk up Amazon's overall media sales — on a quarterly basis, sales of video, books and other content are now growing 21%, up from 15% in 2012 — a smartphone would surely help boost streaming music.
Of course, you might be asking: Isn't the media industry maturing? So why would Amazon want to double down on this business?
Well, it's not just the content that Amazon desires — it's the ability to sell online advertising against that content and on Amazon-controlled devices, which now includes a smartphone.
Jay Greene of The Seattle Times writes that while Google and Facebook get all the attention for their potential to attract online advertisers, the data that Amazon has on "its 237 million active customer accounts...puts Google to shame." He's right. While Google and Facebook can tell advertisers what its customers like, Amazon can tell them what they actually buy...and when...and how frequently...and to a certain extent why.
By some estimates, Amazon will pull in close to $1 billion in online ads this year, which would put it well ahead of online advertising darlings such as Twitter and LinkedIn .
Theory #2: Bezos wants to be king of tech.
So what if Amazon started life as a retailer? If anything, Bezos knows how to adapt.
And he knows that the profit margins for technology companies far exceed those for retailers.
Amazon stumbled into being a tech company in a variety of ways. For instance, the servers and computing capacity needed to power Amazon.com's retail operations early on gave birth to Amazon Web Services. That's the company's cloud computing business, which recently won a major contract from the CIA, beating out rival IBM, the mother of all tech services firms.
Meanwhile, the Kindle was developed as a vehicle to boost online book sales. And the company, which is constantly looking for ways to speed up delivery, recently purchased Kiva Systems, which makes robots that help automate and speed up the packing process at warehouses. Janney Montgomery Scott analyst Shawne Milne notes that Bezos wants "to significantly ramp the implementation of Kiva's robots within Amazon's fulfillment centers from 1,000 currently to 10,000 by the end of the year." Milne says this technology could eventually end up saving the company anywhere from $450 million to $900 million a year in costs.
Okay, Amazon will have the cloud and warehouse robot markets cornered. How will this help the company compete in the saturated smartphone space?
It should be noted that critics raised similar concerns about tablets, yet the Kindle has been able to carve out roughly 7% to 8% share in this difficult space, which in turn has boosted Amazon's digital media sales. Not only that, analysts believe that the larger Amazon eco-system that the Kindle has promoted now accounts for up to $8 billion in revenue for the company.
Besides, Amazon does not need to be the top dog in smartphones for this move to pay off. For instance, if the company were able to seize just 1% of that portion of the smartphone market that uses Google's Android platform, that could lead to $1 billion to $1.5 billion in annual revenues, according to Janney Montgomery Scott. If Amazon managed to grab a mere 3% of the Android market, it could add nearly $5 billion in sales at a time when Wall Street is starting to question Amazon's potential growth rate.
Theory #3: Bezos wants to be king of all distribution.
Amazon isn't a retailer as much as it is a transactor.
For instance, Amazon created a platform and marketplace that allows the company to process transactions for tens of thousands of small businesses. Rather than viewing these mom-and-pop shops as competitors, Amazon offers its services to them in exchange for a cut of each purchase. So anytime a retail transaction is made online, there's now an even better chance that Amazon will profit from it. Edward Jones analyst Josh Olson describes the company's global distribution network as a "real moat" that gives the company a competitive edge.
The same principle works for cloud computing, where Amazon is happy to distribute server capacity to competitors such as Netflix in exchange for a fee. Therefore, whether its rival grows or shrinks, Amazon wins.
The strategy also applies to the new online payment service that Amazon launched this month, which will compete with eBay's Paypal. And the same goes for AmazonSupply, a B2B site that Amazon is quietly building to get a cut of the $7 trillion market for supplying businesses.
And ditto for smartphones, which are devices that will allow Amazon to process millions of new transactions -- be it for digital content or general merchandise.
Theory #4: Bezos is trying to buy time.
Think of it as a big shell game. While Bezos is on stage trying to dazzle you with a 3D smartphone, or with a new streaming music business, he wants investors not to focus on where the ball actually is.
And right now, the metaphoric ball is Amazon's nearly non-existent profit margin. For instance, take a look at Amazon's profit margin versus that of rival Apple:
AMZN Profit Margin (Quarterly) data by YCharts
For years, Wall Street was content to bid the stock higher — despite the fact that the company barely turns a profit — as long as revenues soared. The belief was that near-term profits weren't the point with a company like Amazon, which has been dutifully spending money to build out the necessary infrastructure to make Bezos' long-term plans work.
AMZN Profit Margin (Annual) data by YCharts
Last year, though, the company earned just $274 million off of revenues of nearly $75 billion. Investors have started losing patience, as seen by the performance of Amazon shares.
Earlier this year, Colin Gillis, an analyst with the brokerage BGC Partners, even raised the question: "Is Amazon losing its status as a growth stock?"
For Bezos, then, this flashy foray into smartphones may be a way to distract investors from the realization that it may take years for Amazon to convert its revenues into real profits.
Amazon shares trade at a price/earnings ratio of nearly 500, based on the past 12 months of actual profits. While Wall Street may tolerate that in a fast-growing tech company, they won't in a barely profitable retailer.
So, smartly, Bezos is choosing to play the tech card — at least until the retail profits materialize.