Here's Your Supermarket's Best Hope for Surviving Amazon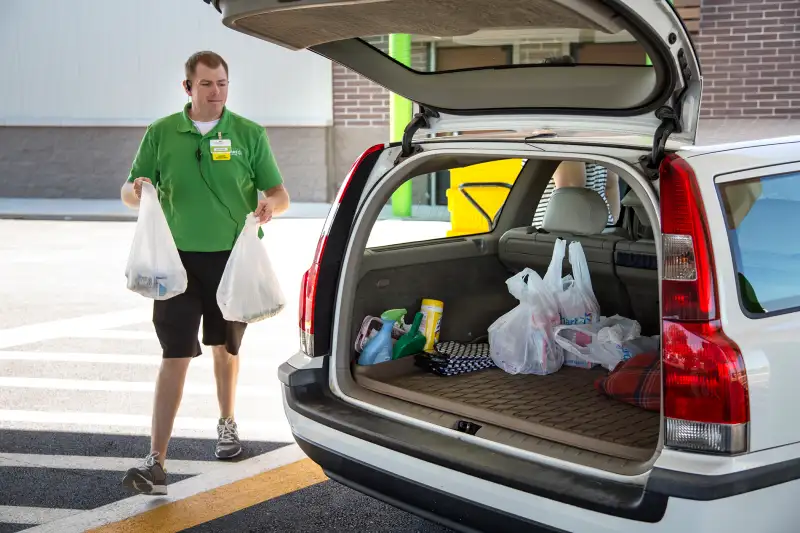 Amazon.com is known as "The Everything Store," and there is no shortage of indications that the company is indeed on the path to dominating nearly every category of retail sales.
The disappointing sales results from retailers like Toys R Us, Staples, and Barnes & Noble are regularly blamed on their inability to compete effectively with Amazon. Amazon has quietly but dramatically expanded its clothing selection as well, to the point that it's expected to be America's biggest seller of apparel as soon as next year.
Naturally, industry analysts view the closures of hundreds of Macy's, Sears, Gap, and Ralph Lauren stores as a consequence of Amazon's impact on the marketplace. For that matter, Amazon is cited as the main reason for the broad retail slump at brick-and-mortar stores across the country, and for the forecast predicting that one-third of America's malls will shut down or be seriously struggling in the near future.
One shopping category that isn't getting obliterated by the Amazon Effect—at least not yet—is the neighborhood supermarket. For instance, strong grocery sales have been cited as a big reason why Walmart posted solid first quarter results recently. But what with Amazon's broad push into the grocery space, including an expansion of private food labels, it seems like only a matter of time before The Everything Store becomes the go-to outlet for food shoppers as well.
Naturally, grocery sellers have been increasing options for online food shopping as a way to cope with Amazon's push into the category. Walmart recently began partnering with Uber and Lyft drivers for grocery delivery, and many other supermarket brands are testing online grocery services or working with startups that handle such operations. Jet.com, the upstart e-retailer that prides itself for having the lowest prices anywhere, has begun selling groceries as well in a few markets.
But competing head-to-head with Amazon in the grocery delivery business may not be wise—or even necessary. Instead, supermarkets seem in a much better position to compete with Amazon by employing the so-called "click and collect" model, in which the shopper places an order online and picks it up curbside at the store. It's also known as BOPIS (buy online, pick up in store), and the service features the speed and convenience of online shopping with the flexibility many shoppers want: There's no need to be home waiting for a grocery order to arrive, and consumers picking items up at the store can scoot inside for something they forgot, or even ask for an exchange if the loaf of bread or bag of apples brought out to the car doesn't look up to snuff.
Read Next: 12 Things Americans Are Suddenly Buying More Than Ever
Walmart, which has been adding grocery pickup as a service in markets around the country, says that shoppers prefer the option to home delivery. As the Cincinnati Enquirer reported this week, Kroger, another huge food seller, is "aggressively expanding" its own grocery pickup service called ClickList, which costs $4.95 per pickup. The service is being added to dozens of the company's flagship brand stores in Ohio and Arkansas and its Dillons stores in Kansas, among many other locations.
"Most of our customers tell us that picking it up is just as handy as having it delivered to their home," Kroger CEO Rodney McMullen told the Enquirer. "The reason is they get to decide when they pick it up – where when you deliver to somebody's home they have to be there. Some customers like it [home delivery] but it's not as many as you think… Customers like the flexibility."
What's especially interesting is that, despite the potential of Amazon to put supermarkets around the country out of business, the company may not be particularly interested in selling groceries. It's traditionally a low-margin retail category, and the costs and problems companies encounter with the storing and shipping of products that can go bad or easily be damaged can be prohibitive.
Read Next: 10 Great Freebie Days to Look Out for This Summer
Even so, Amazon apparently feels compelled with make inroads with grocery shoppers because it wants to be the place where consumers buy everything. The goal may not be to profit from groceries. Instead, "I think the play ultimately is to make money on Prime memberships," Wells Fargo analyst Zach Fadem explained to the Enquirer.
Once shoppers become Amazon Prime members and pay $99 annually for the privilege, they tend to do a disproportionally high amount of their shopping via Amazon. So Amazon has pursued the overarching strategy of hooking consumers—especially rich ones—into Prime via perks like free shipping and free streaming of music and video. And yes, another way Amazon hopes to recruit and keep shoppers paying for those high-margin Prime memberships is by selling groceries at cheap prices, even if doing so brings in little or no profits.
Still, the selling and shipping of groceries is a lot more complicated and costly than electronics, toys, clothing, and other items shoppers seem to have no problem buying online nowadays. Rather than simply try to compete with Amazon for the home delivery of groceries, what many supermarkets are doing is offering the convenience of online ordering while playing to their strengths in terms of utilizing convenient physical locations.
Read Next: How Walmart Beat Amazon on Prime Day
"Grocery shopping used to take 1 1/2 to 2 hours on the weekend between loading up the kids, getting the kids out of the car, doing the shopping, packing the kids back in the car, getting the groceries in the car," Walmart spokesman Ravi Jariwala explained to the Atlanta Journal-Constitution, which operates in a market where the number of Walmarts offering free grocery pickup has doubled since last fall. "All of that is now condensed into just a few minutes. So customers have more time back in their day. They can do date night with the spouse. They can help the kids with homework. They can pursue their own hobbies and activities, or anything that they want."
Perhaps most importantly for brick-and-mortar-based retailers, grocery pickup is a service that the world's largest e-retailer simply cannot match, let alone beat. At least not yet.