8 Retailers Hosting Big Sales to Compete with Amazon Prime Day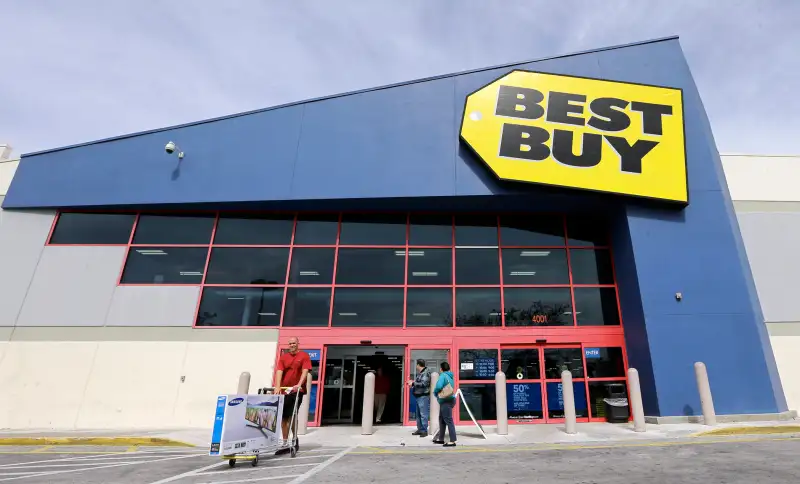 Amazon is hosting its second annual Prime Day sales event on Tuesday, July 12, and like last year, Amazon's competitors don't want the world's largest e-retailer to get away with attracting all the attention (and sales). In the same way that Walmart, Target, and Best Buy hosted big sales timed to coincide with Prime Day 2015, many retailers have launched special promotions to try to steal some thunder away from Amazon's much-hyped Black Friday in summer. They aren't waiting for Prime Day itself either, as most sales from Amazon competitors are underway right now.
Bear in mind that the deals from Amazon's competitors avoid mention of the phrase "Prime Day"—because they don't want to give Amazon a free plug. The day is named for Amazon's Prime service, and Amazon's deals are only available only to Prime members. Amazon uses this exclusivity as a way to increase Prime subscribers, who must pay $99 per year (or $10.99 monthly) after a free 30-day trial, and who tend to spend big bucks on Amazon.com once they're members.
The most important part of what makes deals from other retailers different from those offered by Amazon on Prime Day is that the former require no membership or annual fee whatsoever. Walmart in particular has highlighted the fact that its sales are "available for anybody," unlike Amazon's deals, which can only be purchased by members of a store's special club. Walmart is also ratcheting up the competition this summer by offering free, no-minimum-purchase shipping this week, as well as a free 30-day trial of ShippingPass, its two-day shipping service that costs $49 annually.
If you're really trying to save money, the smartest approach is probably to simply ignore the whole thing and pretend that Amazon Prime Day and all of its manufactured sales events aren't happening. After all, these sales are all concocted with the idea of getting you to spend at a time you wouldn't otherwise, and there will surely be an endless stream of "amazing" discounts during heavily promoted sales events down the line.
Read Next: 5 Prime Day Complaints Amazon Needs to Address for Prime Day 2016
But if you're going to shop—and who are we kidding, we know everybody's going to at least do some browsing—it's wise to scout out the best deals from multiple stores, rather than just focusing solely on Amazon. And remember, if you make a purchase from any retailer other than Amazon, you won't have to sign up for Prime, and you won't wind up hooked into paying for any kind of subscription service. Here are the big sales we know about so far; We'll add to the list below as more worthy Prime Day alternatives arise.
Walmart: To steal sales away from Amazon, Walmart is offering free shipping on all orders—no minimum purchase required, no membership required—from Monday, July 11 to Friday, July 15. What's more, the retailer has announced thousands of "rollback" deals valid for this week (and sometimes longer), such as an Xbox One console bundle with Gears of War and Minecraft for $280 (normally priced $355), a 55-inch Samsung HDTV for $598 (normally $1,199), and an Apple iPhone 5S 16GB with prepaid Straight Talk service for $149 (previously $450).
Newegg: Last week the electronics e-retailer Newegg announced it would be unleashing a huge "FantasTech" sale that starts with a few teaser deals at 10 a.m. PST (1 p.m. EST) on Monday, July 11. The bulk of the sale will kick in on midnight tonight (3 p.m. EST), just like with Amazon Prime Day. Newegg hosted a FantasTech sale last year, timed to coincide with Prime Day 2015.
Gap: The apparel retailer is having a sale with up to 60% off select items, plus a flat 40% off your entire purchase on July 11 with use of the coupon code SUN.
J.C. Penney: A "Penney Palooza" sales event is in effect for Monday and Tuesday of this week, with an extra 25% off the lowest price listed (30% off if you're using a JCP credit card) for your entire purchase. In some cases, the end discount will be more than 75% off original prices—which, we must point out, are usually extremely inflated. Use the code NEWLOOK6 to get the extra discount at checkout.
Toys R Us: A "Super Brands Sale" is in effect from July 11 to 14, featuring discounts like 30% off Legos and 20% off Nerf. The toy retailer is also offering 15% off all regularly priced items on July 12, in addition to more sales.
Best Buy: The electronics retailer's new sales takes an obvious swipe at Prime Day by announcing it is offering "Deals for All. No Membership Needed." As for the deals themselves, well, they don't seem all that different than Best Buy's usual weekly promotions. For instance, there's a 50-inch Sharp Smart HDTV with a $430 list price that's now on sale for $350.
Read Next: Here's a Guaranteed Effortless Way to Save Money on Amazon Prime Day
Kohl's: The store is promising different "Beat the Heat Buys" each day through July 14. Look for 50% off, 60% off, and sometimes even bigger discounts on clothes, home furnishings, and more.
Sears: Among the sales are 25% off all bikes and up to 60% off clothing and accessories.