Attention Amazon Prime Members: You Just Got Another Sweet Discount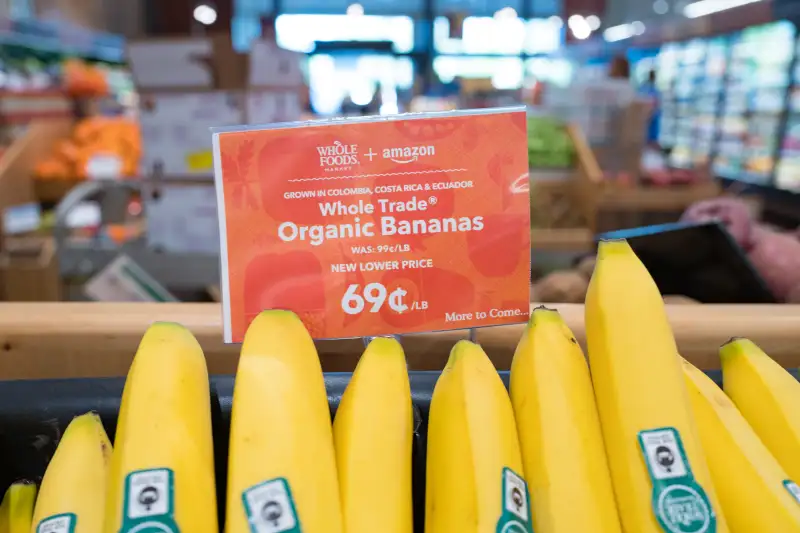 Smith Collection/Gado—Getty Images
Amazon.com Inc. is giving its Prime members another reason to shop at Whole Foods.
Those customers, who pay an annual fee for benefits such as free two-day shipping and access to Amazon's video and music library, will now also get discounts at the upscale, organic supermarket that Amazon bought last year. Starting Wednesday at Whole Foods Market stores in Florida, and expanding nationwide this summer, Prime members will get an additional 10 percent off hundreds of products, Amazon said in a statement. They'll also get even deeper discounts on unique merchandise, such as 50 percent off magic mushroom powder and $10 off per pound of sustainably sourced, wild-caught halibut steaks.
The new Whole Foods offerings will expand the universe of Prime benefits and help keep customers in Amazon's ecosystem for mutually beneficial results. While boosting Amazon's bottom line, the Prime grocery savings could also induce a broader range of Americans to shop at Whole Foods, a store that has long held a reputation for being too pricey for many consumers.
About 75 percent of Whole Foods shoppers are already Prime members, but fewer than 20 percent of Amazon Prime members are Whole Foods shoppers, CNBC reported earlier this month.
The grocery perks could also help ease an increase in membership costs, which rose this month to an annual $119 from $99 in the U.S., the first price hike since March 2014. Still, an increasing number of people find the benefits of membership outweigh the costs. Last month, Amazon Chief Executive Officer Jeff Bezos said the e-commerce giant had exceeded 100 million paid Prime subscribers, beating Costco Wholesale Corp.'s club.
Membership programs like Prime are one of the best ways to attract new customers and maintain loyal ones, said Brittain Ladd, a former Amazon executive and now a strategy and supply-chain consultant for large grocery store operators. If Amazon could get all of those Prime customers to start shopping at Whole Foods, it "would become one of the top 5 grocers in the country," Ladd said. Pushing special savings through Prime is a way to reintroduce the Prime customer to Whole Foods, Ladd said.
Even without the discounts, Amazon and Whole Foods have cut prices for all customers on hundreds of grocery staples and fresh food, the company said. Amazon Prime members can access the exclusive deals by scanning the Whole Foods Market app at checkout. Eligible Prime members also receive 5 percent back on Whole Foods purchases when they use an Amazon Visa credit card.
Amazon shares were little changed in early trading Wednesday in New York at $1,578.63. They have gained 35 percent so far this year.