15 New Markdowns at Whole Foods That Show Just How Much Cheaper It Is Now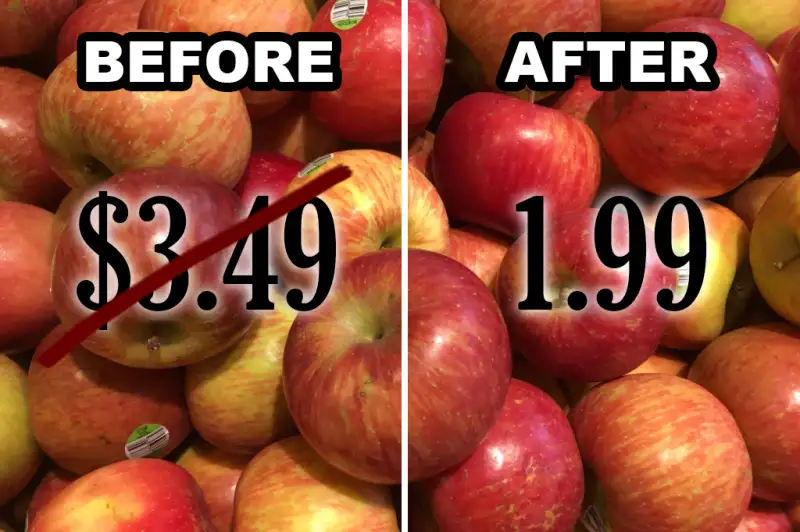 Photo illustration by Money
Whole Foods may finally get to shed its "Whole Paycheck" nickname. Amazon closed its $13.7 billion deal for Whole Foods grocery chain on Monday—and immediately started slashing prices.
The online giant had announced on Friday that it would cut prices on over a dozen products, including eggs, fish and produce. The cuts were touted as longer-term rollbacks, not short-term sale items. So Money went shopping to investigate how deep the discounts were.
We visited the Whole Foods in New York's Tribeca neighborhood (the closest to the Money offices) on Friday and again on Monday morning to determine what had changed. Upon walking into the store, the most noticeable change was a new pop-up display for Amazon Echo and Dot systems, which were selling for $99.99 and $44.99, respectively.
The grocery items immediately affected by the merger also had new signage touting the "Whole Foods + Amazon" discounts, noting that there was "more to come." (A spokeswoman for Whole Foods declined to comment on the chain's overall price cuts nationwide.) In addition to the pre-advertised rollbacks, Money found other products around the store had also dropped in price. For example, Whole Food's in-house 365 brand of almond milk was down 19% to $2.99 for a half gallon.
Here are 15 products that are already carrying big price breaks.
Organic Fuji Apples—43% discount
Friday price: $3.49 (per pound)
Monday price: $1.99
Whole Trade Bananas—38% discount
Friday price: $0.79 (per pound)
Monday price: $0.49
Organic Avocados—33% discount
Friday price: $2.99 (each)
Monday price: $1.99
Organic Gala Apples—33% discount
Friday price: $2.99 (per pound)
Monday price: $1.99
Organic, Responsibly Farmed Salmon (fresh)—33% discount
Friday price: $14.99 (per pound)
Monday price: $9.99
Organic, Responsibly Farmed Tilapia (fresh)—33% discount
Friday price: $11.99 (per pound)
Monday price: $7.99
Whole Trade Organic Bananas—30% discount
Friday Price: $0.99 (per pound)
Monday Price: $0.69
Animal-Welfare-Rated 85% Lean Ground Beef—29% discount
Friday price: $6.99 (per pound)
Monday price: $4.99
Organic Rotisserie Chicken—17% and 11%
Friday price: $5.99 (half chicken); $8.99 (whole chicken)
Monday price: $4.99; $7.99
365 Everyday Value Organic Butter (Salted & Unsalted)—15%
Friday price: $5.29
Monday price: $4.49
Organic Baby Kale—13% discount
Friday price: $3.99 (5-ounce container)
Monday price: $3.49
Organic Baby Sweet Lettuces—13% discount
Friday price: $3.99 (5-ounce container)
Monday price: $3.49
365 Everyday Value Almond Butter (creamy and crunchy)—13% discount
Friday price: $7.99
Monday price: $6.99
Farm-Raised Atlantic Salmon Portions (frozen)—9% discount
Friday price: $21.99 (2-pound package)
Monday price: $19.98
Organic Large Brown Eggs—7% discount
Friday price: $4.29 (dozen)
Monday price: $3.99