Why Aren't American Express and Discover Credit Cards Accepted Everywhere?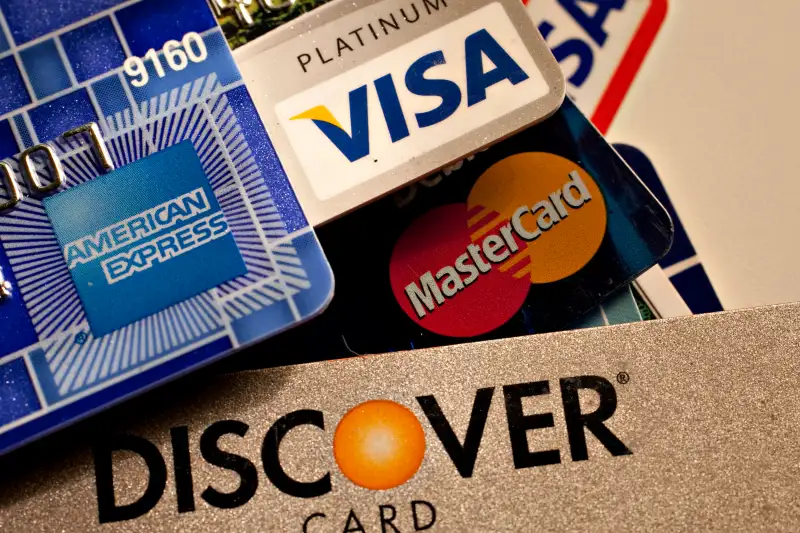 Visa and MasterCard dominate the market when it comes to credit cards that retailers accept as methods of payment. In comparison, it sometimes seems that American Express and Discover are shunned by merchants. In 2015, Visa cards accounted for nearly 56% of all purchase transactions worldwide, and MasterCard accounted for almost 26% of transactions. American Express, however, accounted for just over 3% of transactions, and Discover accounted for less than 1%, according to the Nilson Report.
To understand the differences among the credit cards and how they might affect you as a cardholder, learn how credit card fees and other factors contribute to the more limited acceptance of Amex and Discover cards and how these two cards position themselves against competitors.
Why You Still Can't Use an Amex or Discover Credit Card at Some Stores
Of the "Big Four" credit cards — Visa, MasterCard, Amex and Discover — Amex is the oldest, founded in 1850 through the Dow Jones industrial average, and Discover is the youngest, first offered by Sears in 1986. In the past, Amex and Discover marketed themselves as more exclusive than other credit cards on the market; previously, both cards were symbols of exclusivity, with a limited number of retailers accepting them.
Technically, the limited acceptance of the two cards is not a matter of retailers rejecting them as a form of payment; rather, Amex and Discover are different from other credit cards because merchants must choose to accept them.
Compared with MasterCard and Visa, Amex and Discover target a more specific group — generally, more affluent customers — and charge higher merchant credit card processing fees. It is these more costly credit card processing fees that prevent some businesses from choosing to accept Amex and Discover at their cash registers.
The credit card processing fees for Visa and MasterCard currently range from about 1.10% to 2.95%. Historically, Amex has charged higher than its competitors — the highest fees of any credit card company.
Read More: The 9 Most Exclusive Black Cards You Don't Know About
How Amex and Discover Operate
Amex makes its money on annual fees charged to cardholders and swipe fees charged to merchants, which is why they charge a high processing fee compared to Visa or MasterCard. The added revenue for cards like Amex and Discover goes into investing in features like premium rewards and other perks for cardholders.
Amex and Discover work differently than MasterCard or Visa: Amex and Discover market and issue their cards directly to the cardholder. Amex operates on what it calls a "closed loop network" and provides the full range of credit card services, serving in four roles:
Card issuer
Merchant
Transaction processor
Network
The closed loop network — the same strategy that Discover uses and that MasterCard and Visa do not use — allows Amex to see the payment transactions from both the perspective of the cardholder and the merchant, and craft more targeted offers to cardholders. Amex places emphasis on customer service, points and rewards. And Discover is notably generous in its return policy: If a cardholder is unhappy about his purchase, Discover will refund the purchase price up to $500 on eligible items if the original store will not accept the return within 90 days of purchase.
Compared with MasterCard and Visa, Amex focuses on more affluent consumers in its business model, according to Justin Warren of ChargeSmart, an online bill payment service. Merchants benefit from accepting Amex because these affluent consumers are more likely to spend more and give those merchants repeat business.
Read More: The Best Loyalty Programs for Your Wallet
How Merchant Acceptance Works for Visa and MasterCard
Unlike Amex and Discover, Visa and MasterCard do not issue credit cards. That's because both Visa and MasterCard are credit card processors, not card issuers; Visa and MasterCard operate as financial middlemen, providing the technology and the networks to power transactions.
"Visa and MasterCard make their money from processing transactions," said Miranda Marquit, a financial journalist and money expert. "They receive money each time you swipe your card, and [might] also receive other fees from merchants that use their payment processing networks to accept credit cards."
Visa and MasterCard transactions involve a total of three different parties:
An acquiring financial institution: the retailer's bank
An issuing financial institution: the bank that issued your credit card and provides you with a line of credit — for example, Chase or Citibank
The network between both financial institutions: Visa or MasterCard
Every time you use your Visa or MasterCard credit card, the charge is submitted through the retailer's bank or financial institution, which must request approval from your financial institution — the card issuer — to verify that you have not reached your credit limit. Visa and MasterCard also reach a wider audience than Amex and Discover by working with a variety of banks that offer Visa- and MasterCard-branded debit cards for checking accounts.
Spending Abroad With Your Discover or Amex Card
Although they're not as popular with retailers as MasterCard and Visa cards, Amex and Discover cards are now widely accepted within the U.S., Canada and Mexico. Amex and Discover are becoming increasingly accepted in other countries, too, but cardholders might still find that fewer retailers accept these two forms of payment compared with MasterCard and Visa.If you're traveling beyond these three countries, check with the Amex and Discover credit card websites or customer service representatives to see where your card will be accepted abroad.
Read More: Best Travel Credit Card Rewards of 2016
Choosing and Charging Wisely With Amex or Discover
Amex and Discover cards are now more widely accepted than they ever have been, yet some merchants still refuse to accept these credit cards because of their higher processing fees. Amex has also traditionally charged an annual fee as part of its strategy to target more affluent customers, which keeps some potential cardholders away. The annual fee can be a significant cost: The Amex Centurion card charges an annual membership fee of $2,500.
Still, Amex and Discover could be the right options for credit card users: Amex prioritizes customer service, points and rewards — plus perks like free concierge services and travel rewards that could make the fees worthwhile for the right customer — for their cardholders, and Discover offers customers a hard-to-beat refund guarantee and compelling cash-back rewards.
If you have an Amex or Discover card in your wallet, enjoy your perks. But when using credit cards to make payments online or in-store, it's best to be prepared: Have your Visa or MasterCard on you just in case, or you might be stuck with an unusable credit card, and a bill you're not able to pay — even if you can afford to.
This post originally appeared on GoBankingRates.