The Reason Why Investors are Buying Up Shares of Amusement Parks
Money is not a client of any investment adviser featured on this page. The information provided on this page is for educational purposes only and is not intended as investment advice. Money does not offer advisory services.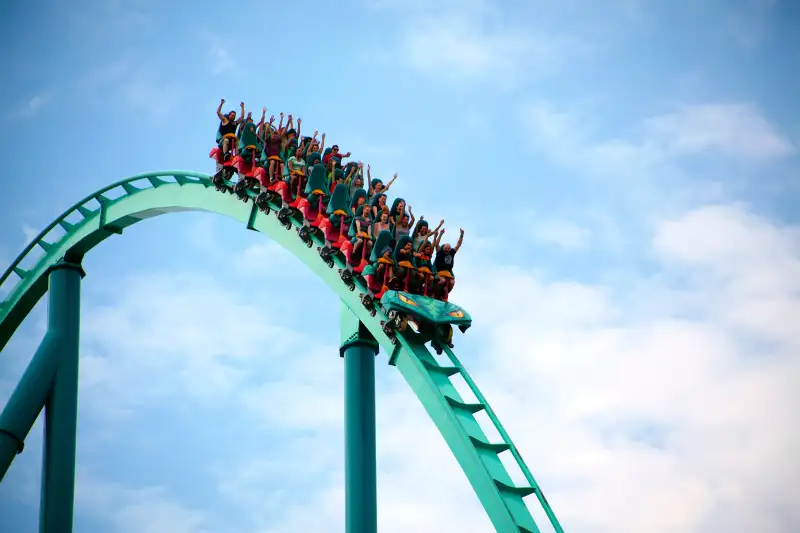 Yana Bukharova & Denis Bukharov—iStock
School's out for summer, gas is cheap, and amusement parks are bracing for a robust season that could see millions of attendees streaming through their gates this summer.
Already, investors have been aggressively buying shares of Six Flags Entertainment and Cedar Fair.
Both mid-sized companies, valued at less than $5 billion each, have easily outperformed the market this year, as lower gas prices have given consumers more discretionary income. Their dividend yields also far exceed the overall market average.
Six Flags, which owns 18 parks across North America, is up 10% so far this year, easily outpacing the Standard & Poor's 500 index's 3% rise. Since emerging from bankruptcy in 2010, the stock has climbed more than 400%.
"The stock is still cheap, and it has a nice yield," said Ian Corydon, senior managing director at B. Riley in Los Angeles. He praised the company's management, which has introduced new attractions every year as part of a post-bankruptcy initiative aimed at growing attendance.
Almost 400 million visitors are expected at U.S. theme parks in 2015, according to the International Association of Amusement Parks and Attractions.
The initiatives "still have some runway under them," he said, affirming his $59 target on the stock, which implies a 24.8% gain from current levels.
Six Flags rose 0.2% to $47.29 at mid-afternoon on Friday. Its dividend yield of 4.41% is well above the 2.37% average of the S&P 500.
Cedar, which operates 14 parks, fell 0.6% $58 on Friday, though it is up about 21% so far this year. It has a dividend yield of 5.14%.
The companies' valuation raises questions. Six Flag's forward price-to-earnings ratio is 28.91, above both the 25.11 average of its leisure and recreation peers and the 17.4 P/E of the S&P overall. (Cedar's P/E is 18.3.)
"Cedar isn't as effectively priced as it used to be, but it is certainly a viable income play," said Charles Sizemore, chief investment officer of Sizemore Capital Management in Dallas.
Sizemore used to own both stocks but has no stake in them. He noted that high yields would become less attractive when the U.S. Federal Reserve raises interest rates, which it is expected to do later this year.
Investors are untroubled by the fact that virtually all of their earnings are concentrated in the summer months.
In 2014, Six Flags made 85% of its annual revenue in the middle quarters of the year while Cedar made 83%.
"Every investor knows what they're getting into with these; that first and fourth quarters are always weak won't ever be a surprise," Sizemore said.
Walt Disney, the obvious category killer, operates differently. Its theme parks are viewed as destination vacations, and operate worldwide and year round. Its parks and resorts pull in roughly the same amount of revenue month in and month out.