Why the War Between Apple and Android is Over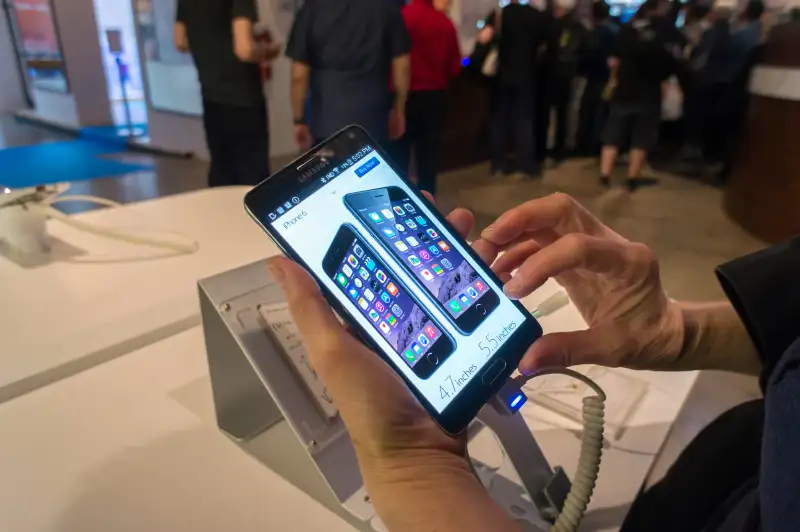 You've undoubtedly heard this infamous quote by now from the late Apple co-founder, which was included in his official biography that was published shortly after his death in 2011. Steve Jobs' loathing for Google Android was perfectly captured in this quote.
Over the years, this "thermonuclear war" has raged on, with Apple primarily targeting rival Android OEMs as opposed to Google itself. Naturally, the highest profile case was against Samsung, but Apple has also conducted its patent warfare through The Rockstar Consortium, a joint venture owned by 5 prominent tech companies. Apple and Microsoft are two of the main backers.
Rockstar was the entity that outbid Google in the 2011 auction to acquire Nortel's massive patent portfolio, winning out with a $4.5 billion offer. Apple put up $2.6 billion of that total, presumably making it the majority owner of Rockstar.
That portfolio included important intellectual property surrounding Wi-Fi networking and cellular connectivity, among many other areas related to mobile technology. Rockstar proceeded to sue Google and numerous Android OEMs like Samsung and HTC with said patents a little over a year ago.
Well, Rockstar and Google just settled their differences, which could signal that Apple's "thermonuclear war" is over.
War changes
No dollar terms for the settlement were disclosed, but the bigger story here is an underlying strategic shift for Apple. Cisco was also on the receiving end of patent litigation, and similarly just announced a settlement with Rockstar that will result in a $188 million pre-tax charge.
The patent wars have raged on for years, with little effect on the underlying competitive dynamics of the smartphone industry. From a financial perspective, litigation is unlikely to be worth the trouble, and it now seems that Rockstar's shareholders (the 5 tech companies) are wary of the distraction and want to exit the consortium. Chances are that Rockstar will never come out ahead compared to the $4.5 billion it paid.
Apple also settled its litigation with Motorola Mobility earlier this year, while the handset maker was still officially under Google's multi-colored flag (Lenovo's acquisition of Motorola closed in October). At the time, Apple and Google said they would work together in advocating for patent reform. In August, Apple and Samsung settled all of their outstanding patent disputes outside of the U.S. as well. Neither of these settlements includes any cross-licensing agreements.
Why the sudden change of iHeart?
A changing of the guard
There are a handful reasons why Apple's war on Android would never bear fruit and why it may be giving up.
Apple's primary goal was never to make money from these patent suits (it makes plenty of money as it is). It was trying to block popular Android devices from the market. But the underlying strategy of trying to preclude Android devices from the market was inherently doomed, considering the open-source nature of the platform and the sheer number of OEMs making Android devices.
Perhaps most importantly, the strategy was implemented under Steve Jobs. As you can see from the quote above, he had rather strong feelings on the matter. So strong, in fact, that they weren't pragmatic. Not only would spending Apple's $40 billion in cash (at the time) be an obvious breach of fiduciary responsibility to shareholders, but the company would have no chance of succeeding at keeping Android off the market. Naturally, Jobs was probably just being a little melodramatic.
But this is Tim Cook's Apple now, which is very different than Steve Jobs' Apple in more ways than one. Specifically, Cook vehemently disdains litigation. Here's Cook on the Q2 2012 earnings conference call, less than a year after becoming CEO:
Philosophically, Apple just doesn't want its rivals to continue copying its hardware and software designs. Legally, the company has limited options on how to stop it, particularly as it's become painfully obvious that patent suits aren't effective. That's especially true for a Chinese competitor like Xiaomi, which mostly operates outside the jurisdiction of U.S. patent courts while China is notorious for weak intellectual property rights.
Fighting words
Without a doubt, Apple is just as upset about Xiaomi's copying ways as it is about Samsung's copying ways. Design chief Jony Ive has spoken twice in recent months regarding the Chinese smartphone maker. Here's Ive at a Vanity Fair conference in October:
Ive's comments at London's Design Museum last week echo the same notion:
Naturally, Xiaomi adamantly denies the allegations. You be the judge.
The market will work itself out
By his own admission, Ive is not a shrewd businessman; Ive is a designer and he's justifiably angry. However, the fact still stands that Apple has little effective recourse to stop companies like Xiaomi or Samsung.
It turns out that the solution is just as easily captured in another Steve Jobs quote. Apple's most viable strategy in beating Android is simply to compete as aggressively as it can by creating the best products. In 2010, Jobs said, "And if we succeed, they'll buy them. And if we don't, they won't. And it'll all work itself out."
Evan Niu, CFA owns shares of Apple. The Motley Fool recommends Apple, Cisco Systems, Google (A shares), and Google (C shares). The Motley Fool owns shares of Apple, Google (A shares), Google (C shares), and Microsoft. Try any of our Foolish newsletter services free for 30 days. We Fools may not all hold the same opinions, but we all believe that considering a diverse range of insights makes us better investors. The Motley Fool has a disclosure policy.
Related Links