Apple's Not the Only Tablet Maker With Problems
Money is not a client of any investment adviser featured on this page. The information provided on this page is for educational purposes only and is not intended as investment advice. Money does not offer advisory services.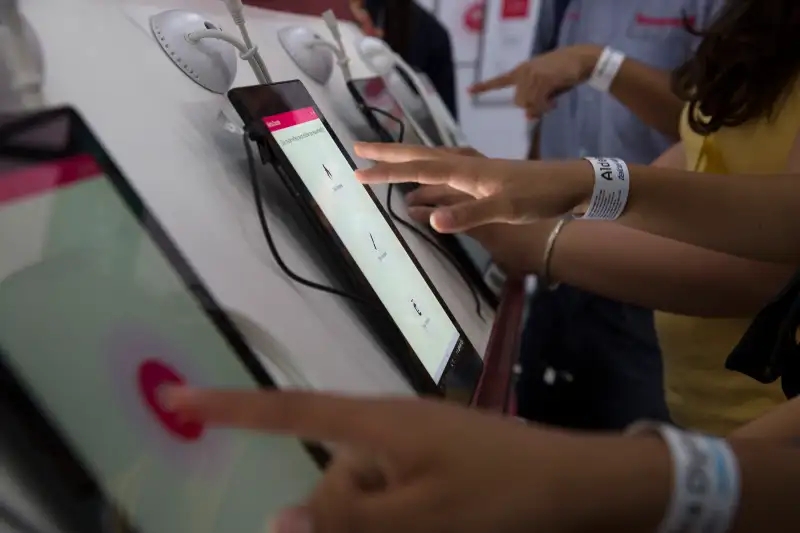 Susana Gonzalez—© 2015 Bloomberg Finance LP
Apple investors have probably all already heard this by now: the iPad isn't doing so hot right now. Units are on the decline, despite regular refreshes and an expansive lineup. That's undeniable and painful for bulls to watch unfold.
But there's far less consensus regarding whether or not the iPad's current predicament is cause for concern in the long run. Is the device simply taking a breather while hitting a speed bump, only to resume its upward march? Or did Apple fail to deliver the tablet renaissance that it assured investors it could? Of course, only time will tell which of these scenarios turns out to be true, but it's also worth noting that it isn't just Apple that's suffering. Despite its youth, the broader tablet market is undergoing some growing pains.
The third time is not a charm
Market researcher IDC has just put out its latest estimates on worldwide tablet shipments, and the market has now posted its third consecutive year-over-year decline. This time around, worldwide unit volumes came in at 44.7 million, down 7% from a year ago. This isn't exactly how a growth market is supposed to look.
SOURCE: IDC
Here are the top five vendors right now, according to IDC's figures.
| Vendor | Q2 2015 Units | Q2 2015 Market Share | Change |
| --- | --- | --- | --- |
| Apple | 10.9 million | 24.5% | (17.9%) |
| Samsung | 7.6 million | 17% | (12%) |
| Lenovo | 2.5 million | 5.7% | 6.8% |
| Huawei | 1.6 million | 3.7% | 103.6% |
| LG Electronics | 1.6 million | 3.6% | 246.4% |
| Others | 20.4 million | 45.6% | (9.3%) |
| Total | 44.7 million | 100% | (7%) |
SOURCE: IDC
It's meaningful that Apple's decline was worse than the broader market, evidence that rivals are finding some success in stealing market share away from the iPad. To some extent, this is also a function of Apple sitting on the sidelines of the low-end tablet market, content to watch Android competitors eat each other (and their profits) alive through commoditization and intense pricing pressure. Apple figures that it has 76% market share in the U.S. for tablets priced above $200, so it's happy enough.
IDC attributes the tablet market's current weakness to a number of factors. First off, the life cycles and upgrade cycles are a bit longer than the smartphone. Second, there is some inevitable cannibalization happening from large smartphones and phablets. Lastly, the hardware upgrades that vendors are introducing aren't the most compelling refreshes, and most tablets are still able to receive software updates to the latest operating systems. This trifecta is hurting consumer tablet demand.
Any day now, enterprise market
Can the enterprise market be the shot in the arm that tablet vendors really need? Apple certainly seems to think so. After all, that's the whole reason why the Mac maker partnered with IBM in the first place. Last year, Tim Cook noted that while 99% of Fortune 500 companies have deployed iOS devices to some extent, overall tablet penetration in the enterprise market remains surprisingly low at just 20%. Cook hopes to get that figure to 60% in the years ahead.
At the same time, tackling the enterprise market is also Microsoft territory. Microsoft's presence in the tablet market depends on who you ask since different researchers define tablets differently and Microsoft has blurred the lines between form factors. But the company did just launch Windows 10, the realization of a long-standing vision where one operating system would rule all form factors.
Still, a rising tide would lift all enterprise tablet vendors.
Evan Niu, CFA owns shares of Apple.
More From Motley Fool: