Apple and Tesla Battle for the Most Important Resource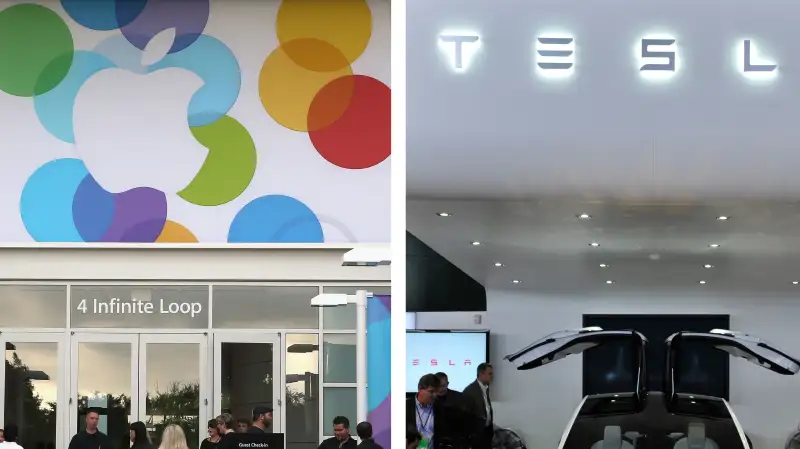 Justin Sullivan/Getty Images (left)—Reuters (right)
Although they are in substantially different industries, Apple and Tesla are often compared in terms of innovation, brand equity, and quality. Even Tesla founder Elon Musk is often compared, favorably, to Apple's late co-founder Steve Jobs. In many ways the designation fits: both are groundbreaking visionaries who are looking to reinvent existing products -- simply put, Musk wants to reinvent cars like Jobs reinvented the cell phone.
Outside of that, you'd be hard-pressed to find any similarities to their products -- or would you? Apparently Tesla feels like you should. In fact, fact, Tesla is desperately competing with Apple; but instead of market share, it wants something much more important over the long run: talent. According to a new Bloomberg article, Tesla is aggressively poaching engineers, lawyers, and other employees from the Cupertino-based tech giant -- 150 as of last count.
Unsurprisingly, Apple isn't happy about this. Bloomberg reported that Apple is itself trying to woo Tesla employees with "signing bonuses of a quarter-million dollars and salary increases of up to 60%." This is good work if you can get it, and it shows the importance of human capital to an organization.
A long-term competitive advantage
It's unfortunate that Wall Street analysts focus on revenue and earnings without considering the strongest long-term driver of results: innovative employees. And when employees are cited for spectacular results, it generally tends to be only the CEO or other C-Suite management types. While prudent vision and management is important, so are those on the front line adding value every day.
Wall Street tends to look at labor quite unfavorably, mainly due to the fierce clashes of yesteryear between management and labor unions. Those battles are mostly over, and capital won in a rout as labor union participation in the private sector is less than 7% -- but the nasty relationship has remained. In many cases, management views labor (read: employees) as something that needs to be controlled and culled. Even now, conversations about company productivity tend to revolve around doing the same with less rather than "scaling up" (doing more with more).
That's unfortunate. Quality employees might not show up on the balance sheet, but they are perhaps the best long-term advantage any company could have. Apple and Tesla shareholders can rest assured these two companies understand that.
A tale of two companies
For perhaps the best example of two distinctly different human capital strategies in action in a familiar industry, look no further than Wal-Mart and Costco . Both Wal-Mart and Costco pursue a low-cost strategy, but Costco as of June 2013 reportedly paid its hourly employees $20.89 per hour on average, versus Wal-Mart's $12.67.
And how is that working out for the two? Over the last four fiscal years, Wal-Mart has grown revenue by 3.9% per year while Costco's sales have risen at an annualized rate of 9.6%. While there are notable differences between the two companies, mainly the revenue generation model and scale, Wal-Mart's woes seem to center on poor staffing, inadequate stocking, and a poor shopping experience. These are all problems that arise from an extreme low-cost model.
In the end, business models can be copied, copyrights and patents expire, and products get old. Meanwhile, successful businesses and brands can innovate on a daily basis. To do that you need to employ and retain better talent than your competitors have. It seems Apple, Tesla, and Costco understand that investing inhuman capital is an important part of business. I'd encourage Wal-Mart to work on this overlooked asset.
Jamal Carnette owns shares of Apple. The Motley Fool recommends Apple, Costco Wholesale, and Tesla Motors. The Motley Fool owns shares of Apple, Costco Wholesale, and Tesla Motors. Try any of our Foolish newsletter services free for 30 days. We Fools may not all hold the same opinions, but we all believe that considering a diverse range of insights makes us better investors. The Motley Fool has a disclosure policy.
Related Links