AT&T Might Not Need FCC Approval on Time Warner Deal
Money is not a client of any investment adviser featured on this page. The information provided on this page is for educational purposes only and is not intended as investment advice. Money does not offer advisory services.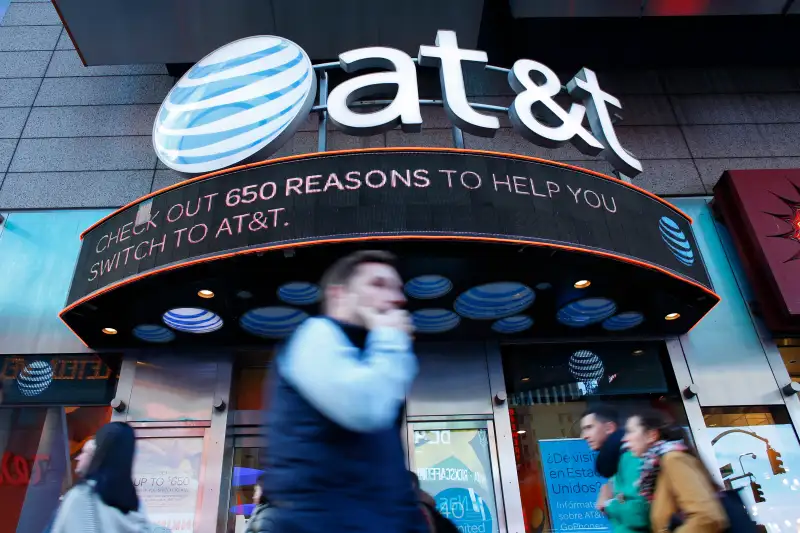 KENA BETANCUR—AFP/Getty Images
AT&T may not have to seek approval from the Federal Communications Commission for the biggest acquisition announced this year by selling the one television station that Time Warner owns: WPCH-TV in Atlanta.
The FCC has broad leeway to block a merger that it deems not to be in the "public interest," while the U.S. Justice Department mainly examines a deal to see whether it breaks antitrust rules by reducing competition.
If Time Warner divests its only FCC-regulated broadcast station, that could eliminate a primary reason for the U.S. telecoms regulator to review the takeover, a government official with knowledge of the matter told Reuters.
Read More: What AT&T's Acquisition of Time Warner Means for You
AT&T and Time Warner could then focus on wooing the Justice Department, which antitrust experts said is less likely to block the $85 billion deal because it is not a horizontal merger in which two competitors offering the same services are seeking to merge.
"They are not buying Time Warner for a tiny TV station. It sticks out as a sore thumb and I would expect that to be gone as quickly as possible," said Roger Entner, an analyst at Recon Analytics.
"This avoids a whole review process by people who have been historically over the last couple of years not been AT&T's biggest fans. You want to have as few moving parts and if you can eliminate a review by an agency you do."
AT&T said the deal would need the approval of the Justice Department, and that the two companies were determining which FCC licenses held by Time Warner, if any, would transfer to AT&T as part of the deal.
"We really just haven't prejudged that," AT&T's general counsel, David McAtee, told Reuters. "With respect to the FCC licenses, we take a very simple approach here: we follow the law and so whatever the law requires that's always what we'll do."
FCC spokesman Neil Grace declined to comment.
Comcast's 2011 takeover of NBCUniversal - the last marriage of a major content provider and a distribution powerhouse, was reviewed by both the Justice Department and the FCC. The FCC played a key role in that review and, by a 4-1 vote, approved the deal with significant conditions, some of which last until 2018.
BTIG analyst Rich Greenfield said some regulators had come to regret allowing Comcast to pledge to "behavioral conditions' - such as equitable treatment of competitors - and viewed "structural" conditions, such as promises to sell certain assets, as easier to enforce.
Even if AT&T does not acquire any FCC licenses from Time Warner, the FCC still may play an indirect role in the merger review, such as by advising the Justice Department, Greenfield said.
Still, in an advisory capacity, the FCC is less likely to impose its own set of conditions for approval, in addition to the Justice Department's demands.
ROCKY FCC RELATIONSHIP
AT&T CEO Randall Stephenson on Monday expressed confidence in winning government approval for what would be the first deal to combine a major U.S. media company with a wireless network, satellite TV distributor, and high-speed Internet service provider.
"There are no competitors being taken out of the marketplace," Stephenson told CNBC. "This is a pure vertical integration and while regulators will often time have concerns with vertical integrations, those are always remedied by conditions imposed on the merger. And so that's how we envision this one to play out."
But investors were skeptical, pushing down shares of Time Warner to trade some 20 percent below AT&T's offer price.
FCC Chairman Tom Wheeler has been tough on telecoms and cable industries, and AT&T has criticized much of his ambitious agenda, including new broadband privacy regulations, reforms of the $45 billion business data services market, and a plan to allow consumers to ditch pay-TV set top boxes.
AT&T was among those who unsuccessfully sued the FCC in 2015 to block the Obama administration's landmark net neutrality rules barring internet service providers from obstructing or slowing down consumer access to web content.
Amanda Wait, a partner at law firm Hunton & Williams who specializes in antitrust issues, said that AT&T faces an uphill battle winning approval because regulators will closely assess what they could have done differently in the Comcast-NBCUniversal deal.
"They are going to make a hard look back at the concession and licensing provisions and see how they worked," she said.
In 2011, Comcast agreed to 150 conditions, including sacrificing day-to-day control of popular video website Hulu and making NBCUniversal programs available to competitive streaming services.
Others were aimed at ensuring Comcast, as the owner of major content from NBC and various cable channels, dealt "fairly" with rival cable and satellite providers.
John Bergmayer, senior counsel at Public Knowledge, a digital rights advocacy group, said "regulators need to anticipate how their good intentions might be thwarted ... and maybe just adopt simpler conditions that leave less room for lawyering."
Comcast declined to comment Sunday. But, in 2014, the company defended its compliance, saying "Comcast is a company that keeps its promises and plays fair."
Additional reporting by Carl O'Donnell in New York