The Average New Car Is Finally Selling Below the Sticker Price Again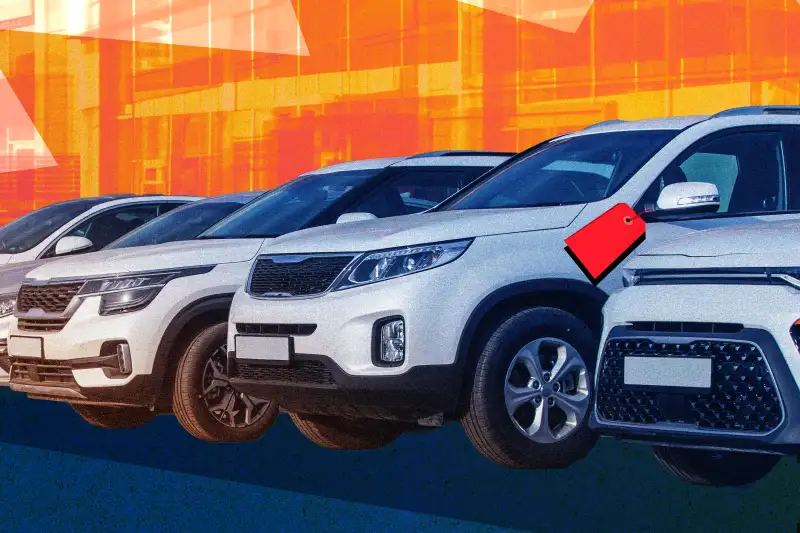 Eddie Lee / Money; Getty Images
Car buyers are finally paying below sticker price for new cars again after a 20-month stretch when the that wasn't the case.
In March, the average sale price of a new car was $171 below the average MSRP (manufacturer's suggested retail price) — a positive indication that the market is improving for buyers, who've been paying above MSRP since the summer of 2021, according to a new report from Kelley Blue Book (KBB).
A year ago, the average sale price was almost $1,000 higher than the average MSRP.
The pandemic brought on a highly unusual environment for car shoppers. Before 2021, it was standard for car buyers to be able to haggle at the dealership and get a new car for below MSRP — often, thousands of dollars below it. More recently, buyers have had very little leverage because car inventories were extremely tight. So it's a return to normal for new cars to once again be selling for less than the sticker price.
While the market may be improving, the average new car price is still up $1,784 in the past year, new cars under $25,000 have become almost impossible to find, and 7% auto loan rates have pushed monthly payments to record highs.
"Consumers are finding more inventory, more choice, and dealers more willing to deal, at least with some brands," Rebecca Rydzewski, research manager for KBB's parent company Cox Automotive, said in the report. "Yet, even as deals improve, unfortunately auto loan rates remain very high, ultimately making new-vehicle affordability an issue for many households."
What the research says
Experts have long expected that new cars would eventually get cheaper given that inventory has been improving while loan rates have gone through the roof. At last, the data confirms sale prices are actually coming down.
The average price of a new car dropped to $48,008 in March, declining $550 in the past month, according to the report. Average new car prices have now fallen by nearly $1,500 from an all-time high in December just above $49,500.
While prices for most types of cars declined in the past month, the average price of a new electric vehicle increased by $313, rising to $58,940.
EV sales have been strong in 2023 thanks to new tax credits and growing supply. In the first quarter of the year, 44.9% more EVs were sold compared to the same time last year, according to KBB.
The best deals on new cars
Consumers are finding better deals thanks in part to higher incentives, which often take the form of cash rebates. In March, the average manufacturer incentive spend was $1,516, or 3.2% of the average sale price. That's the highest level in a year, but still much lower than the average two years ago in March 2021 of 8.4%.
Consumer Reports rounded up a list of some of the best incentive deals that you can find right now on 2023 models it recommends. Here are the 10 best deals from the list, most of which are on SUVs.
Mazda CX-9 Touring AWD: 11%+ potential savings (MSRP: $38,750)
Chevrolet Equinox LT with 1LT AWD: 10% potential savings (MSRP: $29,300)
Chevrolet Blazer 2LT AWD: 8%+ potential savings (MSRP: $37,800)
Chevrolet Traverse Premier AWD: 7%+ potential savings (MSRP: $49,800)
Cadillac XT5 Premium Luxury: 6%+ potential savings (MSRP: $51,995)
Ford Edge SEL AWD: 6%+ potential savings (MSRP: $39,345)
GMC Acadia Denali AWD: 6%+ potential savings (MSRP: $50,600)
Buick Enclave Premium: 5%+ potential savings (MSRP: $54,035)
Dodge Challenger SXT: 5%+ potential savings (MSRP: $30,545)
Dodge Charger R/T: 5%+ potential savings (MSRP: $42,385)
More from Money:
New Cars That Cost Under $25,000 Are Becoming Impossible to Find
Dangerous Roads and Rising Car Costs Are Driving Auto Insurance Prices Higher