Here's the Amount of Student Debt You'll Likely Have After Graduating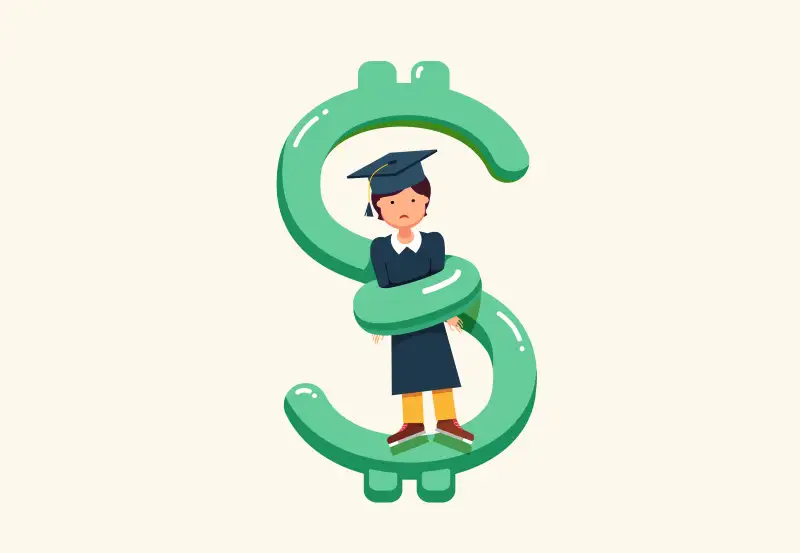 Graduates from the Class of 2018 left college with an average of $29,200 in student loans.
That's up 2% from their peers who graduated a year earlier, according to an annual report out today from The Institute for College Access and Success (TICAS). About two-thirds of bachelor's degree recipients who graduated in 2018 had student debt, a share that's been relatively stable for the past few years.
While the average debt burden grew between 2017 and 2018, the rate of growth has slowed recently, likely due in part to increases in state spending and grant aid, according to the report. Between 1996 and 2012, federal data on bachelor's degree recipients show the average debt increased 4% per year, according to the report. The TICAS report looks at both federal student loans and private loans; the latter comprised about 17% of the Class of 2018's total reported debt, according to college records that may be incomplete. But the report doesn't consider the increasing amount of loans taken out by parents to help send their kids to college.
How much debt you'll likely have after graduating depends on a variety of factors, including where you go to college, whether you qualify for other types of financial aid, and how long it takes you to graduate. But one big factor is where you live. In 21 states, average debt was more than $30,000. Higher average borrowing loads tend to happen in the Northeast, where public colleges often also have higher costs of attendance. The TICAS report found state averages ranged from a low of $19,750 in Utah to a high of $38,650 in Connecticut. Graduates' likelihood of having loans varied from 36% in Utah to 76% in New Hampshire.
The fact that a majority of undergraduates have to rely on student loans to finance college and then face the burden of paying off those loans has pushed the broader issue of college affordability onto the policy main stage. Six Democratic presidential candidates have put forward plans to eliminate tuition at public colleges or lower it enough for students to be able to graduate without borrowing. And two of those candidates--Vermont Senator Bernie Sanders and Massachusetts Senator Elizabeth Warren--have also called for forgiving outstanding student debt. Several states have introduced varying degrees of free tuition for their colleges, with the latest being New Mexico's announcement this week that it wants to make all two- and four-year state colleges tuition-free for all students.
Yet for all the talk about the need to solve our system of borrowing for college, there's actually limited data on the nation's student debt load.
Debt figures used in this report, for example, are voluntarily reported by colleges to Peterson's, and then adjusted to get national estimates. (Money also uses Peterson's data in its college rankings calculations.) Yet some colleges may report incorrect figures, either because of poor record keeping or intentionally to make their college look better, and with private loans, colleges may not have accurate numbers to report. The TICAS authors cite an analysis that found 31% of private loans disbursed in 2007 were made without the involvement of college financial aid offices.
The U.S. Department of Education publishes average debt loads for every college via its College Scorecard website, but those figures don't capture private loans. The TICAS analysis suggests these federal debt amounts, without counting private loans, could be as much as 30% lower than total debt loads in states where private loans are most commonly used. The best currently available data comes from a study conducted by the federal government every four years—the next one will occur in 2020—but it doesn't provide data for every state or individual colleges.