You Really Shouldn't Buy a Used Uber or Lyft Car. Here's How to Steer Clear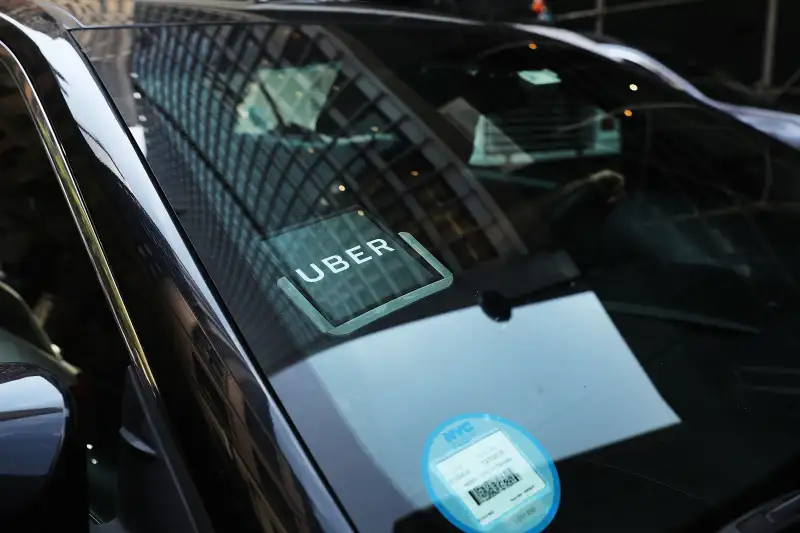 Spencer Platt—Getty Images
Vehicles used for ride-sharing services like Uber or Lyft can get a lot of wear and tear—often in ways that are different from what is found in a typical used car. And CR found that when they're done ferrying passengers, former ride-share cars can end up for sale without any warning to would-be buyers.
Even vehicle history reports designed to let shoppers know about crashes or other damage are often left in the dark.
Still, there are ways for you to avoid getting a car that's been used—or abused—as a ride-share vehicle.
Ride-Share Wear and Tear
CR checked the Carfax vehicle history report for a 2015 Ford Explorer we requested using the Lyft app in the Boston area, as well as one for a 2015 Hyundai Elantra requested for an UberX ride in San Francisco. Even though both are being used for ride-sharing, their Carfax reports show them as privately owned, not commercial vehicles or taxis. If those vehicles are put up for sale, potential buyers will be unaware of their prior use.
That's not a mistake, according to Carfax spokesman Chris Basso. "Personally registered ride-share vehicles, for companies like Uber and Lyft, currently only show as personal use on Carfax," he wrote in an email to CR.
But some signs of abuse are immediately apparent to would-be buyers. Passengers can put excess wear and tear on vehicle interiors by getting sick, breaking off plastic trim pieces, and leaving stains on the upholstery, according to driver postings at ride-share forums, such as uberpeople.net and ridesharecentral.com. "It's not their car, so they're not super careful with it," says Harry Campbell, who runs the website therideshareguy.com and conducts an independent annual survey of ride-share drivers.
Other issues are less obvious. A used car with a big discount for high mileage might be a good deal if it's been used by a single owner for long, gentle highway commutes. But if those miles were racked up as an Uber or Lyft, it might have endured a lot of abusive stop-and-go driving and extensive idling that could lead to costly repairs for the next owner.
In some cases, an automaker may even void some of a vehicle's warranty protections if it determines that a vehicle was used for ride-sharing, according to Mel Yu, automotive analyst at Consumer Reports.
What You Should Look For
Check a vehicle history report to see if a lot of miles were put on during a short period of time and if there are any accidents on file. "If you see 50,000 miles in one year, that's a pretty big red flag that it was owned by an Uber or Lyft driver," said Campbell.
Check the rear seat for excess wear and tear.
Look for airport permits. Many airports require ride-share vehicles to display a visible permit.
Look for residue from stickers. Depending on location, Uber and Lyft vehicles usually have a large sticker on the front and/or rear windshields, and these often leave a trace behind. The stickers are usually much larger than a parking permit.
What You Should Do
If you see any ride-share telltales, ask the seller how the car was used.
If a vehicle is still under warranty, call the manufacturer—not a dealer—to ask how many years and/or miles of coverage remain.
Be sure to have the vehicle's vehicle identification number (VIN) handy.
And, of course, shoppers should make sure that any used vehicle is inspected by an independent mechanic before deciding whether to buy it. This would unearth any wear and tear to mechanical components, and even accident repairs, that might not otherwise be apparent.
Of course, not every former ride-share car is a bad deal, and buyers should understand that some such vehicles take more abuse than others. Uber estimates that half of its drivers use the company's app to find riders for fewer than 10 hours per week.
That kind of occasional ride-share use may not wear out a vehicle as quickly as full-time ride-share (or taxi) use.
Incomplete History
Advocates say consumers need more—and better—information about the history of any used vehicle.
"Ride-share vehicles are now part of a larger problem, where consumers don't have what they need to make informed decisions about used cars," said David Friedman, director of cars and product policy and analysis for Consumers Union, the advocacy division of Consumer Reports. "From ride-sharing to cars with flood or crash damage, the current system fails consumers. The government should set a higher bar when it comes to reporting vehicle history."
Contrast former ride-share cars with vehicles used for taxi or limousine services. When a taxi is decommissioned and sold, a vehicle history report will usually indicate what it was used for. Some states even indicate taxi or livery use on the vehicle's title, the same way they would with a stolen or flooded car, to give buyers a head's up on its previous life. Such a disclosure could lower a vehicle's resale value by up to one-third, according to CR's Yu.
However, privately owned ride-share vehicles aren't subject to the same disclosure requirements. "Because these vehicles are privately owned and they're registered as personal vehicles, there's not going to be anything in the paperwork that's going to bring that up," said Dan Blinn, a consumer advocacy lawyer from the Consumer Law Group in Rocky Hill, Conn.
That's not the case in New York City, which requires owners of ride-share vehicles to obtain the same sort of registration as taxi or limousine owners. That's why, when CR purchased a Carfax report for a 2015 Toyota Avalon Hybrid used as an UberX vehicle in Manhattan, the vehicle history report identified the car as having been used as a taxi.