How to Avoid Spoiling Your Child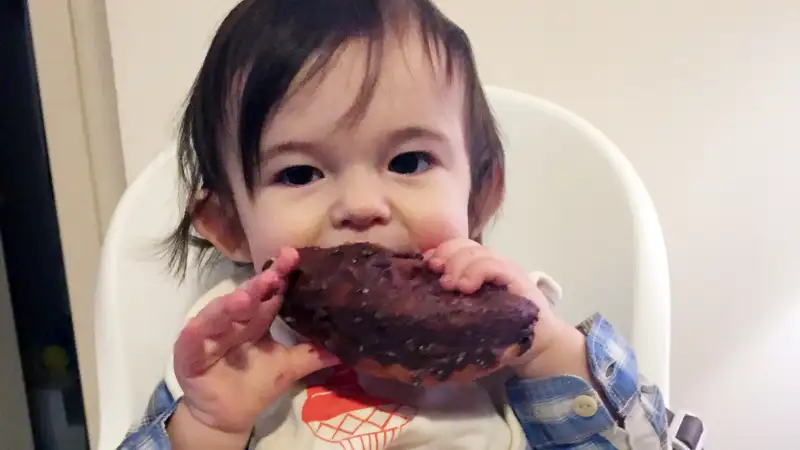 Our son, Luke, recently celebrated his first birthday. Family and friends generously gave the tyke rubber soccer balls, race cars, pegs, hammers, marbles, and chic winter gear. Luke now has more toggle coats than I do.
Luke's things, like a rebel army, have begun to outnumber my own. He now has nearly a dozen bins filled with plastic and wooden products crafted by large companies and bought by suckers like me. His clothes occupy a spacious three-drawer dresser, while mine are packed tightly in a small closet. He has twice as many pairs of socks as I do. This all feels silly. Give Luke the option to play with an empty milk carton or a fluffy stuffed animal, and he'll be shaking the carton between his hands like a boy possessed before you can blink. The box carries more value than the toy inside.
As I cleaned up after Luke's party, I started thinking about the nature of toddlers and their stuff, and I've been mulling over a few issues ever since. The first has to do with spoiling. I know that you can't really spoil a baby—infants' needs must be met. But am I developing habits of indulgence now that will ossify over time and lead me to spoil Luke when he's older? Am I setting myself up to be a bad parent? The second issue has to do with the presents themselves, the catalyst of my spoiling concern: there must be a better use for all that money.
The truth about spoiling
On the first question, the experts are clear. "You're not going to spoil a baby," says Tovah P. Klein, assistant professor of psychology at Barnard College and author of How Toddlers Thrive. "They need to be comforted and cared for."
That Mrs. Tepper and I do. We also warm Luke's baby wipes, pull him around in a red wagon for hours on end, and turn on "Sesame Street" whenever he's systematically broken us down. My fear is that our good-natured, responsive parenting will morph into something more unseemly as he ages. It's not a big leap to image a world where I'm cooking a second dinner because 2-year-old Luke is dissatisfied with the first. I shudder when scenes like that unfold in my mind's eye.
The key thing for me to recognize, says Klein, is that I don't need to protect my son from unhappiness.
"If you think, my role is to make him happy all the time, or to entertain him, the child doesn't learn how to handle hard times, like when he's angry or frustrated or sad," Klein says. "Your goal as parents is, how do you help him deal with anger when limits are imposed."
That's an intuitive point, but one slightly difficult to reconcile with experience. Luke is our first child, so everything is new to us. Call it the Unbearable Lightness of Parenting. So in the next five to 12 months, as he develops a sense of self and forms his own ideas of what he wants, it will be challenging to hold a firm line. How do I know this tantrum isn't just a test of limits but a true expression of real pain? Will I have the stomach to stay the course?
"He'll be happy if you love him and let him know you're there," Klein told me. "Put up some reasonable limits and help him through those frustrating moments. That is what counters spoiling."
Children, especially really young ones, crave structure. It's the lack of it that results in insecurity. So if he doesn't want to eat what I've cooked for dinner, fine. But I'm not frying up another meal.
Getting presents—and other stuff—under control
Limits are certainly in order for all of his toys. Between Christmas and his birthday and well-meaning friends doting on the little guy, we have enough Elmos and plastic cell phones and wooden school buses to open up our own boutique. This overflow of generosity leads to a short-term concern as well as a longer-term one.
In the here and now, the problem is sheer volume. "Children need less material goods," says Klein. "More stuff tends to overstimulate them." We already try to highlight only a few options for him to play with, but we'll resolve to be even more selective going forward. We'll offer him one bin to tear apart rather than two.
Later on, though, I worry about relying on toys (and ice cream and other objects that cost money) as a means of reinforcement. I don't want to get into the habit of giving him things all the time so that he'll do X or Y. Plus, I don't think I'll be able to afford it.
"Not every reward has to be a material reward," says psychologist and parenting expert Lawrence Balter. "Sometimes rewards can be privileges as they get older."
I was discussing the issue of presents at Luke's party with a friend from college, and she asked me if we had starting saving for his college fund. (We started a 529, but it's tragically underfunded.) Instead of toys, she asked, why don't you ask people to donate to the fund instead?
Which is what we're going to do from now on. Rather than stuff our bins full of perfectly fine but ultimately useless things, we'll ask friends and family to chip in to help pay for his insanely expensive education. While that might make the act of gift-giving a little less fun for them, it will help us afford an essential good that will dramatically improve his life.
Plus, it's one less spaceship for me to trip on in the middle of the night.
More From the First-Time Dad: