8 Ways to Save on Back-to-School Supplies Right Now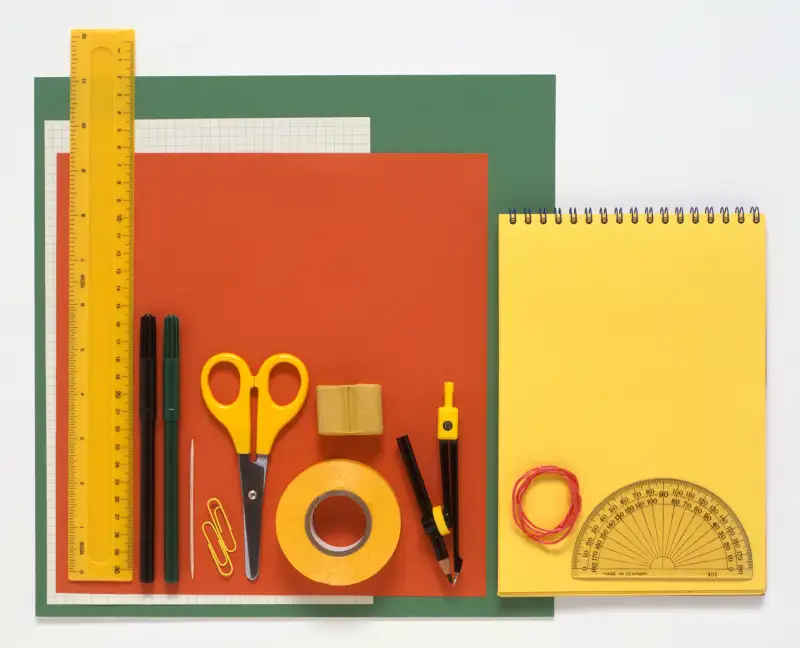 Andy Crawford—Getty Images
I realize summer vacation is still in full swing in many parts of the country and most parents have yet to think for a single second about back-to-school supplies. But if you can start your planning now, you can save a lot of money on your purchases. Using time to your advantage gives you the ability to buy when the price is right, and you won't be tempted to buy things at full price simply to cross them off your list. Here are eight ways to save on everything from pencils to a new laptop.
1. Always Shop Your Child's Backpack First
Before you stock-up on any school supplies for the upcoming school year, always pull out your child's backpack and empty it out. You'll be happily surprised how many items you'll discover that still have plenty of life left. By doing so, you'll avoid the sickening feeling of buying things like erasers, staplers, glue sticks, and notebooks only to discover perfectly acceptable versions in their backpack.
2. Set Price Alerts on Expensive Items
If you have a new laptop, scientific calculator, or other expensive tech item on your wish list, use time to your advantage and set up price alerts now so you buy only when the price is at its lowest point. If you're an Amazon loyalist, I recommend CamelCamelCamel.com as an easy way to track price fluctuations. You simply sign-up for free, create price alerts for any product, and receive an email when the price is right. They also have a free browser extension available which gives you instant access to the price history of items sold by Amazon. This is worth examining before you set up your price alerts so you know what price point to aim for.
Read More: Stock up on school (and office) supplies with back-to-school sales
3. Don't Buy All Supplies From One Store
The best way to guarantee you'll pay more than you should on back-to-school supplies is to walk into a single store and buy every item on your shopping list. Even if you shop at Wal-Mart, you'll still end up buying many items at full price. Instead, check out the sales fliers from all stores and plan your shopping accordingly. By having ample time on your hands to find the best deals, you'll be able to pick up items as you find them on sale. For example, you can pick up paper and pencils from Wal-Mart, but then stock up on the binders and backpacks on sale from Target.
4. Don't Neglect Office Supply Stores
Last year, some of the absolute best deals on back-to-school items were not found at the usual suspects like Wal-Mart, Target, and Kmart. Instead they were found at office supply stores like Staples, OfficeMax, and Office Depot. There were some amazing deals, like one-cent pencils, five-cent glue sticks, 10-cent folders, and five-cent erasers. The caveat is that many office supply stores carry a very limited supply, so keep a keen eye on sales fliers and pounce when the deals become available.
[vdeo id=4834655856001]
5. Always Price-Match Sold Out Items
When you visit a store like Staples and they've sold all of their one-cent pencils or 10-cent folders, don't despair. Instead, take their sales flyer into your lock Wal-Mart or Target and they'll match the price as long as they carry the same brand. Or better yet, simply start your shopping at Wal-Mart or Target and bring along the office supply store ads with you and just match their prices. Keep in mind that when getting your price match, it doesn't matter if the office supply store has actually sold out of the item. This is a terrific way to be able to shop at a single store and get the best price in town on school supplies.
Read More: 3 Smart Ways to Save on Father's Day
6. Avoid Cartoon Characters
A great way to overpay during back-to-school shopping is to fall for the cute cartoon characters that adorn items like pencils, backpacks, lunch bags, binders, and notepads. They're typically 20%-30% more expensive than items with no characters on them. If your child absolutely has to have Dory on her new lunch bag or backpack, buy some stickers and let them decorate it themselves.
7. Consider Shopping Solo
An easy way to avoid the temptation of buying pricey Disney items is to leave the kids at home altogether. Not only will it allow you to easily stick to your shopping list, but by shopping alone, the kids won't be able to throw you off your mission of finding and buying the best values. I love the idea of getting kids involved in back-to-school shopping, as it often increases their excitement about the upcoming year. I have found that a great way to do this is when you get home from your shopping trip, not during. Once you return, get them involved in the sorting and organizing of all the stuff you bought, and they will typically get all fired up about school.
Read More: The 6 Shopping Mistakes Keeping You From a Great Deal
8. Find Great Tech Deals Online
When it comes to finding online tech deals for items like laptops, desktops, and tablets, there are three sources you should definitely have bookmarked.
Dell University: When shopping online for a PC, Dell University has some excellent discounts exclusively for students. To take advantage, all you need to do is register for the free Dell Advantage program and provide the name of your school.
Apple Education Pricing: If an Apple computer is in your future, you'd be wise to check out their Educational Pricing page and save up to 25% off a new MacBook or iMac.
Best Buy College Student Deals: Once you've created a Best Buy account, you can sign-up for exclusive college student deals for computers, small appliances, and accessories like external hard drives and software. Current examples include $100 off a MacBook or iMac, $30 off a Keurig Brewer, and 20% off Samsung and LG microwave ovens.
By using these three little-known programs, you'll be able to get all of your tech needs at prices far below retail in many cases.