How to Get Bank Alerts on Your Phone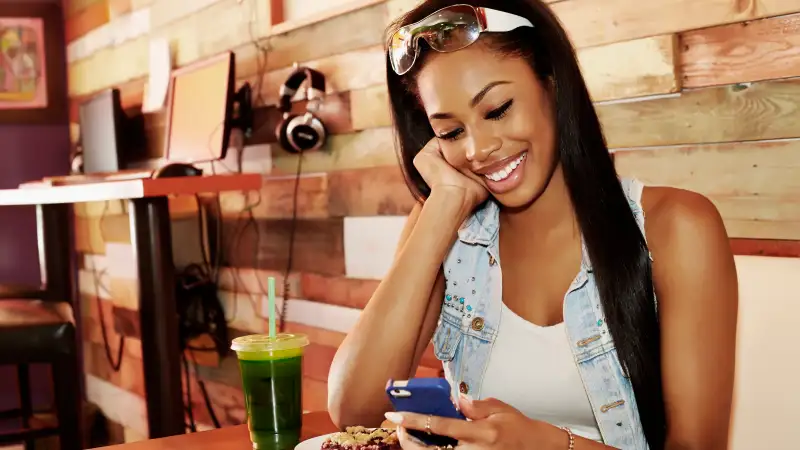 Peathegee Inc—Getty Images/Blend Images RM
If you haven't already signed up to get alerts on your mobile phone from your credit card issuer, what are you waiting for?
Mobile alerts can tell you within minutes if your card is used in another country or if your payment is overdue. They can save you the embarrassment of being blocked at the cash register if a transaction seems suspicious by asking you via two-way text if the purchase is legitimate. And as I recently learned firsthand, they can help you catch fraud almost instantly.
I had just started receiving mobile notifications of every transaction on my American Express card when a transaction I didn't recognize for $748 popped up. I immediately got on the phone. Sure enough, it was fraud. And even though AmEx hadn't flagged it as a suspicious transaction, I was able to shut it down right away because I saw it.
That's the beauty of mobile alerts and notifications, said Mark Schwanhausser, director of omnichannel financial services at Javelin Strategy & Research: "It's a way to involve the customer and deputize them, because they often know better than the banks if something is legitimate or not."
The alerts can also help you manage your personal finances by alerting you before a payment is due, if your balance goes over a specific amount or if you're close to your credit limit. About four in every 10 consumers today have received some kind of alert from a financial institution, according to a Javelin report published in April. The company predicts that number will rise to more than half of U.S. consumers by 2019.
However, the report said most banks aren't doing enough to promote their alerts, that it's confusing and difficult for customers to enroll, and the alerts are "remarkably difficult" to turn on. "Finding alerts settings is akin to a Where's Waldo' search," the authors wrote.
Since the issuers may not make it easy, here's what you need to know to sign up:
How do you want to get your alerts?
You can get alerts through email, text message or "push notifications" that pop up in the status bar or notification tray of your cellphone. Email alerts are still the most common, according to Javelin, with 36 percent of consumers receiving them, compared to 22 percent for texts and 14 percent for notifications. Here are the pros and cons of the different types:
Email: Every bank surveyed by Javelin offers email alerts, and this type has been around the longest. The problem, of course, is that some folks don't have email on their phones. Even if you do, you may not check it regularly. "Fraudulent transactions happen fast," said Julie Conroy, research director at Aite Group. "A thief will do a little testing and then go to town, so it's important to catch fraud as quickly as possible."
Text message: About 95 percent of banks allow their customers to receive at least some financial alerts via text. Because we're conditioned to give texts our immediate attention, this type of alert is a good choice for news you consider urgent. "Since you use texts to communicate with people, it might be annoying to get a text for every transaction," Conroy said. "Also make sure you consider whether you're going to incur charges for texts." Some banks offer two-way texts that pop up instantly on your phone if you try to make a transaction that looks suspicious. If you respond that the purchase is legitimate, your card will go through instead of being blocked at the point of sale.
Push notification: This is the type of notification that I received from American Express. They pop up on your phone's lock screen, in the banner at the top of your phone or in your "notification tray" even when you're not using your card's mobile app. They are more likely to get your attention than an email, but they're less obtrusive than a text. Fewer than half of banks offer these, but Javelin predicts they will surpass text notifications as the No. 2 form of alert by 2019. Fueling that prediction: 45 percent of consumers surveyed said they think push notifications from their bank would be valuable, even though only 14 percent receive them.
When do you want to get an alert?
Signing up for at least some mobile alerts should be "a no-brainer choice for the customer," said Brian Riley, principal executive adviser at CEB TowerGroup. "You don't necessarily need an alert for every transaction. But everyone should want some type of notification," he said.
Most issuers allow you to customize the type of notifications you receive and how you get them, so you can make sure you don't get too many. "Typically there's a control panel that says, 'Text me or email me based on these specific conditions,'" Riley said. You can also turn them on or off anytime.
Some alerts are designed to enhance security; others help you stay on top of your personal finances. Here are some options you may see:
Security alerts:
Suspicious transaction: When issuers suspect fraud, they automatically try to contact you. But federal law requires them to get permission before they can notify you via text instead of calling you or sending an email.
Card-not-present transaction: This notifies you anytime a purchase is made without a swipe, so it's mostly Internet transactions. "These transactions are much more vulnerable to fraud because all they need is your account number, not your actual card," Riley said, "so this option should be first on your list."
Gasoline transaction: Gas stations are another hot spot for thieves; you'll be notified anytime a purchase is made at one.
International transaction: Because a lot of fraud originates overseas, this can be a good way to catch fraud if you rarely travel abroad; you can turn it off when you leave the country.
Transactions over a preset amount: You can choose to be notified of every transaction over a specific dollar amount. If you choose $0, you'll be alerted to every transaction; set a higher dollar amount to minimize the number of alerts.
Personal finance alerts:
Available credit: Sent when your credit falls below a specified amount you set.
Balance: Sent anytime your credit card balance exceeds an amount you set. This can be particularly useful if you have multiple people using your card or if you're trying to stay within a budget.
Low balance: An alert if the balance in an account linked to your debit card falls below a specified amount.
Payment due: Notifies you a specified number of days before a payment is due.
Missed payment: Sent if no payment was received by the due date.
How to sign up
Banks are cautious about automatic enrollment, Schwanhausser said, because "they don't want their customers to feel like they're being spammed or overwhelmed." Most send automatic security alerts via email (or through a call to your home phone) anytime your personal information or settings are changed or if they notice suspicious activity.
To start getting text messages or push notifications to your cellphone, you have to proactively sign up. Though it can be difficult to enroll, it's worth doing simply so your bank can reach you quickly on your cell if it detects suspicious activity. "It's also a lot more convenient for you to hit reply to a text and say, 'Yes, this was my transaction,' or 'No, it wasn't,' than to get an email about something and have to take the time to call in," Conroy noted.
Every card has a slightly different process, but here are the basic steps to start getting text message alerts:
Log in to your card's website.
Look for something in the menu that says "manage alerts" or "go to alerts." If you don't see the word 'alerts,' you may have to click on "Profile" or "Settings."
Look for an option that will allow you to put in your mobile number, change your contact information or add text messages.
Because federal law requires you to opt in to receive text, you'll have to activate the service by entering a code that the bank will send as a text.
Most issuers then list the types of alerts you can receive and how you want to receive them (email or text). Make your choices and then hit save.
To start getting push notifications, follow these steps:
First, find out if your card issuer offers the service. Javelin's report in April said the following financial institutions were using push notifications, but more banks are adding them every day: American Express, Bank of America, M&T, BBVA compass, Regions, Chase, USAA, Citibank, Wells Fargo and Fifth Third.
Download the institution's mobile app.
In most cases, you can add push notifications through an app menu option that says something like "Manage alerts." If you don't see it as an option in the mobile app, you may have to add push notifications through the card's website. Call the phone number on the back of your card if you're having trouble.
Once enrolled, you may still have to change the settings on your phone to "allow notifications" from your bank's mobile app. On most phones, you can go to settings and look for "notifications." Some, including iPhones, let you decide whether to turn on sounds and badges with the notifications.
After my own experience with fraud, I took the time to turn on mobile alerts for all of my active credit cards and bank accounts (it did take some time and a few phone calls). To keep my messages box from filling up, I elected to receive texts only for news I considered urgent: suspicious activity, a low balance or a payment missed. But I'm receiving push notifications on my phone for most other transactions, and so far, I haven't minded the extra communication. In fact, I take comfort in knowing that if fraud happens, I'll catch it quickly.
More From CreditCards.com: