The Best Way to Bank Your Kid's Savings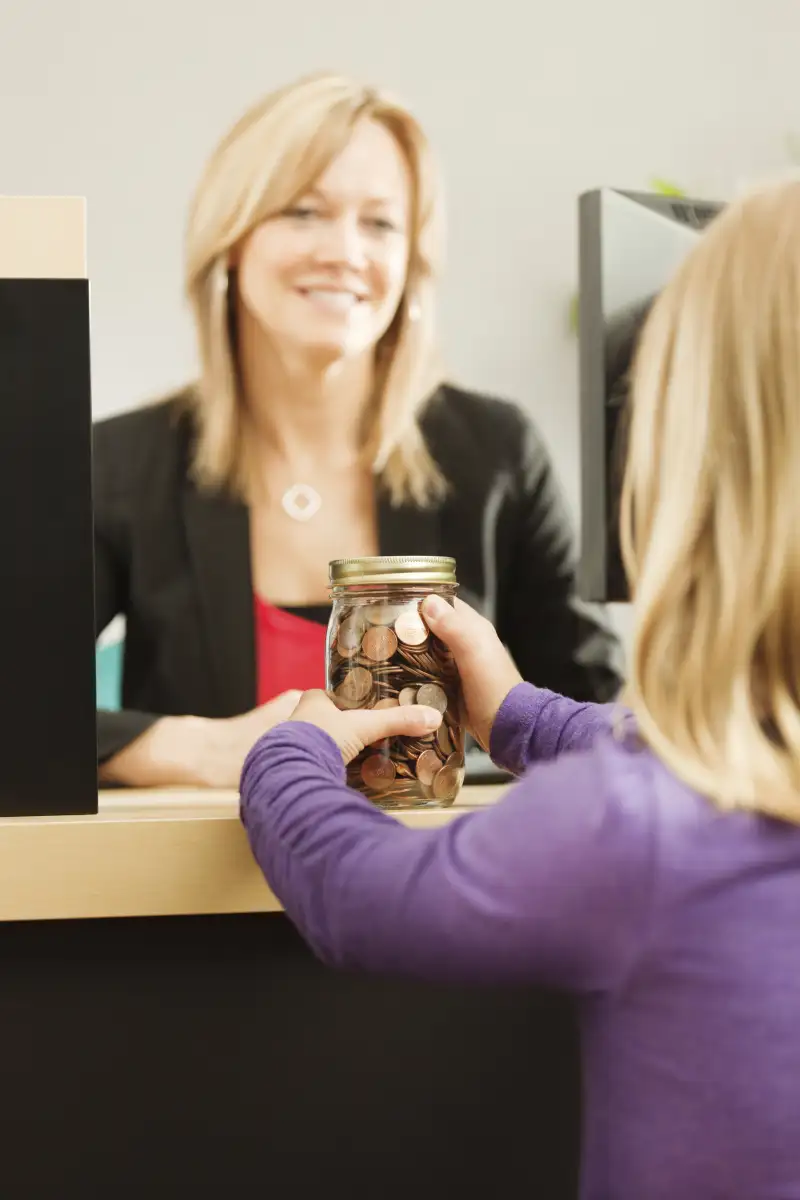 When I told my 7-year-old that her wallet was getting full and it was time to open a bank account, her eyes widened. She wanted to know if she would be allowed to carry her own ATM card.
Um, no.
When transitioning from a piggy bank to handling a debit card linked to an active account, financial experts say it is best to start with a trip to a bank, but which one and when? Here are some steps to get started:
1. Bank of Mom and Dad
Don't be in a rush to move away from the bookshelf bank, says financial literacy expert Susan Beacham. There are lessons to be learned from physical contact with money.
Sticking with a piggy can be especially effective if you teach your kids to divide their money into categories. Beacham's Money Savvy Pig has four slots: save, spend, donate, invest.
When you cannot stuff one more dime into the slots, it is time to crack it open and seek your next teachable moment.
2. Neighborhood Convenience
Many adults bank online, but kids still benefit from visiting a branch, says Elizabeth Odders-White, an associate dean at the Wisconsin School of Business in Madison.
Do not worry about the interest, Beacham says. "A young child who gets a penny more than they put in thinks it's magical. You're not trying to grow their money as much as grow their habits."
Your second consideration should be fees. Your best bet may be where you bank, where fees would be determined by your overall balance and you could link accounts.
Another option is a community bank, particularly a credit union, which are among the last bastions of free checking accounts.
"The difference between credit unions and banks is that credit unions are not-for-profit and owned by depositors," says Mike Schenk, a vice president of the Credit Union National Association.
At either type of institution, you could open a joint account, which would be best for older kids because it allows them to have access to funds through an ATM or online, says Nessa Feddis, a senior vice president at the American Bankers Association.
Or you could open a custodial account, for which you would typically need to supply a birth certificate and the child's Social Security number. Taxes on interest earned would be the child's responsibility, but likely would not add up to much on a small account. A minor account must be transferred by age 18 to the child's full control.
3. Big Money
If your child earns taxable income, the money should go into a Roth individual retirement account, experts say. There is usually no minimum age and many brokerage firms have low or no minimums to start an account. You can pick a mix of low-cost ETFs, and let it ride.
Putting away $1,000 at age 15 would turn into nearly $30,000 by age 65, at a moderate growth rate, according to Bankrate.com's retirement calculator.
Not all kids can bear to part with their earnings, but there are workarounds. One tactic: a parent or grandparent supplies all or part of the funds that go into the Roth, akin to a corporate matching program.
The other is to work with your child to understand long-term and short-term cash needs. That is what certified financial planner Marguerita Cheng of Blue Ocean Global Wealth in Potomac, Maryland, did with her daughter, who is now in her first year of college.
While mom and dad pay for basic things like tuition, the teen decided to pool several thousand dollars from her summer lifeguard earnings, money from her on-campus job and gifts from her grandparents to fund several educational trips.
"She would make money investing, but it's only appropriate if you have a longer time horizon," says Cheng. "It's not even about the money, it's the pride she gets from paying for it herself."