The Most Wished-For Airbnb in Every State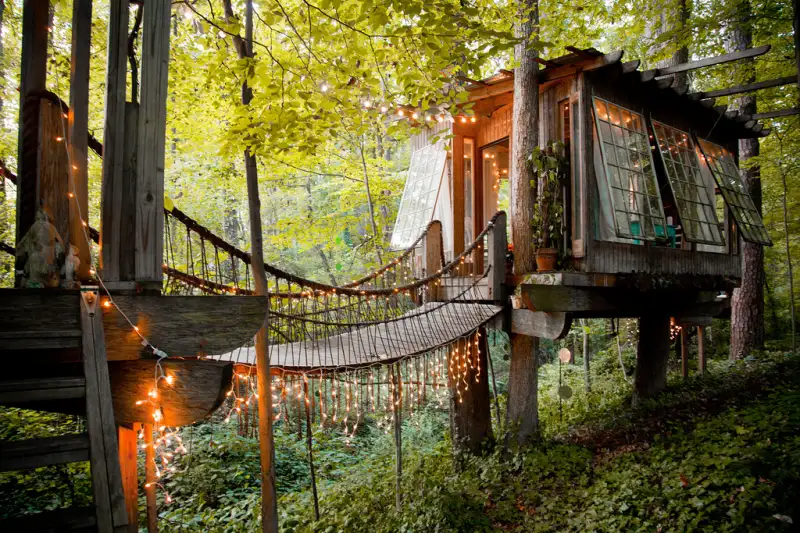 Whether it's a yurt in the middle of the Blue Ridge Mountains or a private guesthouse just a few miles off the Las Vegas strip, people around the country are drawn to uniquely secluded or practically affordable Airbnb listings.
Airbnb users have the option to put listings on their "wish lists," where they can save them to come back to as a future accommodations option or as a symbolic maneuver for out-of-reach locations that they'd like to book someday.
Using data provided by Airbnb, we compiled a list of the most-wished for Airbnb listings in each state.
While some drew far more attention than others, many of them share a common theme of seclusion, easy access to the nearby wilderness and unique architecture. Many Airbnb users appear to have the desire to get off the grid—whether that's by climbing up to a loft in a tall tower that is surrounded by 160 acres of private land in Oregon, or spending the evening in a tree house just outside of Atlanta.
Another major draw for Airbnb users is affordable options near large metropolitan areas like New York City and Philadelphia.
For those looking for anything from a secluded log cabin with no running water in Wyoming to a Los Angeles guesthouse with private pool access, each of these most-shared listings reflect a mindset or aesthetic that travelers may be aiming to achieve on their journeys.
Alabama
Located in Sunrise Village on the Gulf of Mexico, a two-bedroom, one-bathroom condo is available for $100 a night. With an additional pullout couch, the condo can fit up to six people and is just steps away from a sandy beachfront.
Price: $100/night
Alaska
A log cabin located on the edge of a wooded area in Alaska has no running water and no indoor bathroom, but it's still the most-wished for Airbnb spot in the state. Desirable to those hoping to get a rustic experience, the cabin is less than a mile from Creamers Wildlife Refuge in Fairbanks, Alaska, and has stunning views of the Northern Lights when they are visible.
Price: $85/night
Arizona
This quaint A-frame cabin in Flagstaff, Arizona is just minutes from national parks and monuments—and was once the set of an American Eagle Outfitters campaign. The small home can fit four people who are hoping to unplug for a while as the destination has no telephone, air conditioning, internet or cable. But the mountain bikes, horseshoe pitch and national forests nearby should keep visitors busy.
Price: $109/night
Arkansas
Secluded on 20 acres of meadows and featuring a mountainous background, this A-frame cabin in the Ozark Mountain region in Arkansas can accommodate up to six people. The home is also equipped with a newly renovated kitchen and bathrooms and a large front deck to observe the neighboring wilderness.
Price: $109/night
California
Located in the heart of Los Angeles, this private pool house with a separate entrance from the homeowners grants visitors access to stunning views of the city and access to their own pool and hot tub. The location is just minutes from popular neighborhoods like downtown LA and Hollywood.
Price: $125/night
Colorado
In the 1880s, this house in Denver's oldest neighborhood was home to horses. But in 2007, it was converted into a rustic house with concrete floors and exposed brick—as well as tasteful décor from the homeowners. Up to three guests can stay in the home, which is walking distance from local breweries and restaurants.
Price: $133/night
Connecticut
This five-acre private island can be used for anything from couple's getaways to work retreats. Laurel Island, located in East Hamptons, Connecticut, has five private cottages that can accommodate up to 36 people. Guests can also use canoes, kayaks, paddle boards and rowboats to explore the area.
Price: $250/night with 20 people or more
Delaware
Tennis players and beach lovers are likely the ones adding this Delaware condo to their wish lists. Located on Bethany Beach in a resort community, this apartment can accommodate two people—and is just steps away from multiple tennis courts, pools and the beach.
Price: $110/night
Florida
This cottage with a private pool in Biscayne Park in northern Miami is set in a tropical atmosphere that includes an outdoor tiki hut. The 500-square-foot cottage can accommodate two people, and its owners allow visitors to use their bikes, beach towels, chairs and umbrellas for a trip to the beach free of charge.
Price: $85/night
Georgia
Nestled in the lush trees minutes away from downtown Atlanta, this treehouse is Airbnb's most-wished for property in the United States. Touted as the perfect getaway for couples, the home in the canopies includes three separate rooms connected by a drawstring bridge. Depending on the weather, visitors can open up the doors of the bedroom to have their bed fixed to look up to the stars.
Price: $375/night
Hawaii
Fifteen feet above the ground in a Hawaiian tropical forest sits the state's most-wished for Airbnb property. To access the tall, unique home, visitors follow red cinder through a jungle and climb up a steep staircase into a trap door. Once you're there, the space has a 360-degree view of the jungle on the Big Island around it and a bathroom that includes a shower with natural rainwater.
Price: $200/night
Idaho
Two guests can spend the night in the upstairs of a barn in Teton Valley in Idaho just minutes away from a ski resort. Located on an expansive property that has a stream running through it, the space is perfect for those who love the outdoors, skiing, hiking and biking, the owners said in their listing. The property also boasts views of Tenton Pass.
Price: $95/night
Illinois
Located in Chicago's Logan Square near a host of bars and restaurants on a tree-lined street, this apartment can host up to five people and includes a private yard and garden. The apartment is family friendly and the hosts offer toys, books and a portable crib if needed. The apartment also has easy access to the Chicago O'Hare airport.
Price: $150/night
Indiana
This Bloomington home with artistic décor can accommodate up to four guests who can access their space through a private entrance. The home is in the heart of Bloomington—close to restaurants, bars, public transportation and music venues. The owners are also in the process of building a wood-fire oven for bread in their backyard.
Price: $74/night
Iowa
Located in the second story of an old creamery in a historical building along the Winnebago River in rural Fertile, Iowa, this quaint space can accommodate five people. Those who have stayed in the creamery before have described it as "unlike any Airbnb I have ever stayed at" and an opportunity to get away from busy city life. The host says guests can make a bonfire in the yard and—if need be—he's licensed to officiate weddings.
Price: $70/night
Kansas
Set in the countryside of Okaloosa, Kansas, this cottage offers a chance to live a rustic life on the farm—if just for a few nights. Constructed on site in 2007 by its owners and a number of volunteers, the cottage can accommodate four guests. The property itself boasts vegetable gardens, an orchard, farm animals and views of the sunset and stars at night.
Price: $59/night
Kentucky
This private loft in the Highlands neighborhood of Louisville, Kentucky, includes a mini-fridge, work space, record player and seasonal bread made by the owners. The loft has a private entrance and a queen-sized bed located in a cozy and sun-filled bedroom. The owners also have a backyard, where guest may spot their yellow lab, four chickens, rooster and beehive.
Price: $79
Louisiana
Walking distance from New Orleans's French Quarter and Jazz Fest, this home can accommodate three guests and boats bright, colorful rooms and a courtyard with a Greek column-lined pool. Visitors can use two bikes provided by the owners and an outdoor grill if desired. The home, built in 1872, also includes a balcony for guests to look over their courtyard.
Price: $85/night
Maine
This farm and cottage located on the coast of Maine offers easy access to trails for hiking and biking and proximity to the ocean for boating. Guests will stay in their own cottage, which includes a bed nestled in a loft. The property is about an hour drive from Bar Harbor and Acadia National Park, and includes a barn—called the Surry Concert barn—where recitals and arts programs perform.
Price: $120/night
Maryland
This home located directly on Chesapeake Bay in Deale, Maryland, has sun-filled rooms and easy access to waterfront activities in the summer. Guests can stay in an open-studio loft with a freestanding marble bath and a European open shower. Guests can also use kayaks and paddle boards in the water, as well as a fire pit and barbeque when the season permits.
Price: $119/night
Massachusetts
A uniquely cylindrical, two-story cottage in Tyringham, Massachusetts. can accommodate two guests who will have access to its canopied bed, wooden interior and cozy feel. The cottage, which guests will have full access to, sits on a property with gardens, a lily pond, a babbling brook and two acres of woods. There's also a swimming spot two miles away and barbeque access.
Price: $225/night
Michigan
Located in the Huron-Manistee National Forest on the west side of Michigan, this two-bedroom cabin with floor-to-ceiling windows offers a getaway from TV and internet—replacing it with views of the surrounding forest and wildlife. Its large windows overlook the Pere Marquette River, where guests can go fishing and canoeing or kayaking. Guests can also use an outdoor fire pit for bonfires or s'mores.
Price: $125/night
Minnesota
Built by its owners in 1995, this seclude cabin on the shore of Lake Superior has easy access to hiking trails and canoeing. The cottage can accommodate three people and the owners encourage their guests to explore the outdoors. The home also has sliding-glass doors that open onto a deck to view the nature that surrounds it.
Price: $79
Mississippi
Located in the beach town of Bay St. Louis, this cottage offers guests access to their own nautically themed studio and patio. The home is shaded by a 300-year-old tree with Spanish moss and is walking distance from restaurants, a museum, the Depot District and the beach. If guests aren't looking to walk to the beach for a chance to hang in the water, they can use the home's Jacuzzi tub.
Price: $75/night
Missouri
This loft filled with exposed brick, large windows and high ceilings is located in the heart of Kansas City and is walking distance from a number of popular neighborhoods and restaurants. The unit is in a building with access to a rooftop deck, entertainment room and gym. Guests will have access to the whole apartment, which is professionally cleaned after each guests stays.
Price: $109/night
Montana
Dubbed the "Best Airbnb" property by Outside Magazine, this carriage house just outside of Bozeman is surrounded by a mountainous landscape and creek. The studio has large French doors, a fireplace and is made of repurposed timber. The home is located near skiing, two different rivers and is about 60 miles away from Yellowstone National Park.
Price: $195/night
Nebraska
This tiny home with a wooded interior sits on a goat farm in West Omaha—and sits on wheels. A queen bed can be accessed by ladder in the loft, and an L-shaped couch that doubles as a pull-out bed is nestled into the corner. The home is located on a private road in a rural area along the Elkhorn River.
Price: $75/night
Nevada
Located five miles from the Las Vegas strip, this guest home offers easy access to Sin City—and a quick getaway from the masses. The home can accommodate two people and gives them access to a pool and their own sauna. Large windows keep the home bright and vibrant, and guests can also enjoy the wood-burning fireplace at the center of the space.
Price: $115/night
Airbnb © ANNE RUTHMANN PHOTOGRAPHY
New Hampshire
This mountain-top cottage located on the side of Mount Uncannouc is 15 minutes away from Manchester and boasts expansive views of the nature that surrounds it. The cottage can accommodate up to four people and includes a huge deck to take in the view. It is also steps away from New Hampshire's hiking trails and is a short walk from the mountain's base pond.
Price: $150/night
New Jersey
With an expensive real estate market and travel industry in New York City, this Jersey City property is aspiring to offer a cheap option for visitors hoping to see the city that never sleeps. Up to six people can fill this apartment, which is five minutes from downtown Jersey City and 4.6 miles from Times Square.
Price: $58/night
New Mexico
Called the "Earthship," this Taos, New Mexico home is off the grid and catches its own rain water, generates its own electricity and sits nestled in a hillside. Built by its owner, the home can accommodate four people in a studio space that includes a stone-lined deep tub and outdoor fire pit. The home is 20 minutes away from the Taos Ski Valley, which offers skiing in the winter and hiking in the summer.
Price: $125/night
New York
This Brooklyn loft offers a more affordable option for those visiting New York City. The open floor space can accommodate four people and is one block away from the subways to Manhattan. The loft has exposed brick and 12-foot ceilings.
Price: $98/night
North Carolina
Goat lovers: rejoice. This studio apartment minutes away from downtown Asheville offers a refuge from city life—and sits on a property with several goats in a pen outside. The apartment itself is filled with modern décor and its own kitchen and bathroom. Guests have access to an outdoor patio and their own private yard.
Price: $68/night
North Dakota
Just a few miles outside of Bismarck, this two-story ranch home can accommodate up to 11 people in four private bedrooms. The large home also has a theater room for watching TV and movies as well as open living spaces. The home is a 20-minute drive from the State Capital Building.
Price: $45/night
Ohio
Once home to the famous American artist George Bellows, this bright studio loft located in Columbus can accommodate two people and has its own private bathroom and kitchenette. Guests can also access the home's backyard that includes a goldfish pond and patio table. The home is walking distance from downtown.
Price: $100/night
Oklahoma
This home in the Paseo Arts District of Oklahoma City features décor from the artists who regularly inhabit it and can accommodate five people. The place is walking distance from restaurants, bars, shops and art galleries.
Price: $100/night
Oregon
Sitting on a tower that looks out onto 160 acres of private land, this unconventional space offers stunning views and a unique living space. Visitors will have to bring their groceries — the closest one is more than an hour away — to stay in the lookout tower, which includes a queen bed in the highest point of the tower, surrounded by windows. The place is completely booked for 2017, and interested guests can already start reserving their spots for early next year.
Price: $17,900
Pennsylvania
Located in the heart of Philadelphia, this guest room offers an affordable option for those visiting the city. Aside from the bright room filled with books and DVDs offered to the guests, they can also use an outdoor patio space that can be accessed through sliding glass windows in the living room.
Price: $41/night
Rhode Island
This private room and bathroom in a home on the edge of downtown Providence can accommodate up to three people. Guests will have access to the home's backyard and courtyard, as well as a free parking space for visitors who drive there.
Price: $75/night
South Carolina
Touted as a "honeymoon suite in the sky," this property somehow makes a tree house luxurious. With floor-to-ceiling windows that look out onto the trees that surround it, this room in an expansive tree house complex includes a hand-painted, king-sized bed, indoor plumbing, chandeliers and antique furnishings. The room is attached to a number of other buildings by roped bridges, and is located on 40 acres of property.
Price: $245/night
South Dakota
This cabin is located on a quarter horse ranch in the Southern Black Hills of South Dakota. Decked out in ranch décor, the cabin in Hot Springs is next to hiking trails and opportunities for horseback riding (as long as you bring your own horses).
Price: $100/night
Tennessee
With scenic views of the Smokies, this log cabin is set on 13 acres of private land and accommodates 10 guests. Visitors will have private access to the entire cabin as well as to a hot tub on the deck that boasts stunning views of the national park. The home is nearby a river that can be used for kayaking and tubing.
Price: $119/night
Texas
This airstream is located in the backyard of a home in Austin, where guests can access a backyard filled with the owner's pets that include cats, chickens, pigs and goats. Located a few miles from downtown Austin, the airstream has funky décor inside as well as a mini-fridge, bathtub and sink.
Price: $65/night
Utah
This tiny home in Draper, Utah—just south of Salt Lake City—offers a unique space to stay. While incredibly small, the home is bright with big skylights and windows. Located in an RV park, the home has two mattresses in a lofted space and a pullout couch if needed.
Price: $70/night
Vermont
Nestled in the trees in a forest in Vermont, this cabin can accommodate three people and includes a cedar, outdoor hot tub that can be used during all months of the year. The cabin is custom built and also includes a fire pit off the deck. Visitors who are interested in skiing are in luck: Two ski resorts are located about 30 minutes away.
Price: $124/night
Virginia
Located in the Blue Ridge Mountains on an expansive property with a barn, a yurt is available to stay in for as many as six guests. The unique structure has a fully equipped kitchen, bathroom and beds. The property also has farm animals, a saltwater pool and a hot tub, and is a 10-minute hike away from the Shenandoah National Park.
Price: $185/night
Washington
No, Bilbo Baggins does not live here, but you can. Located in Orondo, Washington, this unique structure is nestled into the hillside and has circular entrances that reveal scenic views of the Columbia river and mountainside. Interested guests will need a four-wheel drive vehicle to access the location.
Price: $200/night
Washington, D.C.
This renovated basement apartment with bricked walls and wooden floors is available for guests in the nation's capital. The place includes a massive leather couch, a queen-sized bed, a TV and a marble bathroom. Guests will have a private entrance and free parking spots to use if they want.
Price: $99/night
West Virginia
Located in the historic town of Harpers Ferry, this geodesic dome home can fit up to 10 people and sits on two acres of private land. The bright space with tall ceilings and a spiral staircase is located less than a mile away from the Appalachian Trail. Art, including a full-wall mural, is featured inside the home, and a patio surrounds its exterior.
Price: $199
Wisconsin
Located just off the waterfront in Sturgeon Bay, this cottage boasts views of the water and land surrounding it. Touted as a haven for cyclists and kayakers, the home can accommodate up to four people and also features a large fireplace.
Price: $115
Wyoming
This log cabin is "off the beaten path" and offers guests opportunities to relive the past with no running water and heat coming from a wood-burning stove. It's about 60 miles away from the entrance of Yellowstone National Park and can accommodate four people.
Price: $99/night
This story originally appeared on Real Simple.
We've included affiliate links in this article. Click here to learn what those are.