10 Great Apps for Scoring Free Food, Gift Cards and Money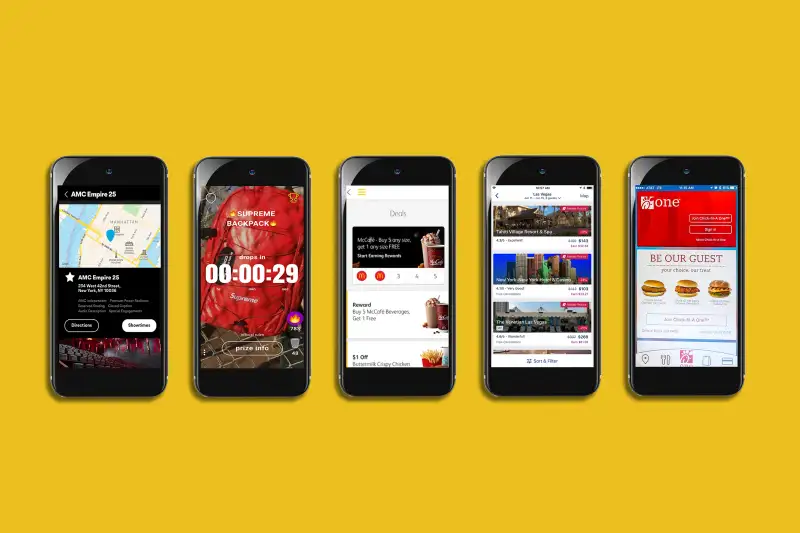 (phone) Getty Images/iStockphoto; (screens) courtesy of individual apps
Look, we get it — you're addicted to your smartphone. But if it's always within 10 feet of you, why aren't you using it to your financial benefit?
There are dozens of apps available that offer users food, gift cards and even cash in exchange for doing things you're probably already doing for free (read: eating, shopping, reading). Certain restaurants offer rewards programs for frequent customers, for example, and other companies pay people to complete menial tasks for them online. All you have to do is have a phone and some free time.
Here are 10 of the best apps for free stuff.
Chick-fil-A One
Chick-fil-A advertises that its app will help you skip the lines at restaurants and make pickup easier, but the true value lies in its reward program. Each mobile order helps you toward earning complimentary treats, which can include everything from Chick-n-Minis to Icedream Cones. Keep an eye on your treat meter — when the circle fills up, you're eligible to redeem your free food.
Getty Images/iStockphoto; Courtesy of Chick-fil-A
McDonald's
This fast food chain also offers crazy discounts that only app users can access. This week, for example, the app is giving away a free order of medium fries with the purchase of Buttermilk Crispy Tenders, a free breakfast sandwich with the order of a medium McCafe and $2 off any order over $10. The Golden Arches are coming through with some golden deals.
Getty Images/iStockphoto; Courtesy of McDonald's
Swagbucks
OK, so it doesn't give you free food, but Swagbucks is a great way to earn free gift cards by doing work online. Complete surveys, watch videos, use specific web browsers and shop at certain retailers to rack up Swagbucks points. Then redeem those points for gift cards or cash — and we're not talking pennies. Swagbucks brags that it's given away over $260 million since its 2008 debut.
Available on: iOS, Android, desktop
Getty Images/iStockphoto; Courtesy of Swagbucks
Libby
If you're a bookworm with a shrinking wallet, check out Libby, an app that lets you access library books and audiobooks from your phone. All you have to do is sign in using your (likely free) local library card and borrow e-books the digital collection. Libby can even send the books to your Kindle — and keep track of their due dates so you don't incur fines. Judgmental stares from stern librarian sold separately.
Available on: iOS, Android, Windows
Getty Images/iStockphoto; Courtesy of Libby
Influenster
Love social media? Love your followers? Love free stuff? If you answered yes to all three, look up Influenster, which calls itself "North America's No. 1 product discovery and review platform." Link all of your accounts and participate in the community, and Influenster may put you on its list to receive free VoxBoxes stocked with items from brands like Burt's Bees and Marc Jacobs to test out.
Available on: iOS, Android, desktop
Getty Images/iStockphoto; Courtesy of Influenster
T-Mobile Tuesdays
If you're a T-Mobile subscriber, you should definitely take advantage of the carrier's T-Mobile Tuesdays app — and make sure you check it for customer appreciation deals every week. In the past, users have scored free $2 Dunkin Donuts gift cards, $4 movie tickets to see Deadpool 2 and brand-themed dog bow ties (no, really).
Getty Images/iStockphoto; Courtesy of T-Mobile
AMC Theatres
Tuesdays are good days if you're on the hunt for perks. Seriously: If you live near an AMC theater, sign up for the AMC Stubs program to get a $10 package that includes one ticket, popcorn and a soda on Tuesdays. Then download the AMC Theatres app, which includes a section where you can access Stubs points that add up to rewards like free large popcorn refills.
Claim It!
This sweet app lets users buy, sell and give away items like any online marketplace, but it's also earned a reputation over the past few years for giving away free stuff. If you're in the greater New York area or on a college campus, keep an eye out IRL for the company's pink truck: Staffers have recently used it to host raffles for Nike sneakers and Dos Toros giftcards.
Available on: iOS
Suprize
On its website, Suprize describes itself as "an app where you win sick s--t all day, every day." Download it and keep an eye on the countdown — once it reaches 59 seconds, the app will give you instructions for a mini-game. Be the first to complete it when the timer reaches 0, and you'll win whatever prize is up for grabs. It can be anything from clothes to beauty products to concert tickets. If you lose, though, don't worry — drops happen constantly.
Available on: iOS
Getty Images/iStockphoto; Courtesy of Suprize
Orbitz
This travel app comes with an instant bonus: Once you download it, you'll get $25 off your first hotel booking of $100 or more for at least two nights. After that, you'll also get exclusive deals and a convenient way to earn more Orbucks, which can be redeemed for free hotel stays in the future.
Available on: iOS, Android, Windows
Getty Images/iStockphoto; Courtesy of Orbitz