This Is the Best Bank for College Students Right Now — and It Has No Overdraft Fees and 16,000 ATMs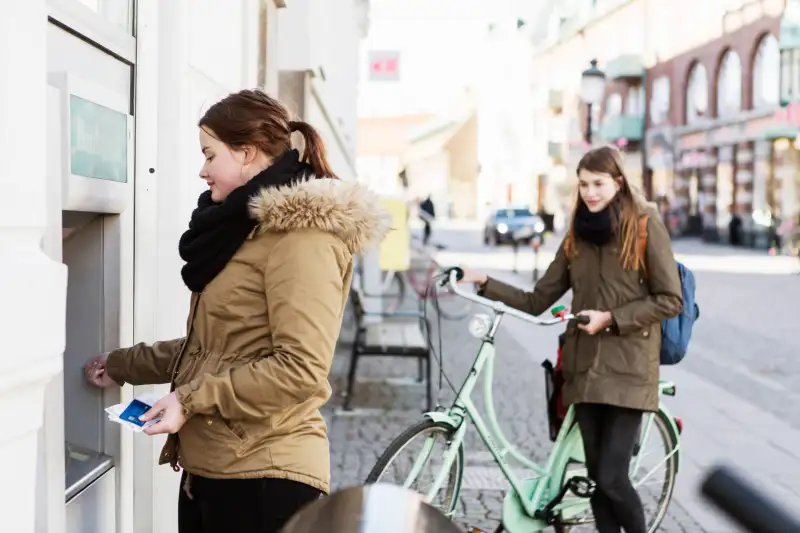 For many students, college is the first time living away from home – and most importantly, the first time they'll be managing their own finances.
Up to 47% of U.S. students open their first bank accounts when reaching college, according to the OECD's Program for International Student Assessment's student financial literacy survey.
Illustration by Tim Boelaars
To help find the best bank for college students, Money looked at the 20 largest U.S. banks by reach, those with over 800 branches or a presence in at least 9 states, as identified by bank consultancy firm Novantas. Our favorite banks typically boast stellar customer service and a large branch presence, and we considered those factors this time too. But for student accounts we put extra emphasis on avoiding pesky hidden costs that can really sap a modest budget, especially ATM and overdraft fees.
"What gets most students are fees," says Nan Morisson, chief executive of the Council for Economic Education. "If you're not careful, that's just money being tossed away."
While you can and should opt-out of overdraft protection, it's not clear most people do. More than two-thirds of college students have gone into overdraft at least once, according to a new report released by Sallie Mae. And those mistakes are costly. The average overdraft fee is just over $33, according to a 2018 Bankrate survey.
ATM fees are smaller but they matter too. Although young adults tend to live more of their lives online, roughly four out of five them still carry cash, according to Sallie Mae. With the average cost to pull money from an out-of-network ATM (including fees from both banks and machine operators) now at about $4.70, that can really add up.
To be sure, our list isn't all-encompassing. If you have access to a credit union, for instance, you may be able to find better deals. What's more, online banks are another good option: they often have higher savings rates than most of the large brick-and-mortars. In some cases, depending on where students go to college, they may also be able to find better offerings at smaller, regional banks not in our universe.
That said, if you're looking for a big-name bank with low fees, a wide network, and special account terms for students, here are your best options:
---
Winner: Bank of America
Why It Wins: This standout student account is the only one surveyed with no overdraft fees, an ideal perk for college students living on a budget. If you can't get to one of their more than 16,000 ATMs across the country, Bank of America charges a reasonable $2.50 out-of-network ATM fee. It also boasts an excellent mobile app – complete with budgeting and savings features. That's important for young adults learning to budget. "Most students today are going to be doing the majority of managing their finances online," says Morisson. "So having some kind of mobile app or online banking feature is pretty important." The bank also has a truly national footprint, with a presence in 37 states – covering every major region in the U.S.
Caveats: Bank of America scores slightly below average on its customer service, according to J.D. Power's annual Retail Banking Satisfaction Study. You also won't be able to write old-fashioned paper checks with this account.
Branches: Over 4,300 branches in 37 states (Ark., Ariz., Calif., Colo., Conn., Del., Fla., Ga., Idaho, Ill., Ind., Iowa, Kans., Ky., Maine, Md., Mass., Mich., Minn., Mo., Nev., N.H., N.J., N.M., N.Y., N.C., Okla., Ore., Pa., R.I., S.C., Tenn., Texas, Utah, Va., Wash.), plus Washington D.C.
Key Terms:
Account: Bank of America Advantage SafeBalance Banking for Students
Monthly Fee: $0

Out-of-Network ATM Fee: $2.50

Overdraft Fee: $0
---
Honorable Mention: Citizens Bank
What's Good: This student account is the only one surveyed that charges no out-of-network ATM fees, making it ideal for frequent cash spenders. What's more, the account lasts until age 25, a year longer than many of the student accounts offered by other big banks. Citizens scores above average in our universe for customer service in its region, according to J.D. Power.
Caveat: You could get hit with up to seven overdraft fees in one day, while other banks Money surveyed limit that number to fewer than five. Citizens' mobile app could also use some improvement: It has below average ratings on the iTunes and Google app stores. The bank is mostly located in the Northeast, giving it a much more limited national presence than Bank of America.
Branches: 1,100 branches in 11 states (Conn., Del., Ill., Ky., Mass., Mich., N.H., N.Y., Ohio, R.I., Va.)
Key Terms:
Account: Student Checking
Monthly fee: $3.99, waived until age 25
Out-of-network ATM fee: $0
Overdraft fee: $35
---
Methodology
Money evaluated the 20 largest U.S. brick-and-mortar banks by reach – those with over 800 branches or a presence in at least 9 states. We compared account terms provided by bank consultancy firm Novantas, which publishes FindABetterBank.com and was Money's partner for our 2018 Best Banks ranking. Money independently verified account terms in August and September, and fact-checked the information for each winner in April.
The banks survey were Bank of America, Bank of the West, BB&T Bank, Chase, Citibank, Citizens Banks, Huntington, HSBC, Fifth Third Bank, First Citizens, KeyBank, M&T Bank, PNC, Regions Bank, Santander, SunTrust, TD Bank, U.S. Bank, Wells Fargo, and Woodforest National Bank.
To determine winners, Money considered minimum-balance requirements, monthly fees, overdraft policies, ATM fees, savings account offerings, mobile app ratings, and customer service scores from J.D. Power's 2018 U.S. Retail Banking Satisfaction Study.