The Best Breville Juicer for Your Money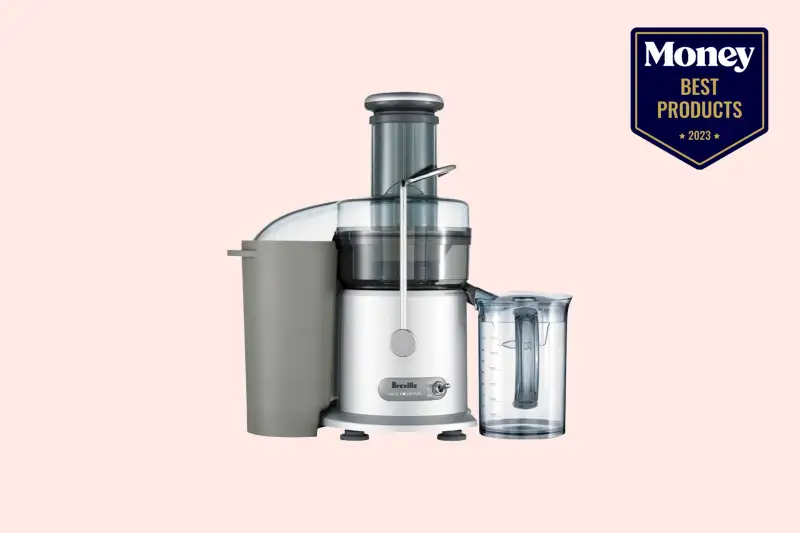 When it comes to starting your day off right, there's nothing quite like a fresh glass of juice. Packed with vitamins and nutrients, homemade juice is a healthy and refreshing beverage to enjoy anytime — especially if you need to add more fruits and veggies to your diet. The simplest way to make your own is by using a juicer. But with so many popular models available on the market, it can be hard to know which appliance is rated the highest. That's why we've put together this review of the top Breville juicer of 2023.
As one of the leading brands in the juicing world, Breville has been innovating ever since it launched its first juicer in 1932. From centrifugal juicers to cold-press juicers, Breville has the perfect juicer for any purpose. One model particularly stands out to us though thanks to its features, performance, and affordability. Check it out below!
List Price: $179.95
The Breville Juice Fountain Plus Juicer is the best appliance to get you started with making fresh and healthy juice at home. Ensuring fast prep time and a unique, high-quality construction, this centrifugal juicer features an extra-wide 3-inch fruit chute, a titanium-reinforced disc, and an Italian-made micro mesh filter basket. The chute is made of semi-transparent heavy-duty plastic while the inner juicing components are made of durable stainless steel, offering excellent durability and efficiency. Capable of producing an 8-ounce glass of juice in just five seconds, these parts allow you to quickly juice whole fruits and vegetables without the hassle of having to pre-cut them.
This Breville juicer is also very powerful; it has an 850-watt dual-speed motor for efficient juicing. The two-speed control settings enable versatile use. The low speed is ideal for soft fruits and leafy vegetables while the high speed is best suited for dense fruits and tough vegetables. It boasts a capacity of one quart and includes a cleaning brush for quick cleanup. Its parts are also dishwasher-safe. The juice jug has a built-in froth separator to help you pour more juice and less foam into a glass at a time. For added convenience, this juicer's power cord wraps around its base and its 2.6-quart pulp container detaches, allowing you to easily store it out of the way when not in use. Safety features such as the locking arm and overload protection LED ensure safe operation at all times. All in all, this appliance is the ideal juicer due to its durable, user-friendly design and large capacity.
Pros
Can be disassembled into five components
Includes a tool to clean the filter
Extracts 90% of fruit and vegetable liquid
Comes with a one-year limited warranty
Cons
Requires experimentation for the most efficient results
Should cut ingredients to preserve the motor
What To Look For in a Breville Juicer
Choosing the best Breville juicer for your needs can be a difficult task because the brand sells so many different juicers. To make your decision easier, we've created the following buyer's guide. Take a look at some of the important factors that may impact your choice.
Type of juicer
Breville offers several different types of juicers, including centrifugal, masticating, and cold press juicers. Centrifugal juicers use sharp blades to rapidly grind vegetables and fruits into juice form. They are usually less expensive and work relatively quickly. Masticating juicers use a slow, steady grinding action and are capable of producing more nutrient-rich juice than centrifugal juicers. Cold press juicers use an auger system to press fruits and vegetables through a mesh screen, resulting in a smooth, nutrient-packed juice.
Speed settings
Many Breville juicers come with adjustable speeds that allow you to find the optimal setting for your specific type of ingredient. This is especially helpful for either leafy greens that are easy to juice at low speeds as well as hard vegetables that require more power to ensure maximum juice extraction.
Noise level
Breville juicers range from very quiet to moderately loud depending on the model and its speed setting. Some are equipped with noise reduction technology that helps to keep the noise level down while still efficiently creating juice.
Material
Breville's line of juicers is typically constructed with stainless steel, plastic, or a combination of both. Metal is generally more durable and easier to clean for long-lasting convenient use, while plastic is lightweight and transparent so you can monitor your ingredients and final product. Make sure to check what type of material each appliance is made from to determine if it's right for you.
Juice yield
The juice yield is important when choosing a juicer as it determines how much liquid can be extracted from your produce. Breville juicers typically boast high juice yields compared to other brands and models, however, this may vary depending on the fruit or vegetable you are using.
Ease of cleaning
Look for models that have removable parts that can be easily disassembled for quick cleaning after each use. Many Breville models also include special cleaning brushes in their accessories package to help you get into those hard-to-reach crevices or clean fine mesh filters where produce might have been left behind.
People Also Ask
How easy are Breville juicers to use?
Breville juicers are generally designed to be user-friendly, featuring dishwasher-safe parts and simple-to-use control panels. Most models also include detailed instructions to help you get the most out of your juicer and extend its lifespan.
Do Breville juicers have any special features?
Yes, some Breville juicers have unique features that make them stand out from other brands. Some include built-in strainers and pulp-adjustment dials, while others feature variable speeds, electronic timers, and self-cleaning functions.
How much juice can a Breville juicer produce?
The amount of juice you can make depends on the model and the type of produce being juiced. Generally speaking, Breville juicers can produce at least 30 ounces of juice at a time, though this number can vary significantly depending on the size and type of produce used.
Are Breville juicers easy to clean?
Yes, most Breville juicers are designed with quick and straightforward cleaning in mind. Many models come with removable parts that are designed to clean in a dishwasher, while some appliances feature self-cleaning functions to make cleanup even easier.
Do Breville juicers come with any accessories?
Yes, many Breville juicers come with a few additional accessories depending on the model. These may include various-sized jugs or pulp collection cups and cleaning tools like brushes and scrapers.
Why trust us
Our commitment to the consumer begins with product selection and ends with the last word we write in each article. Each Breville juicer is carefully vetted quantitatively through star ratings and a number of reviews qualitatively through careful examination of reviews and the features each one has to offer. Leveraging our team of bargain hunters, we're also always sure to keep your budget in mind while we find the best Breville juicer on the market. Our team of experts is dedicated to accurately depicting the pros and cons of each Breville juicer, translating technical product specifications into information you can understand. Our goal is to ensure you get the most out of your investment…or in this case the best juice that money can buy.