The Best Cheap Eats in Every State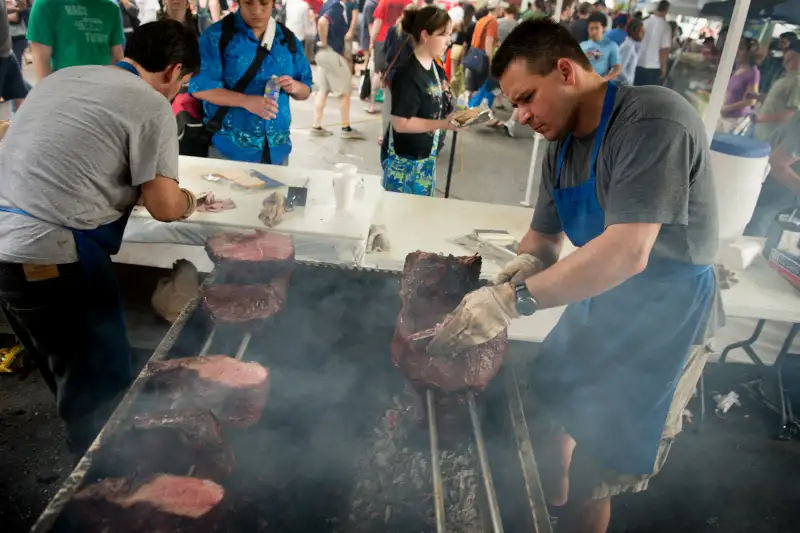 The Washington Post/Getty Images
Getting to try incredible food while traveling doesn't have to cost you a fortune.
Travel + Leisure spoke to Ali Khan, food blogger and host of Cooking Channel series "Cheap Eats," to get the lowdown on the best budget bites in every state.
From whiskey-infused ice cream in Maine to fresh poke in Hawaii, here are 50 incredibly tasty dishes to try in each state that both your stomach and wallet will thank you for.
Alabama
Diners stopping into Birmingham can get the cured ham and eggs from Fife's Restaurant, an old school spot that's been around for more than 60 years and that specializes in Southern fare and classic breakfast staples, for just $7.25.
"Birmingham has caught some buzz as a food town coming into its own in the last few years, even giving folks from nearby Nashville and Atlanta a reason to take a quick trip down," Khan told Travel + Leisure. "I would pass over the hot new chefs and start my day with an old school southern breakfast at Fife cafe."
Alaska
Head to Anchorage to sample the pork vindaloo and shapta stir fry combo rice bowl at the Yak and Yeti Cafe.
The restaurant, which infuses Tibetan, Nepalese, and Indian flavors, serves the two-item rice bowls for $8.99, with exotic options like pork vindaloo and shapta pork stir fry, a combination of stir-fried meat and vegetables that Khan says is Tibetan comfort food classic.
Arizona
"I've talked to enough homesick Arizonans to know that they love their version of Mexican food, which makes me keen on trying this popular Tucson Tamale operation," Khan says of the Tucson Tamale Company in Tucson, Arizona.
The spot's gourmet tamales are available both at their restaurants and online, with a variety of tempting selections to choose from.
For Khan, the two tamale plate at $7.69 would be the go-to, with the green chile pork (pork simmered in green chile sauce and topped with cheese) and the green corn tamale (roasted Hatch green chile simmered in cheese and wrapped in an organic sweet corn tamale).
"Though these aren't the cheapest tamales I have had, they do come with an Alton Brown tweet of approval," Khan said of his choice.
Arkansas
Catfish is one of the delectable items you'll want to try in Arkansas, and Khan says there's one place for the fish that tops his list.
The Eat My Catfish restaurant's original location in Benton, Arkansas, is his bucket-list pick for foodies thanks to its three-piece catfish dinner.
The platter, priced at $8.99, comes with three pieces of fresh catfish marinated and hand-battered to order, served alongside seasoned fries, coleslaw, and hushpuppies.
The popular spot originally started out as a food truck, the success of which inspired its owner to open multiple locations across the state.
California
California is home to a variety of tasty Mexican options, including tacos galore.
For Khan, the top spot to try one is at Roast to Go, located in the Grand Central Market in Los Angeles.
"You might do a double-take when the menu lists the tacos at $3 a pop, but know this: One will do you right," Khan said of what sets the taco shop apart. "At a typical stand I could eat at least five to seven tacos, but at Roast to Go it is a one and done scenario."
Diners can go for safer options like the carne asada tacos or try adventurous selections like tongue or braised beef cheek tacos.
Plus, their salsa packs a serious kick that pairs great with their beef selections, according to Khan.
Colorado
For an unforgettable comfort meal, head to Shamane's Bake Shoppe in Boulder to try their chicken pot pie.
The hearty pie, at $8.25, is made with roasted chicken and a stock created from its bones to create an incredibly flavorful dish that Khan says is the best chicken pot pie he has had as of yet.
"What blew me away was the intensely rich and comforting roasted chicken flavors," Khan said of the dish. "Chicken pot pie is one of those foods we crave often but seldom find done right, let alone done from scratch—not the case here."
Connecticut
While there's a great debate about clam chowder and whether to go with the red or white version, Khan's pick in Milford, Bobbette's Take Out, introduces diners to a new blend: mussel chowder.
The chowder shack, a hidden gem in the neighborhood, offers the hearty bowl of mussels swimming in a thick cream-based broth at just $6.50.
Delaware
Crabs are a popular choice in Delaware, and Pleasanton's Seafood in Dover offers fresh selections of local crab, fresh fish, clams, shrimp, scallops, and oysters to choose from.
Crab lovers will want to try the Delaware Red Crab Soup, a regional dish that will leave you wanting seconds.
"At only $5.50, you even have some room to score some Old Bay-doused french fries at $2 or add some turf to your crab soup surf with a cheeseburger for only $3.50," Khan said.
Florida
"It took me all of 10 minutes upon landing in Miami to get my first empanada—I love them that much, and they sell them in the airport," Khan said.
With all the top-notch Cuban selections in the area, Khan's pick goes to Sergio's Cuban Kitchen and Bar, which serves authentic beef empanadas for just $2.25 alongside a rich chimichurri sauce and a tasty Cuban coffee.
Georgia
Brunch is a noted event at the Last Resort Grill, where dishes incorporate a Southwest flare.
Khan's must-try dish here would be the shrimp and grits, which consists of the restaurant's Charleston-style grits served with fresh sautéed shrimp and Andouille sausage, for $9.50.
Hawaii
The raw fish salad of poke has been a mainstay snack for Hawaiians for decades, Khan says, and his favorite is at Ono Seafood in Honolulu.
Here, a bowl of the ahi poke will get you 1/3 pound of incredibly fresh ahi tuna that comes dressed in one of eight different marinades for $7.50.
Idaho
For a breakfast staple, make your way over to Waffle Me Up in Boise, where you'll get savory and sweet waffle selections galore.
The BOB Deluxe, a savory selection, is a homemade waffle topped with a striking mix of melted Havarti cheese, a fried egg, bacon, syrup, and basil for $8.50.
Illinois
"The most memorable meal I have ever had in Chicago was my first Italian beef sandwich," Khan said.
For an unforgettable version, try the Italian beef and sausage combo sandwich at Nottoli and Son, where sausage-making has been a specialty for three generations.
"That rush of herbs, garlic, the sea of au jus and a mountain of thinly sliced beef that you struggle to contain between a split roll is good old-fashioned messy sandwich fun," Khan said of the $5.75 dish.
Indiana
"It was hard not picking the iconic fried pork tenderloin sandwich as my Indy go-to, but what's happening at Goose the Market is unique to the country as a whole: artisanal charcuterie made with quality rarely seen this side of the Atlantic," Khan said of his top pick in Indianapolis.
The Batali sandwich at Goose the Market comes with everything from soppressata and coppa to capocolla, giardiniera, provolone, and an in-house tomato reserve that packs quite the punch.
At $8.35, Khan says this is the most well-designed cold cut hoagie he's had to date.
Iowa
"If finding a great cioppino anywhere but San Francisco raises an eyebrow, then so should all the food coming out of Eatery A, a hip little Mediterranean restaurant that buzzes like a bistro and engages foodies with a menu that dips into the flavors of North Africa along with the good smells that come from a wood fired pizza oven," Khan told T+L of his pick in Iowa.
Seafood lovers can dig into the cioppino at Eatery A in Des Moines for $11, which comes filled with shrimp, Manila clams, and San Marzano tomatoes, with a thick stock that's delicious to dip into with your bread while enjoying the dish.
Kansas
Kansas City's El Pollo Rey specializes in chicken, serving diners their choice of a half chicken, a whole chicken, and chicken wings.
Spatchcocking (or butterflying) the chicken produces a flavorful punch that pairs delectably with the rice and beans it comes with.
The half chicken platter is priced at $6.75, while the full chicken platter, enough to feed the family, is just $12.50.
Kentucky
"The crowd waiting to get into the tiny basement bar in a residential neighborhood of Louisville is a good sign that you just found a spot you are destined to become a regular at," Khan said of Hammerheads, which serves up a popular chicken and waffles plate.
The platter, which costs $13, comes with sweet potato waffles that are topped with three chicken wings and a side of sweet maple syrup.
Louisiana
Jambalaya, a rich combination of meats, vegetables, and rice, is an iconic New Orleans staple to try.
If you're wandering around the French Quarter, make sure to stop into Coop's Place, where the $12 jambalaya comes with everything from sausage and shrimp to crawfish, tasso ham, and rabbit.
"It's the kind of $12 meal you walk away from leaving zero regrets at the table," Khan said.
Maine
Anyone with a sweet tooth will be in paradise at Mount Desert Island Ice Cream, with locations in both Bar Harbor and Portland.
The local shop makes small batch ice cream with fresh ingredients that include lemon sorbet made with freshly squeezed lemons and vanilla bean ice cream with beans scraped in-house.
You can get two scoops of the shop's exotic flavors, which range from a coriander ice cream topped with streusel and strawberry jam to a Jack Daniels mix combined with caramelized bacon and hand-made hot fudge, for $4.75.
Maryland
Meat lovers will enjoy the classic mid-Atlantic bull-and-oyster roast pit beef at Baltimore's Beef Barons.
Beef Barons has been serving up the specialty since 1975, cooking the meat over hardwood charcoal and slicing it razor-thin for a juicy bite.
For just $7, you can sample the delicacy stuffed between two sandwich breads and topped with either horseradish or barbecue sauce.
Massachusetts
Boston's historic Dorchester neighborhood is bustling with cheap ethnic eats to try, including roti, a tasty snack of flatbread with aromatic spices.
Khan recommends trying one at Singh's Roti Shop, a spot he says is beloved by local chefs, with roti flavors that range from chicken, at $9.49, to goat, at $11.69.
Michigan
The $8 torta de jamón at Donkey Taqueria in Grand Rapids consists of roasted ham, pork confit, cheese, refried pinto beans, guacamole, a pickled serrano onion relish, chipotle-caper mayo, and chopped romaine lettuce in between soft baked bread.
According to Khan, the carnitas here are exceptional, made from locally sourced pigs cooked in locally sourced lard to pull out all their flavors.
You can enjoy the sandwich all while sitting in a 1920s service station, where the restaurant is located today.
Minnesota
Head to Minnesota and you may notice that hearty casseroles filled with tater tots tend to be a popular dish.
Khan's favorite is at Tot Boss in Minneapolis, where the food truck's Tater Tot Hot Dish combines ground beef, tater tots, and cream of chicken soup in one rich casserole and tops it with cheese and bacon for $6.
Mississippi
"My first meal in Mississippi must have southern classics like pig's feet, chitterlings, and catfish on the menu, which makes Bully's a perfect first stop," Khan said of Bully's Restaurant in Jackson.
Soul food is a specialty here, with dishes that include beef ribs, fried chicken, catfish, and smothered oxtails.
The oxtails, Khan's choice, come with your choice of two sides that include everything from collard greens, string beans, squash, and okra tomato stew to candied yams, macaroni and cheese, potato salad, or green tomatoes, all for $10.
Missouri
"Burgers were the most important food of my youth, and since I grew up in St. Louis, that means smashed burgers," Khan said, pointing to a tiny shack in the suburbs where you'll find the best one.
At Carl's Drive-In in St. Louis, the burgers come smashed thin as a crepe and stacked. A triple cheeseburger topped with bacon will set you back roughly $6.75.
And it's not just about the taste. "The smell of the griddle that divides the restaurant in two is intoxicating," Khan said.
Montana
Huckleberries are native to Montana's mountains and make a decadent filling for bars and pies.
Livingston's Mustang Fresh Food and Catering, a favorite with the likes of Martha Stewart, turns the berries into mouthwatering cereal bars that come stuffed with huckleberry jam for just $2.50.
Nebraska
Black walnuts are a native specialty of Nebraska, and at the Coneflower Creamery in Omaha, they're stuffed into ice cream and served in a homemade waffle cone for $4.75.
You can also sink your teeth into ultra-sweet flavors like cinnamon apple butter, pumpkin cheesecake with espresso caramel, and toasted coconut.
Ice creams are produced based on seasonal ingredients, meaning you'll always get a fresh bite.
Nevada
While Las Vegas is home to ritzy buffets, it's also home to local hotspots like Lotus of Siam, a location frequented by the likes of Anthony Bourdain and Jonathan Gold.
Popular selections here include Northern Thai dishes like the Tom Kah Kai spicy chicken soup, which comes without coconut cream and is cooked instead with roasted green chili, tomato, onion, fresh herbs, and spices.
Khan always tests out Thai restaurants by trying their panang curry, a dish of fresh and dried chili cooked with coconut milk, Thai basil, and your choice of meat or tofu for $11.95.
New Hampshire
"Diners come in all shapes and sizes in big cities, but the ones in small towns really embody the American restaurant experience," Khan said regarding his favorite stop in Derry, New Hampshire.
"MaryAnn's Diner is a textbook small town diner with simple and familiar fare at rock bottom prices," Khan added.
His top pick here is the No. 4 with bacon, which comes with one egg, home fries, toast, and your breakfast meat of choice for $4.79.
"It's the kind of breakfast I have at home, which is what a good diner is: a joint that feels like home," Khan said.
New Jersey
Burger fanatics adore White Manna in Hackensack and Jersey City, famous for its sliders and written about by the likes of food historian Joshua Ozerksy and Food Film Festival founder George Motz.
At just $1.20 per cheeseburger slider, you can get a meal's worth of the juicy mini-burgers for roughly $5.
New Mexico
"It's been high time that donuts get the creativity and attention their cupcake cousins have had for some time, and the Dulce de Diablo is proof that we have entered a Golden Age of donuts," Khan said of Rebel Donut in Albuquerque.
The Dulce de Diablo comes with candied bacon on caramel with red chili pepper and pecans at $2.46, while additional flavor selections include everything from Circus Animal donuts topped with the colorful cookies to Breaking Bad-themed donuts topped with crystal candy.
New York
Even though New York City can get pricey, its halal carts are extremely cheap, letting you get a hearty meal for roughly $6.
For Khan, the signature dish to try at one of these carts is lamb gyro over rice, where you'll get meat packed with spices and spread on top of rice, typically served with fresh veggies and fiery hot sauce.
North Carolina
"Any barbecue place that is described as a place for purists has my vote," Khan said of Skylight Inn BBQ in Ayden.
Open since 1947, the old school stop is known for cooking barbecue the old-fashioned way, with wood, and for firing up whole hogs.
The sandwich version of the treat, stuffed with chopped whole hog and coleslaw, is just $4.50 for the small and $7.50 for the large.
North Dakota
Burgers and beer make for a great combination, and a top spot for enjoying the two in North Dakota is at JL Beers' location in Fargo.
With a beer selection of global bottles and burger choices like the Rajun Cajun, which comes with pepper jack cheese, Cajun lime sauce, grilled onions, and Cajun seasoning, you're sure to leave satisfied.
Khan's go-to here would be the classic burger, which features a quarter-pound patty topped with lettuce, tomato, pickles, and diced raw onions at $5.29 a pop.
Ohio
Known for offering prime selections of corned beef, Cleveland is home to Danny's Deli, an icon since its opening in 1978.
With another location in Columbus, Danny's Deli makes their corned beef fresh every morning, according to Khan, and uses it to create their corned beef hash and eggs, giving you fresh corned beef, two eggs, and toast for $6.50.
"Places that do half that work charge double the price," Khan said of the deal.
Oklahoma
Tulsa is home to a variety of Vietnamese food trucks that serve an incredible banh mi, a Vietnamese baguette with fillings that typically include pan-roasted or oven-roasted pork belly, Vietnamese sausage, grilled pork, or grilled chicken.
At Lone Wolf Bahn Mi, you can try an unexpected version of the sandwich, with lemongrass buttermilk fried chicken
The sandwich, which costs $8.95, gives off an intense lemongrass aroma that adds a light, citrus touch to the fried chicken and plays off the spice from the jalapeño garnish on top.
Oregon
Despite all the cheap eats Portland has to offer, Khan's favorite is the PDXWT at the Portland Penny Diner, which is located inside the Hotel Lucia.
For under $6, diners get a platter that includes mortadella, sauerkraut, egg, and cheese, served on a Parker House roll.
"What will really catch your palate is the coffee mayo, which could easily be renamed espresso cream spread and still nothing would be lost in translation," Khan said.
Pennsylvania
While cheesesteaks get all the notoriety in Philadelphia, for Khan, the "real" Philly sandwich is the roast pork—a long roll stuffed with slow-roasted pork, provolone, sautéed broccoli rabe, and roasted peppers, and often topped with the roasting juices of the pork.
His favorite is at John's Roast Pork, where they ladle the juices and swap spinach for the broccoli rabe. The small sandwich comes in at $6.50, while the large is $8.75.
Rhode Island
Blount Clam Shack in Warren only stays open during the warmer months, so you'll want to be sure to hit this stand when you can.
Here, you'll find seafood selections like a giant lobster roll topped with a 1/2 pound of meat for a little over $20.
A staple is the jumbo clam strip roll, a 9-inch roll stuffed with fried clam strips for $8.99.
South Carolina
Those in search of top-notch grits in Charleston without the crowds should head to Sunrise Bistro Express, where a bowl of creamy grits loaded with bacon, ham, sausage, scrambled eggs, cheese, onions, peppers, and tomatoes is just $9.
If you're willing to throw in another $3, you can top it off with shrimp too.
South Dakota
At Bob's Carryout and Delivery in Sioux Falls, you'll find a no-frills spot known for prime burgers, sandwiches, ribs, and chicken.
Though it has carryout and delivery as part of its name, the interior offers diners a cozy counter to enjoy their meal at, where Khan recommends chowing down on the two-piece roasted chicken with your choice of two sides. It's $7.45 for dark meat, $8.25 for white meat, and $8.50 for a combination of the two.
The chicken is fried and cooked in a pressure cooker, all after being brined with buttermilk to give it an insanely juicy bite.
Tennessee
Ribs are a dish you want to be sure to try in Memphis, but getting them on the cheap can be tough.
That's why Khan recommends going for the rib sandwich at Payne's BBQ, where you'll get slow-cooked ribs sliced and topped with barbeque sauce and stuffed into a bun at $7.
Texas
With a mantra of "eat dessert first," Bribery Bakery in Austin is made for those who love a sweet treat.
The bakery is home to sugary selections like the pineapple brown butter blondie, Khan's favorite at $3.50, and peanut butter cookies topped with chocolate ganache and sea salt.
There are also savory selections, like bacon and gruyere popovers, ham, egg, and cheddar biscuits, or savory bread pudding.
Utah
"It's my mission to try every noteworthy regional dish wherever I go, and fried Mormon funeral potatoes is certainly one of those," Khan told T+L.
What's tricky about this is that the Utah dish, which consists of potatoes rolled into balls and deep-fried and typically turned into a crunchy and cheesy casserole, is that they're often served only at funerals or at someone's home, according to Khan.
That's where Garage on Beck in Salt Lake City comes in, offering the dish for $8. Their version includes shredded potatoes that are topped with cheddar cheese, bacon, and scallions, before being rolled into a cornflake crust and served with ranch.
Vermont
Thanks to its status as a college town, Burlington has tons of cheap eats to offer.
One of Khan's beloved spots is Hong's Chinese Dumplings, where chicken, pork, and vegetable dumplings are made fresh to order at $6 for five.
"Chinese food thrives in the food cart setting, especially when the dumplings are handmade right in front of you," Khan said.
Virginia
Virginia specializes in producing savory country ham, salt-cured by hand and smoked in natural hickory wood.
The meat pairs delectably with fluffy biscuits at locations like the Early Bird Biscuit Co. in Richmond, where a ham biscuit costs $4.95.
You can also go for the daily biscuit, where some days offer savory selections like Old Bay cheddar, while other days include sweet choices like pineapple upside down biscuit, for just $2.65.
Washington
According to Khan, Caribbean-flavored sandwiches have become all the rage in Seattle.
His favorite is at Paseo, where the Caribbean roast pork sandwich comes with slow-roasted pork that's cooked until thoroughly tender and falling into morsels. It's topped with grilled onions, crisp romaine lettuce, and pickled jalapeños, and smothered in aioli for a price of $9.75.
West Virginia
Hot wings have been growing in popularity in West Virginia, according to Khan, battling it out with the area's buffalo selections.
In Morgantown, the Atomic Grill serves up smoked and fried whole-joint wings for $11, which might seem steep until you realize the serving comes in at a whopping one pound and is made from local, organic chicken.
Wisconsin
"Bratwurst was the first sausage I ever loved and though I have yet to travel to Wisconsin, Sheboygan would be my first stop in the Dairy State," Khan said.
Here, he'd be sure to stop at Al and Al's Steinhaus, which specializes in German cuisine and has been in operation for more than 56 years.
For just $6.95, you can get a double bratwurst sandwiched between a Sheboygan hard roll.
Wyoming
When it comes to Wyoming, Khan recommends breakfast lovers stop into Persephone Bakery in Jackson Hole.
"I love a good cup of coffee, but I always seem to want it fast, and that kind of influences most of my breakfasts, which is why Persephone is so great—you walk in, order at the counter and out comes your java plus something wonderful with bread involved," Khan said.
In addition to offering locally sourced ingredients and melt in your mouth breads, the bakery serves up spectacular views thanks to its location, nestled in the Teton Range of the Rocky Mountains.
Go for their croque madame, made with levain bread, organic soft egg, gruyere, Creminelli ham, Mornay sauce, and a tomato jam for $8.
This story originally appeared on Travel + Leisure.