10 Costco Products That Obsessives Swear By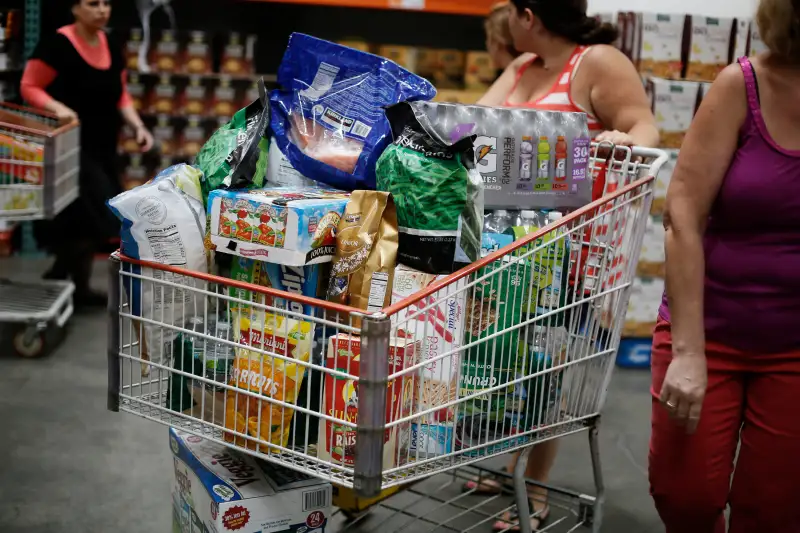 Victor J. Blue—Bloomberg via Getty Images
Costco Wholesale loyalists love the discount store for its convenience and remarkable savings. A membership allows you to buy pantry standards and house goods in bulk for a fraction of the cost by volume that you'd spend in a normal grocery. But Costco has also developed a cult following for certain items under its own Kirkland Signature brand, particularly food and drink. Costco works with manufacturers to develop its Kirkland products, which are sometimes reviewed just as highly as premium name-brand rivals. These are the not-so-generic Kirkland offerings most worth their price tags, based on customers' reviews and reporting online. (Note: Prices may differ depending on the store.)
A report from the University of California-Davis found after testing various imported olive oils that many supposed "extra virgin" varieties failed to meet standards for that designation. Costco's own Kirkland olive oil, however, passed — and at a price well below competitors. There are few things a smart home cook goes through like olive oil, and Kirkland's quality and value make it a no-brainer for everything from dipping bread to frying eggs and making tomato sauce for weeknight pasta. Sure, the two-liter plastic bottle looks absolutely giant, but you'll be done with it in surprisingly short order.
It's easy to taste the difference between highly processed syrups and the true maple kind, made from sap. Maple syrup generally costs a premium at groceries and is rarely discounted. But Consumer Reports found that more expensive syrups frequently didn't outperform cheaper competitors. Kirkland, the least expensive dark syrup tested, did better than the priciest option. And the large jug means happy pancake breakfasts for a while.
If you have concerns about practices for raising fish in farms, you're far from alone. Many people also think wild fish is simply a lot tastier than farmed counterparts. Kirkland's cans of wild salmon from Alaska get high marks from customers, including those who shop for them on Amazon. The fish comes already cooked and doesn't require refrigeration until opening, so you can basically forget about it until you suddenly crave it. In a sandwich or a salad, the salmon has a much richer flavor than typical canned albacore tuna, and for not much more money.
Perch Images—Getty Images
People who love bacon tend to really love bacon. Which is good if you're buying a whopping 64 ounces of cured pork from Costco's Kirkland line, which totals to four pounds of meat. (If you're not feeling quite so carnivorous, bacon also freezes well.) Consumer Reports' testers found that Kirkland bacon actually outranked every other national brand sampled, crisping up nicely and delivering a balance of meaty and fatty, as well as sweet and smoky.
Organic Large Brown Eggs, $7.39 for 24
Food doesn't get more simple or versatile than eggs, which makes the protein an ideal choice at Costco. Even in a two-dozen pack, figuring out what to do with the eggs won't be a challenge. While labels on eggs can be confusing, the certifications for being organic and humane on Costco's do carry weight.
A grating of fresh Parmigiano Reggiano—not the already grated stuff—enriches any dish, from homemade pastas and omelettes to a takeout pizza. Costco has caught on to passion for the sharp, salty cheese. Its authentic version comes straight from Italy and is aged two years. More importantly, it costs about half of what you'll shell out at Whole Foods.
While a jar of Jif certainly has its place, Kirkland's peanut butter offers a more stripped-down and healthful snack for conscious eaters. There's no added sugar, just a sprinkling of sea salt, and the supersized containers are great for people who can't seem to scarf down enough sandwiches.
The prices of top-shelf vodkas can be puzzling, given that what comes out of the bottle ends up tasting like... not much. Marketing is king in the spirits industry. And as such, Kirkland's relatively unknown vodka gives a cocktail drinker a lot for their money. It's actually made using the same water source as high-end and ultra-smooth Grey Goose and has bested the luxury product in blind taste tests. And then of course there's the fact that it's about half the price.
Kirkland's ice cream apparently lives up to the "premium" in its name. Consumer Reports in its testing found that Costco's private-label vanilla ice cream was full and dense, with surprisingly complex vanilla notes that would win over even dessert snobs. It beat out other big brands including Breyers and Baskin-Robbins.
Amateur bakers have watched vanilla prices soar in recent years. While Costco's pure vanilla extract technically doesn't fall under the Kirkland brand, it's a generic product worth seeking out. The price may seem high, but 16 ounces is a lot of vanilla, much more than what you would usually find in a store, and at a significant savings per ounce. And if you like your sweets, it's something you'll go back to again and again.