The Best Credit Cards for Holiday Shopping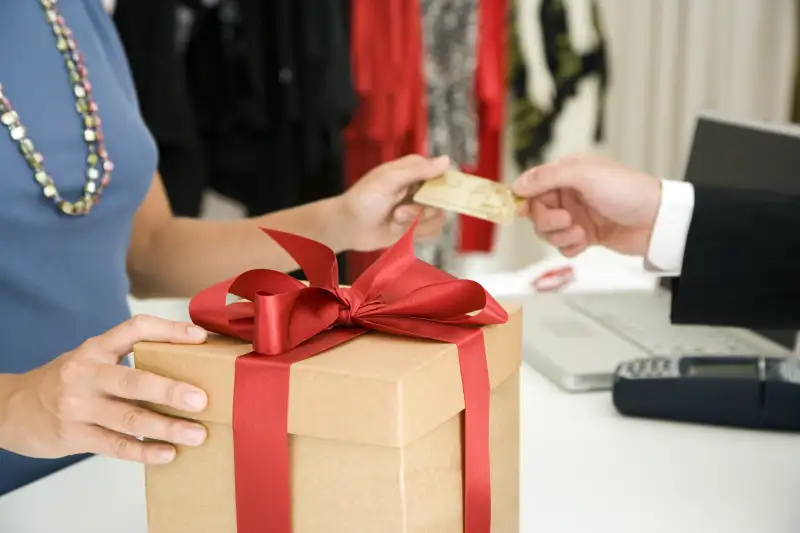 Lucas Lenci Photo—Getty Images
The holiday season is upon us, which means it's time for you to open your wallet.
The average American expects to spend $781 on presents this year, according to Gallup—the most since 2007. Use the right plastic, though, and you can shave some off that bill, or at least get more for your money.
Below you'll find the best cards for rewards, price protection and extended warranties. They should make your holiday a little more merry. Ho, ho, ho.
Best for Holiday Rewards
Two no-fee cards—the Discover It and Chase Freedom—are offering Christmas shoppers fat cash back.
From October through December, Discover It cardholders can receive 5% back—on purchases up to $1,500—at online retailers that include Amazon and Zappos, and department stores like Bloomingdale's and Sears.
Discover also has a robust online shopping portal—ShopDiscover—where its customers can earn additional cash back simply by using the online mall. So combining ShopDiscover's 10% back from Acehardware.com with the 5% back that the card gives you normally, and you'll reap $15 on a $100 purchase.
Over the same time period, Chase Freedom also offers shoppers a chance to earn 5% back on up to $1,500 of their holiday gift list.
The Freedom limits online discounts to Amazon and Zappos, but has a varied department store list that includes JCPenney, Kohl's and Nordstrom. Also, Freedom cardholders usually receive a $100 sign-up bonus—although that's been bumped up to $200 for a limited time—if you spend $500 in the first three months of opening the card. And you can receive $25 for adding an authorized user and making a purchase within 90 days. So you have the possibility of earning up to $300 by year's end.
Best For Price Protection
Some issuers and networks offer price protection on certain purchases, meaning they will reimburse you the difference when the price of an item you've bought drops within a specific period of time.
"Having managed benefits for an issuer in the past, I can tell you that very few consumers are aware of the coverage they may have," says Ben Woolsey of CreditCardForum.com. "I would be amazed if one in 100,000 consumers ever makes a claim."
Not every item is covered (generally not cars or event tickets or anything off eBay), and refund maximums are limited per item and per year. But you can still save yourself some significant dough—not to mention fits of rage—when you see an expensive television you bought at full price go on sale a few days later. Plus, the price protection windows tend to be long enough that if you buy now you'll be able to take advantage of steep after-holiday discounts.
Citi Price Rewind offers a max refund of $300 per purchase and $1,200 per year, and gives you 60 days to receive the lower price. Unlike Discover and MasterCard Price Protection, you don't have to keep track of your own purchases, notice if the price drops and submit a claim. Instead you register the item on the Price Rewind site and it notifies you if the price has dropped.
Of the three major protection programs, Discover has the most generous refunds ($500 per claim and $2,500 per year) and the longest time to submit a claim (90 days). MasterCard, meanwhile, gives you 60 days and limits your refunds to $250 per item and four claims a year. For more details on these three major programs, see NerdWallet's roundup.
A great no-fee rewards card that includes this insurance is Money Best Credit Card winner Citi DoubleCash. You'll receive an unlimited 2% cash back on everything—1% when you swipe the card and 1% when you pay your bill—in addition to a price protection program that requires the least amount of work on your end.
Best for Extended Warranties
Are you among the 31% of consumers who buy extended warranty programs each year? Well, skip that expensive insurance—Money generally doesn't think the plans are worth the price they go for anyway—and use the right piece of plastic.
Credit card networks (Visa, MasterCard, American Express and Discover) typically offer a similar type of protection.
CardHub.com recently released a report on which network offers the best extended warranty, and selected Amex as the winner. All Amex cards are eligible for extended warranty, and unlike Discover or MasterCard, the program covers refurbished items as well as failure due to wear and tear.
If you're in the market for a new card and want this kind of protection, your best bet would be Money Best Credit Card winner Blue Cash Preferred. You'll receive 6% on groceries on your first $6,000 spent, and an unlimited 3% back on gas. Moreover, you'll receive $150 if you spend $1,000 in the first three months, which more than makes up for the $75 annual fee.
RELATED:
Don't Get Suckered into Signing Up for Store Credit Cards this Holiday
Money's Best Credit Cards of 2014