The Best Electric Fireplaces for Your Money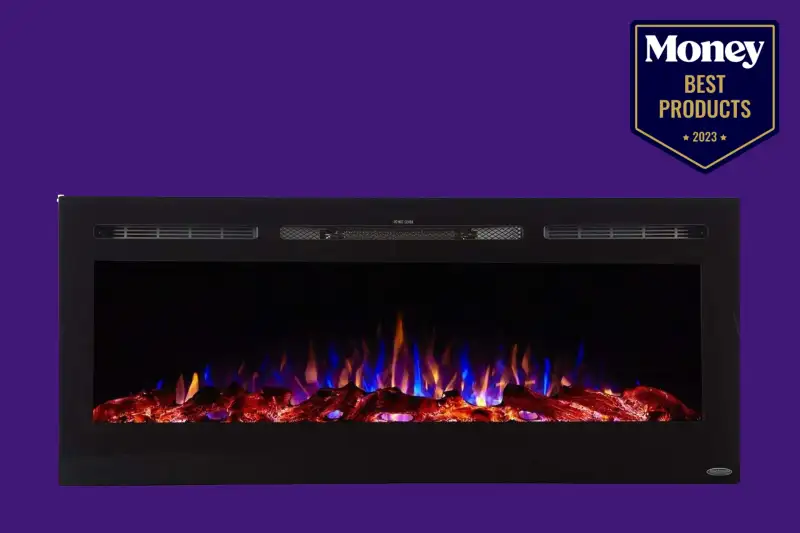 Nothing sets the tone of a room like a fireplace. The warmth of a nice fire creates a cozy atmosphere while the sound of burning logs fills the room with a relaxing feeling. But if you don't have the time or space for a real fireplace, electric fireplaces can be a great alternative. Electric fireplaces are just as effective in creating a cozy and comforting ambiance as a real fireplace. Plus, they're easy to install, cost-effective, and look great in any room.
In this post, we'll share our picks for the finest electric fireplaces of 2023 so you can find the right one for your home. We'll discuss the pros and cons of each model and provide a comprehensive buying guide so you can choose the ideal option for your space and budget. So, get ready to discover your perfect match to add a truly cozy and stylish heat source to your home.
Best Overall: PuraFlame Western Electric Fireplace
Most customizable: Touchstone 80004 Sideline Electric Fireplace
Most energy-efficient: R.W.FLAME Electric Fireplace
Quietest operation: BOSSIN Linear Electric Fireplace
Best temperature control: PuraFlame Alice Electric Fireplace
Reviewing the Leading Electric Fireplaces of 2023 in Detail
List Price: $349.99
The PuraFlame Western Electric Fireplace wins our Best Overall award for its exquisite design and exceptional performance. Its sleek appearance includes a three-sided interior brick wall and glass front trim, adding an elegant touch to any home or office. This pick includes a life-like resin log that sits on the grate above the ember bed, giving it a realistic wood-burning appearance. This insert operates on 100% energy-saving LED technology and has three flame settings, each featuring variable intensity and brightness. It offers all the benefits of a traditional fireplace without the hassle and mess of wood burning
With an adjustable thermostat and supplemental heating for spaces of up to 400 square feet, this electric fireplace provides year-round versatility. It can be used with or without heat, making it perfect for all seasons. With the included remote, you can quickly adjust the flame and heat settings for optimal comfort. It also features a realistic fire crackling sound, which adds an extra level of ambiance to any room. This model is easy to install thanks to its flat bottom that allows it to sit directly on the floor. Combining style, functionality, and convenient features, this electric fireplace is our top choice for adding warmth and aesthetic appeal to your home.
Pros
Multiple settings to heat 400 square feet
Flat bottom for easy, stable installation
Flame settings enable various intensities and brightness
Brick interior and logs offer a classic aesthetic
Cons
Power source requirements may limit placement options
Fire crackling sounds aren't appealing to everyone
List Price: $549.00
The Touchstone 80004 Sideline Electric Fireplace is the ideal choice for creating a cozy, eye-catching atmosphere, offering plenty of adjustable features that set it apart from the competition. This wall-recessed model offers five different flame intensity settings and three colorful flame options to add a special touch to your next movie night or special occasion. From a soft ember glow to a blazing fire, the color settings blend shades of blue, orange, and red, enabling you to adjust the lighting and its hue to achieve the ideal ambiance. This model also has heat-free settings to create a comfortable and inviting atmosphere so you can set the mood without impacting the room temperature. If you want to use it to stay warm, it offers an output of 5118 BTUs to heat spaces up to 400 square feet.
This electric fireplace features a sleek black finish that complements any decor, adding classic elegance to your space. It also features interchangeable crystal and log inserts, allowing users to display them separately or combined to create their desired look. With no need for venting and the option to hardwire or plug it in, this model's simple design allows for easy installation. The included remote makes it easy to control your fireplace's flame intensity, color, heat output, and automatic shutoff timer. Whether you're looking for a cozy way to escape the cold or a relaxing ambiance to boost your mood, this fireplace's customizable features allow you to set the right tone for any occasion.
Pros
Includes faux wood and crystals for customization
Looks realistic with multiple flame color options
Installs easily with hard-wiring and plug-in options
Generates 5118 BTUs to warm small rooms
Cons
Replacement parts may be expensive
1500W setting may not work in older homes
List Price: $299.99
The R.W.FLAME Electric Fireplace has an energy-efficient design that's ideal for infusing style and comfort into your home without breaking the bank. This fireplace has adjustable 750W and 1500W settings, helping to keep your home's natural humidity at an optimal level without drying out the air. The lower wattage setting outputs 2559 BTUs while the higher one provides 5118. With these customized settings, you can save on power and heating expenses while effectively warming up to 400 square feet of space on a chilly day. Its operating modes allow you to personalize the flame speed, brightness, and colors with the touchscreen or remote control. It even has an automated flame design that rotates through different levels of brightness and color for a versatile visual experience.
This sleek, black model also has the thinnest profile on the market, measuring just 50 inches long, 18 inches high, and 3.9 inches wide. Its ultra-slim design combines aesthetics with practicality, offering a space-saving solution that's elegant and easy to install. Whether wall-mounted or recessed, it adds a modern and polished touch to any room. This product also boasts a new design with a more durable cable for long-lasting use. With energy-saving features and a premium design, this electric fireplace delivers an excellent blend of quality, value, and affordability.
Pros
Energy-efficient and space-saving design
Remote or touchscreen controls for adjusting settings
Customizable colors, flames, and heat settings
Elegant appearance with sleek glass surface
Cons
Remote is challenging to read in dim lighting
Installation instructions could be more helpful
List Price: $299.99
The BOSSIN Linear Electric Fireplace combines modern design with ultra-quiet operation, making it ideal for contemporary spaces that require minimal noise. Its whisper-quiet fan system creates a warm and cozy atmosphere without the distracting sounds that some fireplaces generate. The heater makes less than 40dB of noise even on full power, so whether you install this product in your bedroom, living room, or office, you can enjoy its warmth and glow without any noise interruptions. The thin black metal frame and elegant tempered glass front also create a stunning and durable backdrop for the crystal glass stones that radiate a pleasant glow.
Achieving the ideal ambiance with this electric fireplace is easy due to the included remote control and touchscreen. It features excellent customization options, with 12 full-spectrum LED flame colors, five speeds, and five brightness levels to choose from. The control system has a power switch, timer control of up to eight hours, an independent switch for both heat and flames, and a sleep mode function so you can turn the fireplace off at a designated time. This model also delivers over 5100 BTUs of heat output. The ease of use, customizable features and quiet operation of this electric fireplace will surely add a touch of luxe style to your space while providing plenty of warmth to make your home feel more inviting.
Pros
Whisper-quiet operation at less than 40dB
Durable tempered glass with sturdy metal frame
Easy to operate with remote or touchscreen
Wide range of colors and flame patterns
Cons
May need adjustments after cycling off
May have a limited remote range
List Price: $489.99
For versatile heating functionality, consider the PuraFlame Alice Electric Fireplace which brings a touch of luxury and customized comfort to any living space. Its advanced heating technology allows you to set the exact temperature you desire, creating an atmosphere that's catered to your preferences. Whether you like to keep your space somewhat cool or enjoy a toasty room, this option has you covered with temperature settings ranging from 61 to 82 degrees Fahrenheit. The countdown timer can be set to turn off the fireplace in anywhere from 30 minutes to nine hours, giving you further control over the room's climate.
This electric fireplace has a contemporary black design and includes dual ember bed options. You can choose between a log set for a classic crackling feel and crystal stones for a stunning modern appearance. It also has a lifelike flame effect enabled by its bright LED lights, with four distinctive brightness and color settings to choose from. Plus, the flame display function works with or without heat, making it suitable for use throughout the year. Its touchscreen buttons make it easy to operate and after several seconds of inactivity, the button light will turn off to maintain its discreet aesthetic. Thanks to its precision temperature control, flush in-wall design, and customizable ambiance features, this sleek model is versatile and makes a great addition to any space — from a minimalist apartment to a rustic lodge.
Pros
Hgh-intensity LEDs produce a lifelike flame effect
Efficient heat blower with dual settings
Advanced heating technology for precise temperature adjustments
Convenient and easy-to-use touchscreen controls
Cons
Doesn't feature crackling fire sound effects
Doesn't heat effectively in open-concept living spaces
Buying Guide: Electric Fireplaces
Nothing quite impacts the ambiance of a space like an electric fireplace. From feeling the warmth emanating from the faux flames to appreciating a crackling sound akin to a real wood-burning fire, these products are a great way to enjoy a cozy, inviting atmosphere without the hassle of gathering and hauling wood. With an overwhelming number of options in the market today, however, it can be challenging to determine which electric fireplace offers the most value for your investment.
That's why we created this detailed buying guide. Below, we'll break down the essential features to consider when searching for the ideal electric fireplace to elevate the ambiance and atmosphere of your bedroom, living space, or another room in your home. Read on to find the right model for your needs and budget.
Size and weight
When purchasing an electric fireplace, it's crucial to consider its dimensions and weight. If you opt for a wall-mounted fireplace, you'll need to take precise measurements of where you plan to install it and compare them to the model's size. Freestanding options may require further support and additional space for their weight and size. Thorough planning at the outset will ensure a hassle-free installation, but professional assistance could also be beneficial and prevent unexpected issues if needed.
Heating capacity
Choosing the appropriate electric fireplace for your heating needs requires taking multiple factors into consideration. One of the most critical factors is the unit's heating capacity, measured in British Thermal Units (BTUs). The higher the BTU rating, the more powerful the heater will be. Keep in mind, however, that the BTU output is not the only factor that determines the heat output of a unit. Insulation, area, and other variables play significant roles as well. This is why you must also consider the size of your room, the climate in which you plan to use an electric fireplace, temperature settings or adjustability, and more. This information will indicate how much heat the fireplace will generate, making it easier for you to make the right choice for your preferences.
Temperature control
Selecting an electric fireplace that heats your space to your liking is crucial. Many options feature different heat levels, including no-heat modes, while some allow you to set the temperature to a precise degree. Some have digital thermostats for remote temperature customization, allowing easy adjustment anywhere in the room. Wireless temperature control and timers are also offered in some electric fireplaces. If these features are important to you, look for units that offer complete temperature control with remote access. This ensures you won't have to worry about overheating and that your room will always be the ideal temperature.
Style and design
An electric fireplace makes an excellent centerpiece when creating a warm and inviting atmosphere. But with so many design styles available, from traditional to modern and everything in between, picking the right one can be difficult. A good starting point is to consider the overall aesthetic of your space, including the color scheme and existing decor. Wood finishes are ideal for a more rustic look, while black metal constructions work well in contemporary and modern settings. Added features like mantels or textures on the fireplace can also add some extra flair to your space.
Power source
When buying an electric fireplace, the type of power source it requires is an important consideration. Hardwired models typically provide higher heat output but necessitate a direct connection to an electrical source during installation. Alternatively, plug-in units are more flexible and can be powered by any standard wall socket with a compatible wattage, although they tend to produce less heat because of their lower power output. Consider whether you want to hardwire your unit to maximize its output or opt for a more convenient plug-in model.
Installation process
As with any product that will be installed in your home, consider the space an electric fireplace will occupy and what its installation involves. Electric fireplaces that mount onto walls are perfect for smaller or space-limited areas, freeing up valuable floor space. They may require special anchoring to ensure they aren't at risk of falling though. On the other hand, installing an electric fireplace insert typically involves removing a masonry fireplace from its opening and replacing it with an electric model. This not only upgrades the space's aesthetic appeal but also provides a heat source without the hassle of traditional fireplaces. For maximum simplicity, freestanding electric fireplaces don't require installation as they're placed on any floor surface without extra anchoring or labor.
Safety features
To ensure you purchase a reliable electric fireplace, prioritize models with essential safety features like a shutoff timer and cool-touch exterior. Also, look for brands that meet specific UL safety standards and have overheat protection mechanisms to further minimize potential risks. For added peace of mind, be sure to carefully review all safety-related information before making a purchase.
Energy efficiency
Electric fireplaces are known for their ability to heat rooms efficiently, especially compared to their gas or wood-burning counterparts. When used properly, they can lead to significant energy savings. Look for units with high-efficiency ratings, temperature controls, and adjustable flame and brightness settings. These features can all help to reduce energy consumption, conserve electricity, and lower operating costs.
Remote control option
Many electric fireplaces include a remote control that allows you to personalize settings such as heat output, flame brightness, and lighting intensity from anywhere in the room. If this feature appeals to you, look for models with easy-to-use remotes to enjoy maximum convenience when operating your fireplace.
Maintenance
In addition to their efficiency, electric fireplaces are also well-regarded for how easy they are to maintain. Be sure to clean the exterior and interior of your unit as needed, following the manufacturer's instructions closely. This may involve wiping down the glass, dusting any fans, and replacing lights as needed.
Flame effects
Electric fireplaces offer several features that can add a touch of realism to your space. These typically involve adjusting the color, intensity, and brightness of the flames. Many models offer a range of color settings or specific themes ideal for different moods or activities. Some units also come with LED-lit logs or glass stones to switch up the ambiance of the room.
Warranty
When purchasing an electric fireplace, it's important to check if the unit you're considering has a warranty or money-back guarantee. In the event that something goes wrong with the unit post-purchase, a limited warranty may cover the costs of parts and labor for a certain amount of time. Be sure to read through the warranty conditions and exclusions before purchasing so you have a clear understanding of what to expect in terms of service if you encounter any issues with your fireplace.
People Also Ask
What are the benefits of getting an electric fireplace?
The benefits of an electric fireplace include efficient heat output, aesthetic value, and simple installation. They can also usually be operated with a remote control and have adjustable settings for temperature and lighting. Electric fireplaces are generally very safe and energy-efficient, making them a great choice for those looking for an easy way to add some extra warmth and ambiance to their home.
Are electric fireplaces safe for use in my home?
Electric fireplaces are typically safe for most homes if installed and used according to the manufacturer's instructions. Safety features such as overheating protection and automatic shut-off are often built into electric fireplaces to prevent any potential hazards. Before using any appliance in your home, take a moment to read the manufacturer's guidelines carefully. This step is essential for ensuring optimal performance, reliability, and safety of your unit.
How much does installing an electric fireplace cost?
The cost of adding an electric fireplace to your home varies based on factors like model, installation complexity, and potential wiring and renovation work. Homeowners may handle simple installations with little to no additional cost, while professional installations can range from a few hundred to several thousand dollars based on the fireplace's size and characteristics.
What is the difference between a linear and a traditional electric fireplace?
Linear electric fireplaces present homeowners with a modern flair, courtesy of their sleek lines and contemporary design. By contrast, traditional electric fireplaces with intricate detail work and warm hues afford a more rustic look. Ultimately, your preference will depend on your style and your space's existing decor.
Will an electric fireplace provide enough heat for my space?
Modern electric fireplaces are an incredibly effective heat source, with many models capable of heating rooms up to 400 square feet. While they can keep you warm in most climates, extremely cold temperatures might require supplementary heating sources. Additional heaters or central heating work well alongside electric fireplaces to heat your home or office space, keeping everyone comfortable in chilly weather.
Are electric fireplaces maintenance-free?
Electric fireplaces are typically very low maintenance, as they don't require the same level of cleaning or upkeep as gas or wood-burning fireplaces. It's still important to read and follow the manufacturer's recommendations for maintenance and cleaning to keep your unit running efficiently and safely.
Why Trust Us
Our commitment to the consumer begins with a carefully curated product selection process, ensuring we provide high-quality and reliable options. We meticulously vet each electric fireplace, analyzing quantitative aspects, such as star ratings and review count, and qualitative factors, including review content and product features. Our dedicated team of bargain hunters prioritizes your budget by meticulously scouring the market and identifying the best electric fireplaces available without compromising quality or performance. Our panel of experts focuses on presenting the pros and cons of each electric fireplace and converting technical specs into understandable insights. Our mission is to ensure you get the most bang for your buck…or, in this case, the best ambiance and coziness for your buck.