The Best Electric Ice Cream Makers for Your Money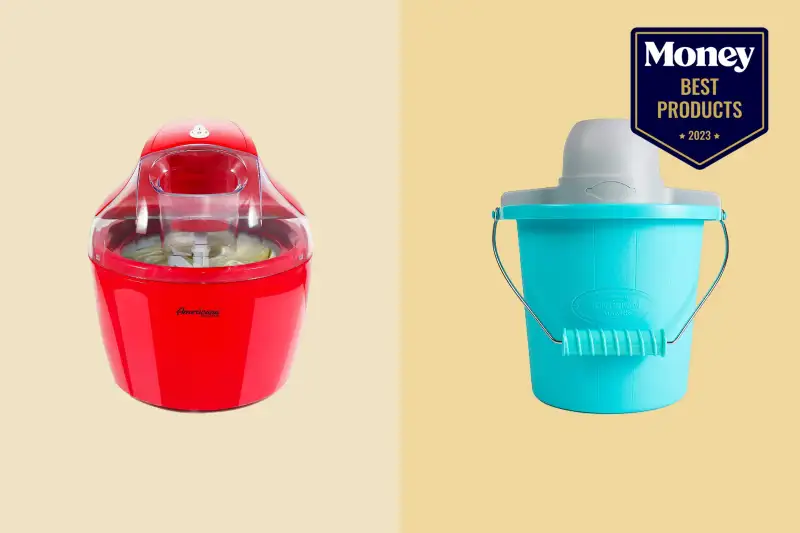 Ice cream is a timeless, widely adored dessert, especially during warm weather. It can suit your tastes much better when made at home because you can customize flavors and recipes to suit your preferences. Making your own ice cream offers you complete control over the ingredients, which is especially crucial if you have food allergies or prefer to avoid certain products or additives. The good news is that this frozen dessert is easy to whip up in your kitchen with an electric ice cream maker.
Electric ice cream makers aren't all created equal, though, and with so many models available on the market, it can be difficult to choose the right option for your needs. To help you, we compiled a list of the premium electric ice cream makers of 2023, so you and your loved ones can enjoy a scoop of homemade ice cream anytime you want. Explore our list of fully automatic appliances and their unique designs, easy-to-use features, and handy accessories. Let's get started!
Best Overall: Nostalgia Electric Ice Cream Maker
Most Affordable: Dash Electric Ice Cream Maker
Easiest To Use: Elite Gourmet Electric Ice Cream Maker
Most Efficient: Hamilton Beach Electric Ice Cream Maker
Most Premium: Ninja Electric Ice Cream Maker
Comparing the Top Electric Ice Cream Makers of 2023
List Price: $30.50
As the best overall product on this list, the Nostalgia Electric Ice Cream Maker is the ideal addition to any kitchen due to its large capacity and user-friendly features. It comes with a 4-quart capacity, making it a great option if you are looking to prepare frozen desserts for parties or events. Ideal for frozen yogurt and gelato as well, it's easy to use and helps you effectively make all kinds of ice cream flavors in 20-30 minutes. It also has a see-through lid to check on the ice cream-making process and keep any leftover ice cream from making a mess in the freezer. Don't worry about struggling to lug this electric ice cream maker around, either; a convenient carrying handle makes it easy to transport and store without hassle.
In addition, this product comes with recipes to help you make delicious and creamy ice cream without additional research, and the powerful 50-watt electric motor does all the work for you. Made from durable aluminum and plastic, it's also easy to clean; simply hand wash the canister with warm, soapy water and wipe down the bucket. Plus, the motor securely locks into place for your safety, ensuring that no moving parts are exposed when in use. Thanks to its user-friendly features, affordable price, and included recipes, this electric ice cream maker is the top option overall.
Pros
No pre-chilling required
Easy to set up, use and clean
Large capacity for big gatherings
Cons
Needs salt and ice to operate properly
May be loud while in use
List Price: $24.99
Available at a budget-friendly price of under $30, the Dash Electric Ice Cream Maker is an affordable appliance for creating homemade ice cream, sorbet, gelato, and frozen yogurt with minimal effort. With just the push of a button, you can fulfill your craving for a refreshing frozen dessert in under 30 minutes. It's also very compact and lightweight, weighing less than a pound, which makes it perfect for people who have small kitchens and limited counter space or live in a dorm or RV.
Even better, this ice cream maker includes a cooling bowl, recipe book, mixing spoon, and access to an online recipe database for even more inspiration. In addition, you can easily customize your creation by adding chocolate, sprinkles, caramel, or any other delicious toppings to the container before turning it on. It comes in two different colors and five unique packages of accessories so you can choose the one that best suits your needs. Ideal for personal use, this electric ice cream maker has a capacity of 0.4 quarts.
Pros
Ideal size for small servings
Simple to maintain and operate
Many recipes and accessories are available
Cons
Doesn't have a lock mechanism
May be too small for families
List Price: $34.99
If you're looking for an option that's simple to use and doesn't require additional ingredients for cooling your mixture, the Elite Gourmet Electric Ice Cream Maker may be right for you. This affordable model features a 1.5-quart freezer bowl that doesn't need any chemicals, ice, or salt to prepare a batch of homemade ice cream. Simple to use, it has a straightforward one-button control panel while the double-insulated bowl that just needs to be placed in the freezer the night before use.
In addition, this pick comes with a variety of recipes, allowing you to make a range of frozen desserts, including frozen yogurt, gelato, sorbet, and, of course, ice cream. It also features an ingredient chute to add in extras like chocolate chips or sprinkles as well as a clear top design so you can watch your ice cream as it's churned. Thanks to its convenient design and 50-watt motor, this electric ice cream maker also works efficiently. It comes in two colors and a larger 6-quart size in case you need a bigger capacity for events and parties.
Pros
Transparent design for convenient monitoring
Compatible with both manual and electric use
No fillers or freezing ingredients needed
Cons
Ingredients should be pre-mixed before use
Ice cream may be on the softer side
List Price: $59.99
Delivering delicious results in only 20 minutes, the Hamilton Beach Electric Ice Cream Maker is a great choice for anyone looking to whip up some homemade ice cream whenever they want. It comes with a 1.5-quart capacity, making it easy to create large batches of frozen desserts, including sorbet, sherbet, gelato, and frozen custard. Besides, you don't have to worry about rock salt or ice, saving you time and preventing potential messes; simply freeze the bowl for only eight hours then add ingredients, assemble the machine, and turn it on.
From cappuccino gelato to old-fashioned vanilla ice cream, this product comes with a set of recipes. It's also easy to invent your own flavors with mix-ins and toppings such as chopped fruit, nuts, candy, and syrups thanks to the open-top design, so you can customize treats exactly how you like them without interrupting the churning. This product comes in two different colors and is made from nonstick material for quick cleaning.
Pros
Ideal for a range of frozen treats
Lightweight and portable construction
Easy to clean and maintain
Cons
Requires specific ingredients for desired texture
May be loud while in use
List Price: $229.99
While it comes at a high price, the Ninja Electric Ice Cream Maker is an innovative and versatile frozen dessert machine. This countertop appliance features seven one-touch programs to achieve the ideal combination of time, speed, and pressure to make a wide range of sweet treats, including soft serve, sorbet, and gelato. It features innovative creaming technology and dual-drive motors to apply downward pressure and finely shave and churn icy ingredients, delivering a smooth and creamy texture. Its compact size means it won't take up much space and can be easily stored if needed.
For your convenience, this model also comes with two 16-ounce pints with storage lids and a recipe inspiration guide with 30 different recipes, from smoothie bowls to milkshakes. Easy and quick to use, all you have to do is freeze your ingredients in the provided pint for 24 hours then the paddle will churn it into delicious ice cream in just a few minutes. Once you're finished creating and enjoying your frozen desserts, you can place the containers, lids, and paddle into the top rack of the dishwasher for quick and easy cleanup.
Pros
Frozen leftovers can be easily processed again
Reusable pint containers for easy storage
Specialty programs to achieve different textures
Cons
Requires to freeze the mixture before use
Costs a lot compared to other options
Finding a Quality Electric Ice Cream Maker: A Buyer's Guide
If you're looking for a quick and easy way to make delicious ice cream right at home, then you should consider investing in an electric ice cream maker. Selecting the ideal model can be tricky as there are numerous features and considerations to take into account before making a purchase. But you don't need to worry; we've got you covered. In this buyer's guide, we'll cover each product feature that you should evaluate when deciding which electric ice cream maker is right for you.
How to pick the right electric ice cream maker
Capacity
One of the first factors to consider when purchasing an electric ice cream maker is its capacity. Check how many quarts of ice cream you can make at once with each model. Depending on your needs and the number of people in your household, electric ice cream makers are available in capacities from less than one to six quarts.
Freeze time
Another important feature to evaluate is freeze time. Some electric ice cream makers require their containers to be frozen in advance for optimal results. Many of these models need at least eight to 12 hours in the freezer before they can begin producing properly frozen ice cream. Depending on how quickly you want dessert and how often you plan on using your machine, you'll need to factor this into your decision-making process.
Power
To ensure that your electric ice cream maker operates effectively, consider the power output of any potential electric ice cream makers you purchase. Most large electric ice cream makers require at least 300 watts, while smaller models work well with just 50 watts. Be sure to check each model before purchasing to ensure that it has enough power to get the job done based on how much ice cream you plan to make.
Design
Don't overlook the design or aesthetic appeal of any potential electric ice cream maker. Many electric ice cream makers come in attractive stainless steel or plastic designs that make them visually appealing in any kitchen setting; this can also impact their overall durability and resistance to scratches or scuffs. In contrast, other models may feature designs such as colorful patterns and bright colors to add an extra pop of style to your space and make them more exciting for kids to use.
Ease of use
Before buying an electric ice cream maker, it's essential to consider how user-friendly its controls and features are. Do the controls allow for precise adjustments for temperature and other settings? Are there preprogrammed settings available based on what type of ice cream you're making? How easy is it to assemble and disassemble or clean? All these factors should be taken into account when selecting an electric ice cream maker so that you can be confident that you'll continue to use it long after purchase.
Included accessories
It's also important to evaluate what accessories come with an electric ice cream maker. Most machines include all the necessary tools for ice cream making, such as spoons or scoops for stirring or serving. In contrast, others may require additional parts, such as different paddles or extra cans for freezing multiple batches of ice cream at once. Some models also come with extra accessories like recipe books or lids for storage to help you get the most out of your ice cream maker. Be sure to check exactly what comes with each product so you can ensure you have all the pieces needed for making delicious frozen desserts right away.
Timer
Before buying an electric ice cream maker, it's good to look and see if it has an automatic timer feature and, if so, what type. An automatic timer allows you to set a certain time limit, ensuring an optimal freezing process with minimal effort required on your part. This feature is often accompanied by an automatic shutoff feature so the machine will turn off once your ice cream is ready.
Maintenance
Like with any kitchen appliance that comes into contact with food, you'll have to clean and maintain your electric ice cream maker. It's important to check if there are any special maintenance requirements for keeping the machine in optimal condition. If so, these should be considered when selecting which model to buy. Some machines may require regular cleaning more often than others due to their design or construction materials used during production; that means it's helpful in the long run to choose a model that's easy to clean. Ideally, look for products that feature dishwasher-safe parts and can be quickly disassembled and assembled.
Type of motor
Electric ice cream makers use direct-drive or belt-driven motors to power their churning process. Direct-drive motors are typically found in more expensive models and offer smoother performance. In contrast, belt-driven motors are generally the standard for lower-priced models and offer more even churning action.
Tips to properly use and care for your electric ice cream maker
Read the instructions for your electric ice cream maker carefully and gather all the necessary ingredients you'll use before you start.
For optimal results, freeze the bowl of your appliance for at least eight hours before you intend to use it.
Use only chilled ingredients when making your ice cream — this helps speed up freezing time and ensures your ice cream will come out creamy and smooth every time.
Don't overfill the bowl. Leave some space between the top of your ice cream mix and the top of the bowl to allow air to circulate while churning.
Once the ice cream has been churned, serve it immediately or put it in an airtight container and keep it in the freezer until you are ready to consume it.
Make sure your electric ice cream maker is unplugged from power before attempting to clean it to ensure safety and prevent any accidental injuries.
Clean your machine after each use to prevent any smells or bacteria from building up over time.
Store your ice cream maker properly after use. Avoid leaving it outside or storing it in a damp area like a basement or garage, as this could cause rusting or corrosion.
Benefits of using an electric ice cream maker
Healthier delicious treats
One of the primary benefits of owning an electric ice cream maker is the flexibility to make healthier delicious sweets at any time. Since you have full control over the ingredients you use, it's easy to make high-quality ice cream that suits your dietary needs and preferences. For example, you can substitute whole milk for dairy-free alternatives or use natural sweeteners to prepare sugar-free ice cream.
Different ice cream flavors
Having an electric ice cream maker also helps you make different ice cream flavors easily at home. After creating a mixture, you can immediately pour it into a frozen bowl to serve or store it in the freezer and create another batch. Most of these devices can whip up a sweet treat in about 20 minutes, so it won't take long to prepare an array of flavors fit for a sundae bar.
Higher-quality ice cream
In addition to customizability, an electric ice cream maker enables you to make better-quality sweets than most store-bought frozen desserts. You may not know if the ice cream you are going to purchase has been defrosted and refrozen multiple times, which can diminish its flavor and potentially harm your health.
Saves you time and money
Electric ice cream makers save time when compared to searching for a particular flavor or brand in stores. It's also generally more affordable to buy ingredients in bulk to make homemade ice cream compared to the cost of store-bought frozen desserts. Plus, you'll save time by not having to leave the house every time you're craving a bowl of ice cream.
People Also Ask
Can I make vegan ice cream with an electric ice cream maker?
Yes, vegan and non-dairy options, such as soy milk-based or almond milk-based frozen desserts, are easy to make in an electric ice cream maker with the right ingredients and recipes.
Do electric ice cream makers come with recipes?
Many modern ice cream makers come with recipe books or provide access to online resources and databases with recipes. Some machines even have preprogrammed settings specifically for making popular ice cream flavors and other frozen desserts.
Can I easily use an electric ice cream maker?
Yes, most electric ice cream makers are very easy to use. Generally, all you need to do is pour your ingredients into the machine's bowl, select the type of ice cream you want to make, and press start. While some models may have slightly different instructions, the process is generally straightforward and takes just minutes to set up and start.
How much does an electric ice cream maker cost?
The cost of an electric ice cream maker can vary considerably based on its size and features. Generally, small countertop models range from around $20 to $200, while larger stand-alone units ideal for commercial use can cost upwards of $300 to $700 or more.
Should I follow any safety guidelines while using an electric ice cream maker?
Yes, you should always follow the safety recommendations listed in the product's user manual before using an electric ice cream maker. These often include wearing protective gloves when handling the bowl, never opening the lid during operation (unless instructed by the manual), and unplugging the device after use and before cleaning.
Why trust us
Our commitment to the consumer begins with product selection and ends with the last word we write in each article. Each soft serve ice cream maker is carefully vetted quantitatively through star ratings and a number of reviews qualitatively through careful examination of reviews and the features each one has to offer. Leveraging our team of bargain hunters, we're also always sure to keep your budget in mind while we find the best soft serve ice cream makers on the market. Our team of experts is dedicated to accurately depicting the pros and cons of each soft serve ice cream maker, translating technical product specifications into information you can understand. Our mission is to help you get the most bang for your buck…or in this case, the best soft serve ice cream for your hard-earned money.
More Ice Cream Makers
The Best Ice Cream Makers of 2023