The Best Home Fire Extinguishers for Your Money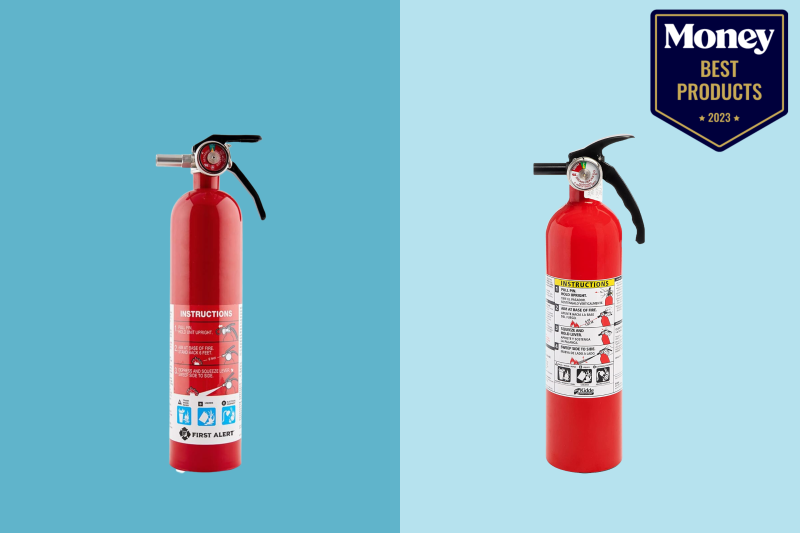 From faulty electrical systems to accidents in the kitchen, there's no shortage of ways a house fire can start. One of the most effective ways to prevent the devastating effects of a fire is to keep at least one high-quality, functional fire extinguisher in your home. Different extinguishers are designed to put out various types of fires, however, so it's crucial to ensure the one you choose is well-equipped to handle common types of house fires.
In this article, we'll review the top home fire extinguishers of 2023 and explain the unique advantages of each model. We'll walk you through the different types of fire extinguishers and provide you with a comprehensive buying guide so you'll have all the information you need to find the right one for your needs. Without further delay, let's get started.
Best Overall: FIRST ALERT Rechargeable Home Fire Extinguisher
Most Versatile: Kidde Home Fire Extinguisher
Most Portable: LifeSafe Technologies StaySafe Home Fire Extinguisher
Best Design: Amerex B402 Home Fire Extinguisher for Home Use
Best for RVs: FIRST ALERT REC5 Home Fire Extinguisher
Reviewing the Finest Home Fire Extinguishers of 2023
List Price: $21.98
The FIRST ALERT Rechargeable Home Fire Extinguisher earned its spot at the top of our list thanks to its lightweight, user-friendly design. With a low weight of only 4.5 pounds, this product is easy to carry, hold and handle. Operation instructions are clearly printed on the unit with accompanying illustrations for ease of use. It's made entirely from durable metal materials for maximum durability
This home fire extinguisher is approved by the U.S. Coast Guard for marine use, and it can be recharged by a certified professional as needed for reuse. It also has a full ABC rating, making it suitable for extinguishing various types of fires. The pull pin has a safety seal for tamper prevention. Available individually and in sets of two and four, this product is also backed by a 10-year limited warranty so you can purchase with confidence.
Pros
Has a tamper-resistant design
Comes with a mounting bracket
Works on multiple fire types
Cons
Must be professionally recharged
May not be sufficient for large fires
List Price: $27.99
Featuring an ABC rating, the Kidde Home Fire Extinguisher is well-equipped to take on a wide range of fire types including those involving wood, paper, fabric, flammable gasses, combustible liquids and small electrical appliances. It features an all-metal construction for lasting durability, and the aluminum cylinder is lightweight for easy handling. The product is also available in quantities of one, two, four and six, so you can buy enough for each floor of your home as well as the kitchen.
This unit is listed by the Underwriters Laboratories (UL), and it includes a UL-approved bracket for space-efficient mounting. It's backed by a six-year manufacturer's warranty, and it features a clearly printed label with detailed instructions. The pressure gauge is color-coded, making it easy to verify that the unit is ready for use.
Pros
Easy to handle and use
Available in four quantity options
Color-coded pressure gauge
Cons
One-time use only
Installation can be difficult
List Price: $29.99
If you're looking for a lightweight product with a compact design for effortless portability, the LifeSafe Technologies StaySafe Home Fire Extinguisher is a great choice. It's small enough to keep in your travel bag, kitchen cabinet, car's glove compartment and just about anywhere else it may be needed. Despite its small size, it's more than capable of extinguishing five common fire types, including those resulting from flammable liquids, oils, electrical malfunctions and combustible materials such as textiles and paper.
This product features toxin-free, eco-safe fluid contained in a recyclable plastic bottle with an aerosol-style spray pump. It can eliminate small fires in a matter of seconds, helping to prevent them from raging out of control and causing loss of life, injuries and property damage.
Pros
Great for boats, cars and traveling
Suitable for use on five fire types
Eco-friendly, non-toxic materials
Cons
Less durable than our other picks
Not suitable for extinguishing large fires
List Price: $72.00
Made entirely from sturdy metal materials such as steel, the Amerex B402 Home Fire Extinguisher has an aluminum valve and an easy-to-hold lever with ergonomic grooves for maximum comfort during use. With a low weight of only five pounds, this unit can be carried and handled with minimal effort. This product comes complete with a heavy-duty metal wall mounting bracket for space-efficient storage.
Directions for use are clearly visible on the cylinder and feature illustrations for additional clarity, so it's straightforward to use in the event of an emergency. This unit has an ABC rating, making it suitable for use on most fires involving common combustible materials, flammable liquids or live electrical equipment.
Pros
Bright red color for optimal visibility
Ergonomically designed lever
Durable steel and aluminum construction
Cons
No mention of warranty coverage
Bracket can be time-consuming to mount
List Price: $32.99
With its compact size, lightweight construction and use rating, the FIRST ALERT REC5 Home Fire Extinguisher is suitable for recreational vehicles, cars, boats and other small spaces. This portable mini model weighs 4.1 pounds and is easy to mount. It can be recharged and reused, making it a cost-effective option. This option uses a baking soda-based extinguishing agent and has a 5-B: C rating, making it suitable for liquid, gas and energized electrical equipment fires.
The included mounting bracket ensures secure placement, while the pull pin's safety seal prevents accidental use and tampering. This product is rust-resistant and built to last. Plus, it's UL-listed and backed by a 10-year limited warranty for your peace of mind. It's available in two additional styles and features a waterproof instruction label.
Pros
Long-lasting warranty coverage
Waterproof instruction label
Color-coded pressure gauge
Cons
Not suitable for class A fires
Courtesy of AmazonProfessional recharge required
Buying Guide: Fire Extinguisher for Home
When it comes to choosing a fire extinguisher for your home, there are many factors to keep in mind. This buyer's guide will outline the key product features to consider as you're shopping so you can make an informed purchase.
Fire type
When selecting a fire extinguisher for your home, consider the potential types of fire you're most likely to experience in your home. Knowing your home's fuel sources can help you determine which type of fire extinguisher you need. Generally, the two most common options are ABC (multi-purpose) and BC (dry-chemical) extinguishers. An ABC extinguisher is designed to fight fires caused by combustible materials such as paper, wood and fabric, whereas a BC extinguisher is designed to tackle electrical fires and those caused by flammable liquids.
UL rating
It's essential to ensure the fire extinguisher you're considering meets or exceeds Underwriters Laboratories (UL) rating requirements for your home. This rating will inform you of the maximum size and scope of fire that your extinguisher can handle.
Capacity
Knowing the amount of firefighting capacity you need is essential when purchasing a fire extinguisher for your home. Make sure to select one that's large enough to accommodate fires that may occur in your home.
Ease of use
Fire safety involves quick thinking and decisive action, so it's crucial to choose a product that's user-friendly and has clear operation instructions. It's a good idea to familiarize yourself with how to use your fire extinguisher after purchasing it. Hopefully, you'll never need to use it, but it's important to know how so you can act fast during a fire emergency.
Maintenance requirements
To ensure your fire extinguisher is ready to go in case of a fire, look for a model with easy-to-check functionality indicators, such as pressure gauges or expiration date labels. This will make it easier to know if the product needs to be serviced or replaced.
Mounting options
Generally, fire extinguishers can either be wall-mounted or mounted with an attached bracket for easier storage and accessibility. A wall-mounted unit will provide permanent protection in a convenient location, while a bracket-mounted unit offers flexibility and portability, allowing you to move it from place to place easily. Consider which option will work best for your home and needs.
Rechargeable or disposable
Depending on your budget, you may want to opt for a rechargeable model instead of a disposable unit, as they provide long-term protection at an economical cost. Keep in mind that rechargeable models require periodic service inspections by trained professionals, while disposable units don't. However, this can ultimately be a good thing as it ensures your essential safety equipment will function properly in the event of an emergency. Weigh the pros and cons of each home fire extinguisher carefully before making your purchase decision.
Cost
Ultimately, your aim should be to select a fire extinguisher that provides great value for money, offering reliable performance and long-term protection from fires. While it's important to stay within your budget, don't settle for a low-quality product just to save money — especially when it comes to safety tools. It's important to know the extinguisher will perform well in the event of an emergency, even if that means spending a little extra for a high-quality model with a high customer satisfaction rating.
People Also Ask
What's the best type of fire extinguisher for home use?
Generally, the best type of fire extinguisher to have in your home is an ABC model because it's equipped to handle all common fire types. It's suitable for fires stemming from wood, paper, cloth and other combustible materials as well as those involving oil, gasoline and small electrical fires.
How do I know when it's time to replace my home fire extinguisher?
Your fire extinguisher should have an expiration date and a pressure gauge. We recommend replacing your product either when it reaches its expiration date or sooner if the gauge indicates low pressure. If you have a rechargeable model, be sure to have it inspected regularly by a certified technician (and recharged as needed) to ensure it's in good working order.
Where should I install my home fire extinguisher?
Generally, an extinguisher should be mounted at least 18 inches from the ground and 4 inches away from any wall surfaces. Make sure it can be easily accessed in an emergency. For maximum safety, we suggest having at least one unit on each floor, including the basement, as well as a unit in the kitchen, as most home fires start in the kitchen.
How do I use a home fire extinguisher?
Generally, you'll need to pull the pin, aim the nozzle at the base of the fire, squeeze the lever and move the unit in a sweeping motion while maintaining pressure on the lever. Continue doing this while aiming at the base of the fire until it's fully extinguished. The acronym PASS is a helpful way to remember this process: pull, aim, squeeze and sweep.
How long does a home fire extinguisher last?
The service life of a home fire extinguisher can vary depending on quality and materials. On average, most high-quality fire extinguishers last between 10 and 12 years.
Why Trust Us
Our commitment to customers begins with a carefully curated product selection process, ensuring we provide high-quality and reliable options. We meticulously vet each home fire extinguisher, analyzing quantitative aspects, such as star ratings and review count, and qualitative factors, including review content and product features. Our dedicated team of bargain hunters consistently prioritizes your budget by meticulously scouring the market and identifying the best fire extinguishers for home use available without ever compromising on quality or performance. Our panel focuses on presenting the pros and cons of each home fire extinguisher and converting technical specs into understandable insights. We aim to ensure safety and peace of mind with top-rated fire safety equipment.