The Best Forehead Thermometers for Your Money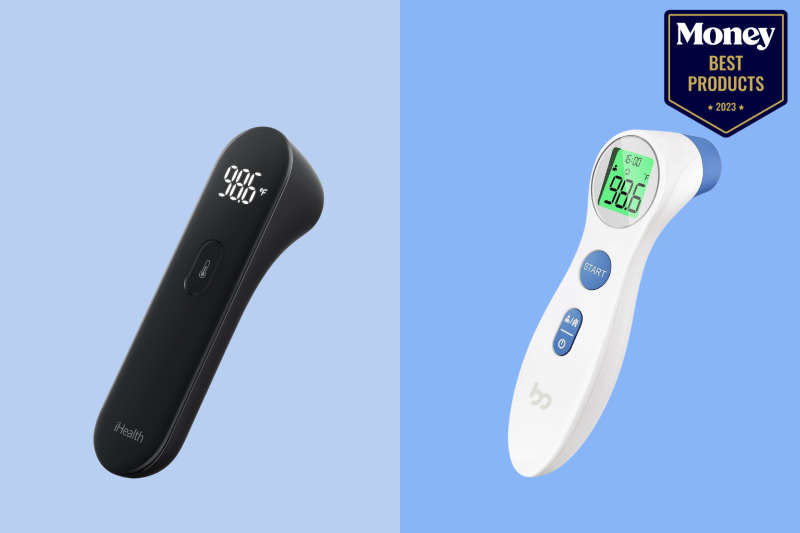 Keeping track of your health is more crucial than ever, but in today's fast-paced world, it's sometimes easier said than done. That's when forehead thermometers come in handy. These user-friendly tools offer quick, reliable temperature readings, making them key elements in our healthcare arsenal. Renowned for their precision and simplicity, these products are noteworthy not just for their technological advancements but also for how effortlessly they cater to a wide array of consumer needs. Whether you're the parent of a young child or you're looking for an easy way to stay on top of your health, these contactless products are far more hygienic and less invasive than the thermometers of yesteryear. So, let's dive into the world of the top-rated forehead thermometers of 2023 and find out why they're making waves in the healthcare industry.
Best Overall: GoodBaby LCD Forehead Thermometer
Fastest Results: iHealth Contractless Infrared Forehead Thermometer
Most Versatile: iProven DMT-489 Forehead Thermometer
Best Construction: DISEN Non-Contact Forehead Thermometer
Best for Daily Use: Femometer Digital Infrared Forehead Thermometer
Comparing the Best Forehead Thermometers of 2023
List Price: $23.46
Get ready to ditch your old under-the-tongue thermometer. The GoodBaby LCD Forehead Thermometer tops our list thanks to its versatility and user-friendliness. Suitable for babies, children, and adults, this device can be used by the whole family. Not only is it easy to use thanks to its intuitive controls, but it's also accurate and non-invasive. No more struggling with kids or disturbing a sleeping baby — a simple swipe across the forehead and you'll have an instant temperature reading.
This thermometer also features a fever alarm and a clear, color-coded LCD display, meaning you won't miss a temperature spike. If you're worried about waking your sleeping child, simply switch over to quiet mode. The memory function allows you to track temperature changes, and the ergonomic design makes it comfortable to hold. Plus, it can also be used to check the temperature of the room, beverages, and more. It's available in white and black color selections, and the required AAA batteries are included.
Pros
Suitable for all ages
Accurate temperature readings
Sanitary and hygienic
Minimal error margin
Cons
Batteries can be hard to remove
Fever alarm could be louder
List Price: $25.99
The iHealth Contactless Infrared Forehead Thermometer is a high-tech product that uses three ultra-sensitive sensors to deliver fast, touchless readings in just one second. Its large LED display allows for easy-to-read results while its noise-free design ensures quiet operation so you don't have to worry about waking your baby or child while checking their temperature. Its lightweight, portable design means you can keep it in your diaper bag or travel bag for easy on-the-go use.
The sensors capture over 100 data points per second, and the PT3 adjusts for factors such as ambient temperature and measurement distance. It boasts an intuitive, single-button control and is suitable for all age groups from infants to elders. It's powered by two AAA batteries, which are included, and it comes with a 12-month warranty so you can purchase with confidence.
Pros
Quick and accurate temperature readings
Easy and simple to use
Sleek design with large, clear display
Detailed manual and batteries included
Cons
Results are occasionally inconsistent
Frequent battery replacements required
List Price: $29.97
Next up on our list is the iProven DMT-489 Forehead Thermometer, which stands out from the competition due to its versatile design. This product offers two temperature-taking methods and can be used as a forehead or in-ear thermometer, ensuring a comfortable experience with each use. It can also be used to check room and object temperatures.
With its innovative infrared scan technology, this device accurately measures body temperature via the ear or forehead by detecting the radiation emitted. It delivers quick results in three seconds or less. It boasts a fever warning system and will alert you with three beeps and a red light if a fever is detected. The device comes complete with a pouch for protection during travel and easy storage when the thermometer isn't in use. You'll also receive batteries for instant use and a handy guide to help you get started. Plus, the manufacturer offers a 100-day, no-questions-asked, full-refund policy so you can purchase with peace of mind.
Pros
Automatic shut-off after 10 seconds
Suitable for forehead or in-ear use
Simple, intuitive operation
Elevated temperature notification
Cons
Ear sensor requires cleaning after use
Only one color available
List Price: $13.99
Say goodbye to traditional temperature-taking methods and hello to the future with the DISEN Non-Contact Forehead Thermometer. This no-touch device is constructed from eco-friendly polypropylene material, making it easy to clean and built for long-lasting use. It offers quick and accurate temperature readings with results in a matter of seconds.
This product is priced with affordability in mind. The color-coded display will turn green to indicate a normal temperature reading, yellow to indicate a slightly elevated temperature, or red to signal a fever. It's backed by a 12-month warranty, giving you the peace of mind of knowing that your purchase is protected should you experience any post-sale issues. Thanks to its memory function, this thermometer can store up to 35 temperature readings, making it easy to track changes. It's suitable for all ages, and the mute function makes it a great choice for middle-of-the-night temperature checks.
Pros
Affordable price point
Contactless design prevents cross-contamination
Silent mode for nighttime use
Memory function stores 35 readings
Cons
Difficult to switch from Celsius to Fahrenheit
Display could be clearer
List Price: $29.99
With its simple, convenient, user-friendly design, the Femometer Digital Infrared Forehead Thermometer is a great pick for everyday use. It's completely contactless, making it a hygienic choice for use in homes, schools, hospitals, healthcare facilities, and workplaces. It's equipped with a fever alarm and a color-coded indicator for easy understanding of results.
The intuitive three-color backlit display provides a clear visual cue of your body temperature level, helping you identify fevers at a glance. The one-button mute mode is ideal for middle-of-the-night temperature checks, and the memory storage function allows for easy tracking over time. This thermometer also offers dual-mode functionality and is capable of measuring body temperatures as well as surface temperatures, making it perfect for checking the warmth of food, milk, or even the room. Its unique ergonomic design ensures comfortable holding and prevents slipping. It comes with batteries and is backed by a 12-month replacement policy.
Pros
Accurate and easy to use
Useful color-coded light system
Comfortable and ergonomic design
Portable and easy to store
Cons
Fever alarm could be louder
Frequent battery changes needed
Forehead Thermometers: A Buying Guide
With so many temporal artery thermometers on the market, finding the right one for your needs can be a bit overwhelming. In this guide, we aim to simplify the process and help you understand the key features you should look for when shopping for a forehead thermometer.
Accuracy
Accuracy is the cornerstone of any high-quality thermometer. Look for a model that has a minimal error margin and has undergone clinical trials to validate its accuracy. This information is generally available in the product description or on the packaging. It can also be helpful to read customer reviews to find out what those who have purchased and used the product have to say about its accuracy.
Speed
When dealing with an unwell child or a restless adult, it's crucial to be able to get a temperature reading quickly. Some forehead thermometers can provide readings within seconds, while others might take a bit longer. Choose a model that offers swift results to make the temperature-taking process as stress-free as possible. Some of the best options can deliver results in only a second.
Ease of use
A forehead thermometer should be straightforward to use, even in dim lighting. It should come with user-friendly instructions and an intuitive design, making it easy to operate at any time of the day or night. Look for a product that offers single-button operation and an easy-to-read display.
Display
Opt for a thermometer with a large backlit display to help you see the readings at night or in low-light conditions. Some models feature color-coded displays that change color depending on the temperature reading, making it simpler to ascertain if a fever is present.
Memory function
A memory recall feature can be incredibly helpful if you need to monitor temperature changes over time. Choose a forehead thermometer capable of storing at least the last 10 readings. Some more advanced models can store around 40 readings.
Price
Price is a significant factor in any purchasing decision. While you needn't opt for the most expensive model, it's important to note that cheaper models may not be as reliable or accurate. Strive for a balance between cost and quality by comparing features and prices across multiple thermometers.
Battery life
Choose a model with a long battery life, especially if you plan to use it frequently or travel with it. Ideally, the thermometer should use a common battery type, such as AA or AAA, making replacements easy to find.
Brand reputation
Invest in a forehead thermometer from a reputable brand. Research the manufacturer to ensure it has a solid reputation for producing high-quality healthcare products. Check customer reviews to get an idea of product performance and customer satisfaction.
People Also Ask
What's a forehead thermometer?
A forehead thermometer is a device that measures temperature by detecting the heat radiation from the forehead. It's a non-invasive method of taking body temperature, typically suitable for all ages.
How do I use a forehead thermometer?
To use a forehead thermometer, you typically hold the device an inch or two away from the forehead, and then press a button to get a reading. Always consult the user manual for specific instructions, as operation may vary between different models.
Is a forehead thermometer accurate?
Forehead thermometers are generally accurate for checking body temperature. However, they may sometimes show a slight variation from the actual body temperature due to external factors like sweating and drafts. Always follow the manufacturer's instructions for use to ensure maximum accuracy.
How do I clean a forehead thermometer?
Most forehead thermometers can be cleaned with a soft, dry cloth. For a deeper clean, a cloth slightly dampened with warm water and mild soap can be used. Avoid getting moisture in any openings and never use abrasive cleaners or submerge the thermometer in water.
What do I do if the forehead thermometer shows an error message?
If your forehead thermometer displays an error message, check the user manual or contact the manufacturer's customer service for specific troubleshooting instructions. Common issues can include low battery, improper positioning, or ambient temperature outside the device's operating range.
Are contactless thermometers suitable for all ages?
Yes, contactless thermometers are generally suitable for all age groups, including infants, children, and adults.
How often should I recalibrate my forehead thermometer?
Recalibration frequency can depend on the specific model and usage. For home use, most manufacturers recommend recalibrating your forehead thermometer once every two years.
Why Trust Us
Our commitment to customers begins with a carefully curated product selection process, ensuring we provide high-quality and reliable options. We meticulously vet each forehead thermometer, analyzing quantitative aspects, such as star ratings and review count, and qualitative factors, including review content and product features. Our dedicated team of bargain hunters consistently prioritizes your budget by meticulously scouring the market and identifying the best forehead thermometers available without compromising on quality or performance. Our panel focuses on presenting the pros and cons of each product and converting technical specs into understandable insights. We aim to ensure you find the most reliable forehead thermometer that fits your needs, so you are equipped and ready whenever sickness strikes.