The Best Golf Bags for Women for Your Money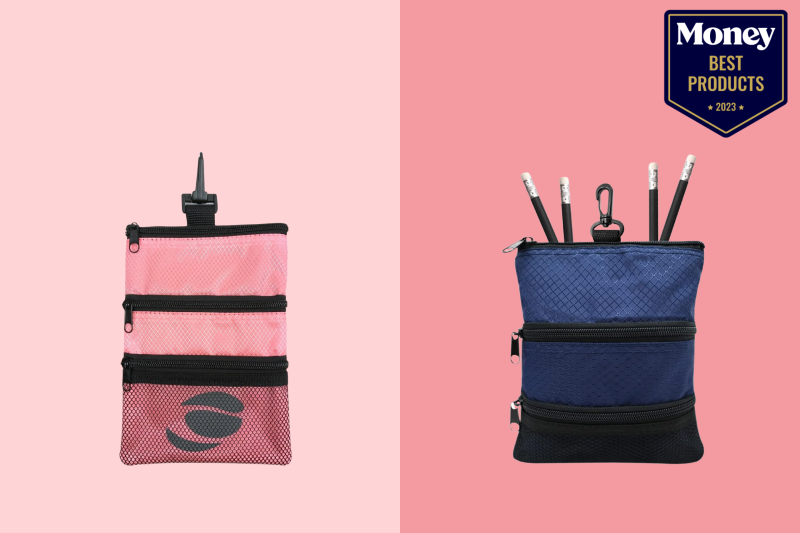 Ladies, your golf game is about more than just your swing — it's also about the gear you choose, especially that essential accessory: the golf bag. In this article, we'll dive into the world of golf bags for women, showcasing not just a sense of style but also practicality. These aren't just pretty accessories; these golf bags are meticulously designed to accommodate the unique needs of a diverse range of women golfers. From lightweight materials for easy carrying to spacious compartments for all your golfing necessities, these specially crafted products truly make a difference for the modern golf enthusiast.
So, whether you're an amateur golfer or a seasoned pro, read on, because one of these top golf bags for women in 2023 could be the game-changer you never knew you needed.
Best Overall: Glove It Citrus & Slate Gloves
Best Value: Orlimar Golf Detachable Accessory & Valuables Pouch
Best Design: FINGER TEN Golf Pouch Bag Blue with Free Golf Pencil Pack
Best Quality: Amy Sport Golf Bag
Best Minimalist Bag: BuyAgain Golf Tee Pouch
Comparing the Best Golf Bags for Women of 2023
Step up your game with the Glove It Golf Zip Bags for women that showcase signature prints that seamlessly blend style and function. The eye-catching colors and patterns will add a dash of elegance to your golf outfit. Whether you're using it as a golf carry bag or a crossbody bag, versatility is at your fingertips with a simple strap adjustment. You can easily clip it on your cart bag to ensure swift access to your essentials.
Crafted from 100% polyester, this two-zipper pouch bag is not only durable but also water and weather-resistant, ensuring your valuables stay dry even in the harshest conditions. And despite its compact size of 6.5 x 6 inches, it offers ample space to store golf balls, divot tools, and tees. When not in use, it effortlessly tucks it inside your cart bag or tote for safekeeping. The cherry on top is the detachable 24-inch strap that can instantly transform the carryall into a crossbody bag, making it the perfect companion for golf courses or global travels. Thanks to its versatility and variety of pattern options, this golf bag is our top pick overall.
Pros
Perfect size for golf course essentials
Lightweight and easy to carry
Several patterns to choose from
Cons
Size may be too small for some
Experience convenience like never before with the Orlimar Golf Detachable Accessory Pouch. This phenomenal pouch comes with three distinct zippered pockets, expertly designed to separate and protect your valuable items. With the feature of easy attachment to your golf bag, this pouch promises accessibility and security with no additional hassle. An added visible mesh pocket provides easy access to your most needed items.
From your cell phone, keys, and glasses to credit cards and golf tees, this affordable bag for women holds them all securely. Plus, the zippered closures ensure your items stay exactly where they should be. It's not just a pouch, it's the perfect golfing companion providing additional storage for all your personal items and essential accessories.
Pros
Offers convenient and accessible storage
Several color options
Can hold various small items securely
Cons
Walk onto the golf course in style and convenience with the FINGER TEN Golf Pouch Bag that's perfect for golf lovers. Boasting quality workmanship, it has durability and firmness that prevents deformation. Its practicality extends to a mesh pocket, a thoughtful addition for those who prefer easy access to their essentials. The bag also masters the art of space utilization with its multi-pocket design.
Featuring three zippered compartments, this bag provides ample room for your balls, brush, ball marker, hat clip, divot tools, and other valuables, keeping everything organized. The smooth zippers ensure security, preventing your belongings from falling or getting stolen, while the convenient plastic clip allows for easy attachment to golf bags. This golf bag for women arrives well-packaged and comes with four free pencils as a bonus gift.
Pros
Multiple compartments for organized storage
Durable and high-quality material
Convenient clip for easy access
Cons
The Amy Sport Golf Bag is expertly crafted to offer a high-quality, durable design. With its delicate and solid stitching, it not only showcases fine workmanship but also ensures that deformities are a thing of the past. The multi-pocket design is a standout feature with three zippered compartments, providing ample space for your balls, brush, ball marker, hat clip, divot tools, valuables, and other golf accessories.
Its smooth zippers will keep your belongings secure, eliminating the risk of them falling out or getting stolen. This bag was also designed with golfers in mind, featuring a convenient plastic clip for easy attachment to golf bags. To top it all off, your purchase includes a bonus gift of 10 83-millimeter wooden golf tees. This pouch is an absolute must-have for women golfers, offering a practical and convenient solution for organizing your golf gear.
Pros
Convenient tee storage
Quick access to essentials
Good quality and lightweight
Cons
Not a lot of color options
Enjoy convenience like never before with BuyAgain's Golf Tee pouch. Made from robust 600D polyester material, this women's bag promises long-lasting durability and resistance to wear and tear. The pouch is also compact in design, measuring 5.62 x 6.87 inches, making it a perfect fit for your golf bag or pocket.
A must-have for every golf enthusiast, it features a zippered pouch and a metal lobster claw clip for easy attachment, providing a secure spot for your golf balls, divot tools, and tees. The metal lobster claw clip allows a full 360-degree swivel, preventing tangles and ensuring the pouch stays firmly attached to your bag. Plus, it comes in a variety of colors including black, navy blue, royal blue, hunter green, grey, and red. Ideal for golf events, tournaments, travel, or simply storing valuables, this versatile pouch is a fantastic companion for your next golf adventure.
Pros
Durable, long-lasting material.
Simple design
Strong clip for easy attachment.
Cons
Might be too small for some golfers
Golf Bags for Women: A Buyer's Guide
From carrying your clubs to storing your golfing essentials, a golf bag can make your experience on the course much more enjoyable. Whether you're a beginner or a seasoned pro, this buying guide is here to help you navigate through a variety of features you need to consider when shopping for a new women's golf bag.
Material
The material of your golf bag is vital as it determines both its durability and weight. The most common materials used in golf bags are nylon and leather. Nylon is lightweight and affordable, making it perfect for beginners. While leather is a bit heavier and pricier, it's more durable and gives off a classic appeal. If you're a regular golfer, investing in a leather bag may be more beneficial in the long run.
Design
While functional, a good women's golf bag also needs to be stylish. So look for a bag that suits your personality. Luckily, a wide range of colors and patterns are available in the market these days. From chic pastels to bold patterns, you should be able to find a bag that matches your style.
Organization
The number of pockets and compartments in a golf bag can vary significantly. Some bags offer a single section, while others have several compartments to keep everything in its place. A bag with multiple sections makes it easy to organize and access your clubs. Just keep in mind that these bags tend to be heavier and more expensive. The choice will ultimately depend on your preference for convenience or weight and cost.
Comfort
The comfort of carrying your golf bag is crucial, particularly if you prefer walking around the course. Regardless, it's always a good idea to go for one with a padded, adjustable strap to distribute the weight evenly across your body. Some golf bags even feature backpack-style straps for extra comfort. If you usually use a golf cart, consider a cart bag with a sturdy base and non-slip feet to secure it on the cart.
Storage
A high-quality golf bag should have enough storage space for all your essentials. Be on the lookout for bags with multiple pockets for your golf balls, tees, gloves, and refreshments. Some bags even have a cooler pocket for your drinks! And don't overlook special features such as a waterproof pocket for your valuables or a pocket for your scorecard.
Weight
The weight of your golf bag can determine your comfort level on the course. A super-lightweight bag would be ideal if you carry your bag on the course. But, these bags may not have as many features as heavier ones. If you use a golf cart, a heavier bag with more features might not be much of a problem.
People Also Asks
What sizes do golf bags for women come in?
Golf bags for women are typically designed to be compact, but still large enough to comfortably fit a full set of clubs, golf balls, tees, and other accessories. The exact size can vary, so consider how big of a bag you're willing to carry around the course before making your final purchase.
What kinds of features should I look for in golf bags for women?
When buying a golf bag for women, look for features such as lightweight materials for easy carrying, multiple pockets for organizing golf accessories, and a sturdy stand for propping the bag upright.
How do I clean my women's golf bag?
To clean your women's golf bag, first empty it of all contents. You can then use a soft, damp cloth to wipe down the exterior of the bag. For tougher stains, mild soap or detergent can work. Just make sure to dry the bag thoroughly before storing it to prevent mold or mildew.
Are women's golf bags resistant to weather?
Many women's golf bags on the market today have some weather resistance since you never know what the day might bring. If you want your bag to resist water, look for polyester or nylon since these fabrics do well with precipitation and are pretty durable as well.
Why are there so many pockets on a golf bag for women?
The multiple pockets on a golf bag are there to help you organize and easily access all of your golfing essentials. You can use the pockets to store items like golf balls, tees, gloves, rain gear, water bottles, snacks, scorecards, and even your personal belongings like a wallet or phone.
Why Trust Us
Our commitment to customers begins with a carefully curated product selection process, ensuring we provide high-quality and reliable options. We meticulously vet each golf bag, analyzing quantitative aspects, such as star ratings and review count, and qualitative factors, including review content and product features. Our dedicated team of bargain hunters consistently prioritizes your budget by meticulously scouring the market and identifying the best golf bags for women available without compromising on quality or performance. Our panel focuses on presenting the pros and cons of each golf bag and converting technical specs into understandable insights. We aim to ensure remarkable gameplay and performance on the course with top-rated golf equipment for women.