The Best Golf Balls for High Handicappers for Your Money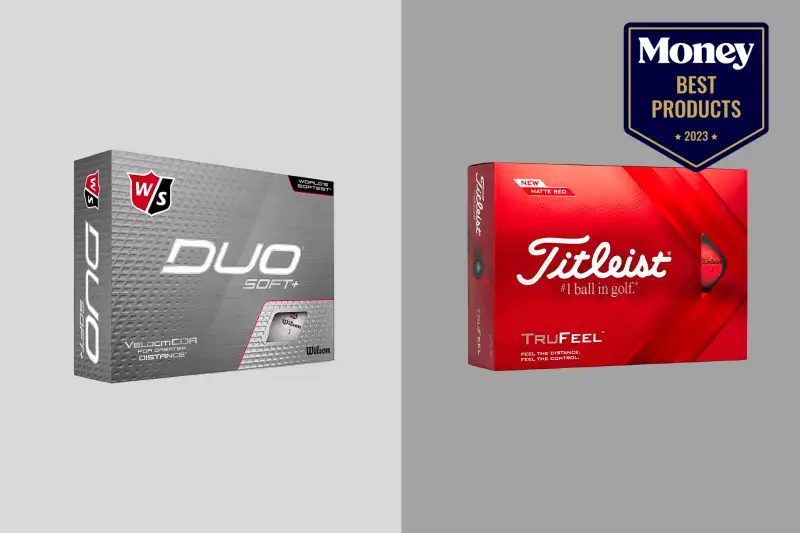 Golf is an amazing sport, but for high handicappers, mastering it can be tough. Enhancing your game involves using the right equipment — including the perfect golf ball. Choosing the right golf ball boosts distance and accuracy, ultimately helping you reduce your score. The ideal golf ball also gives you more control, allowing you to shape shots and make subtle changes in your swing.
In this article, we'll explore the best golf balls for high handicappers of 2023. We'll discuss the features of each option, so you can make a well-informed decision. We'll also dive into the pros and cons of each golf ball, breaking down how they impact driving distance, accuracy and more. Whether your goal is to improve your range, enhance shot precision or simply lower your score, our all-inclusive buying guide covers it all.
Best Overall: Bridgestone Golf e12 Contact Golf Balls
Best for Speed: Callaway ERC Triple Track Golf Balls
Best for Distance: Titleist TruFeel Golf Balls
Softest Feel: TaylorMade Soft Response Golf Ball
Most Premium: Wilson Staff Duo Soft Golf Balls
Detailing the Best Golf Balls for High Handicappers of 2023
List Price: $26.63 - $29.99
Check on Amazon | Check on Walmart
The Bridgestone Golf e12 Contact Golf Balls fall in our best overall category due to their impressive spin and distance. Designed for optimal energy transfer, this set of 12 balls offers longer, straighter shots and heightened spin around the green. The contact force dimple design creates 38% more surface contact between the golf ball and the club for more efficient energy transfer, ensuring maximum distance and accuracy. The optimized aerodynamics of this design, combined with the sidespin-reducing mantle and gradational core, minimize slice and hook spin on full shots. The redesigned softer core improves feel, delivering a remarkably enhanced sensation on all shots, including challenging ones near the green.
Pros like Tiger Woods, Matt Kuchar and Lexi Thompson endorse these golf balls for their exceptional performance. This product also won Golf Digest's Hot List gold medal as the #1 ball fitter, making these golf balls for high handicappers a truly excellent choice to elevate your game. As the top pick on our list, these golf balls take the win for their enhanced surface contact and optimized aerodynamics. With their impressive features and award-winning design, they will help take your game to the next level.
Pros
Soft feel for optimized performance
Increased friction delivers improved control
Slice and hook spin minimized on shots
Optimized aerodynamics for better accuracy
Cons
Limited color options
Not suitable for all tournaments
List Price: $34.20
Check on Amazon | Check on Walmart
If you're looking for an option that delivers impressive speed, the Callaway ERC Triple Track Golf Balls are a great addition to your golf bag. The key feature of these golf balls is the high-energy core. It's engineered to increase ball speed, distance and resilience, without sacrificing control or feel. The core also pairs with a high-speed mantle which works to efficiently transfer energy from the core to the ball. This mantle is especially effective at creating spin-on wedge shots. Together, this multi-material construction is designed to maximize ball speed and distance on the course.
The soft cover of these golf balls provides additional control around the green for those who need it. They are built for a low spin off the driver yet ensure excellent greenside stopping power. They also come with a high launch trajectory and have triple track lines to help golfers find their optimal putting alignment. All in all, this set of golf balls is an excellent choice for high handicappers that will surely help take any golfer's game to new speeds this season.
Pros
Low spin for more consistent ball flight
Higher launch angles for approach shots
Good ball control around the green
Great value for money
Cons
Can be unpredictable in windy conditions
May not provide enough distance
List Price: $24.97
Check on Amazon | Check on Walmart
Claiming the top spot for distance in our rankings, the Titleist TruFeel Golf Balls boast exceptional performance and an unrivaled trajectory. Designed for long-distance shots, these golf balls provide more distance off the tee than traditional golf balls. Featuring TruFeel's advanced core technology, they ensure superior flight and heightened accuracy off the tee. The 342 dimples on each of these 12 balls further enhance its aerodynamics, paving the way for longer and straighter shots.
The mantle construction of these golf balls not only reduces driver spin but also enhances control. Their ultra-soft feel offers great feedback for precise shot adjustments, particularly around the green. The eye-catching matte red finish not only looks great but also helps in achieving better accuracy when aiming down the fairway. Plus, it's easy to spot on the green. These golf balls are an excellent choice for high handicappers who want to elevate their performance through increased distance and exceptional control. Their proprietary design and high-quality materials make these balls the perfect companions for golfers eager to improve their skills and gain a competitive edge.
Pros
Advanced core technology for improved distance
Soft feel without sacrificing performance and distance
Enhanced control for precision shot adjustments
Vibrant matte red finish for improved visibility
Cons
Reduced durability compared to some competitors
Slightly higher pricing than similar products
List Price: $31.88
Check on Amazon | Check on Walmart
The TaylorMade Soft Response Golf Ball is the ideal pick for outstanding softness and durability. With a uniquely soft feel, these balls offer exceptional control without compromising distance. Boasting a new low 30 compression core and softer ionomer cover that's optimized for greenside control, this ball is the softest model this manufacturer has ever created. This innovative design significantly reduces drag and enhances aerodynamics, leading to increased ball lift during flight. The combination of deeper and shallower dimples further minimizes drag and increases lift, improving the overall aerodynamics for optimal flight performance.
The sizeable core and Speedmantle layer boost power, ball speed and distance. The durable cover ensures confident strikes even with an imperfect swing, pairing with its soft construction for excellent control and superior accuracy. All in all, this is a great choice for high handicappers looking for a soft yet durable golf ball that offers long distances and precision control.
Pros
Greater distance due to low-compression core
Durable and high-quality construction
Steady ball flight due to aerodynamic design
Faster ball speed with Speedmantle layer
Cons
May not meet tournament standards
May feel too heavy for some golfers
List Price: $54.98
Check on Amazon | Check on Walmart
The Wilson Staff Duo Soft Golf Balls provide outstanding value to golfers seeking high-quality balls. Including 12 top-notch golf balls, this set delivers remarkable distance, minimal spin and exceptional control. The ultra-soft core offers a gentle feel upon contact, while the low compression ratio minimizes backspin for enhanced accuracy and precision. The soft cover increases greenside spin and control, making it easier for high handicappers to handle tricky lies. The ball features a distinctive ionomer blend, creating an exceptionally durable outer layer resistant to wear and tear. This proprietary core construction delivers increased distance and reduced spin on every shot.
With dual 338 and 392 dimple patterns, the enhanced aerodynamics minimize air resistance while maximizing distance, resulting in greater accuracy and a straighter ball flight path. For maximum quality, each ball is designed to provide optimal performance and has undergone rigorous testing to ensure its durability and consistency from round to round. Boasting remarkable construction and top-notch performance, these golf balls are a premium pick, providing players with an impressive feel and enhanced gameplay.
Pros
Exceptional quality compared to other options
Low compression core maximizes distance
Optimal softness and durability for superior control
Improved aerodynamics for consistent flight trajectory
Cons
May not be suitable for faster swing speeds
May be too soft for some golfers
Buying Guide: Golf Balls for High Handicappers
The golf ball is the most important tool for any golfer, so finding the right one for your needs can be daunting. If you're a high handicapper, selecting the right golf ball is even more important, as it can impact the distance and angle of each swing to contribute to lower scores.
In this detailed buyer's guide, we'll outline the key features to consider when shopping for golf balls for high handicappers. We've considered factors such as spin, distance and feel to help you discover the ideal ball for your game. Read on to determine your perfect match.
Compression
The compression rating of a golf ball significantly influences both distance and feel. High-compression balls, which are harder, deliver greater distance but can be uncomfortable for high-handicap players with slower swing speeds. On the other hand, low-compression golf balls offer a softer feel and consistent distance, suitable for diverse swing speeds and abilities. Choose a compression rating that aligns with your unique swing pace and skill level.
Spin rate
Spin rate is another important attribute that affects how a high handicapper plays. Low spin rate golf balls tend to generate more distance by reducing the amount of backspin off the clubface. On the other hand, higher spin rate golf balls help to improve accuracy. Look for mid-spin golf balls with spin rates around 2,000-3,000 rpm (revolutions per minute) if you want a compromise between both sides of the scale.
Durability
High handicappers should consider investing in durable golf balls designed to withstand multiple hits. Opt for balls with high resistance to scuffs and cuts, as well as thick covers for long-lasting durability. Choosing durable golf balls that can resist damage ensures they stay in prime condition even after numerous shots.
Ball flight
When choosing the perfect golf ball, consider the ideal ball flight for your swing to maximize performance. Whether seeking increased distance or reduced air resistance, high handicappers should evaluate their swing style for the ideal golf ball fit. Consider trajectory (high or low) and air resistance (more or less) when making your decision. Identifying the right blend of launch angle, spin rate, dimple pattern and compression will help customize your golf ball selection to suit your specific ball flight needs.
Feel
Softness in golf balls is often preferred for high handicappers, as it provides them with several advantages. Golfers with a high handicap benefit from using softer golf balls due to their frequent club contact, which results in better control and more forgiving properties on off-center hits. Low compression balls, rated between 65 and 75, offer an optimal feel and are an excellent choice for golfers aiming to improve shot performance, regardless of the clubface contact area. These softer golf balls also help develop more consistent swings and encourage better overall techniques, leading to better scores and more enjoyment on the course.
Control
High-handicap golfers require maximum control of their golf balls to enhance accuracy and consistency on the course. Look for golf balls offering optimized trajectories, directions and distances for various clubs, ensuring optimal control for each shot. An increasing spin rate can also improve control, but balancing it against potential distance loss is crucial to suit your playing style.
Cost
Price is obviously an important factor in any purchase but it can be especially key when trying to shop on a budget for golf balls for a high handicapper. Research various products online before purchasing so that you can find affordable options that still offer good performance levels when playing. You can also take a look at how many balls come in each set to determine the cost per ball.
People Also Ask
What makes a golf ball suitable for a high handicapper?
A high-handicapper golf ball provides increased control, spin and distance compared to regular golf balls. Players with high handicaps typically have slower swing speeds, requiring a ball with enhanced forgiveness and reduced compression for improved performance. Additionally, a soft cover material promotes increased spin, boosting accuracy and driving distance.
How do I know if a golf ball is suitable for my handicap?
Before purchasing a golf ball it's important to consider factors like your swing speed and the type of shots you aim to achieve. If you have a slower swing speed then you may benefit from a softer core or lower compression rating in order to maximize your performance. Additionally, if you are looking for added forgiveness then larger dimple patterns are desirable as they promote straighter shots over longer distances.
Is there any benefit to using different golf balls for different types of shots?
Yes, using various types of golf balls can improve your game. For example, if you want to increase distance, opt for balls with a harder core or higher compression rating, as this results in greater power transfer from the clubface upon impact. For improved accuracy, choose golf balls with softer cores and larger dimple patterns to promote lower spin rates, leading to straighter shots.
What type of spin should I look for in a golf ball designed for high handicappers?
When searching for a golf ball suited for high handicappers, consider options with a low spin on full shots and mid-to-high spin on short irons and wedges. This spin balance maximizes distance off the tee while increasing backspin around greens.
Will using a golf ball designed for high handicappers improve my game?
Absolutely, using golf balls designed for high handicappers provides numerous benefits. These include greater distance off the tee thanks to low compression cores and larger dimples, better accuracy with aerodynamic design, increased spin on mid-to-short iron shots due to soft cover materials and improved control with alignment aids featured in some golf ball designs.
Why Trust Us
Our commitment to customers begins with a carefully curated product selection process, ensuring we provide high-quality and reliable options. We meticulously vet each golf ball for high handicappers, analyzing quantitative aspects, such as star ratings and review count, and qualitative factors, including review content and product features. Our dedicated team of bargain hunters consistently prioritizes your budget by meticulously scouring the market and identifying the products available without ever compromising on quality or performance. Our panel focuses on presenting the pros and cons of each golf ball for high handicappers and converting technical specs into understandable insights. We aim to offer unbeatable value on purchases by providing high-quality products, ensuring a remarkable experience with top-rated golf equipment.