The Best Golf Balls for Your Money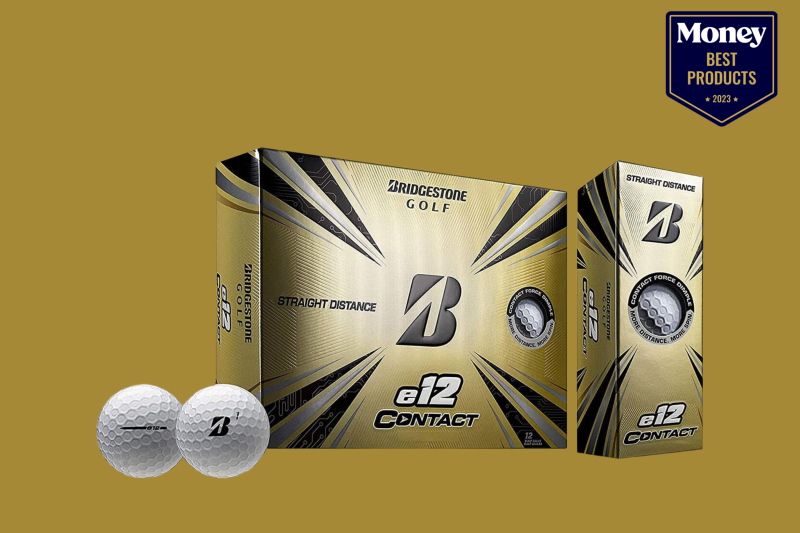 Golf is a sport that requires skill and precision — and the right golf ball can go a long way in improving your gameplay. But with an overwhelming number of choices available on the market, it can be difficult to know which golf ball best suits your needs and playing style. To help you make an informed purchase, we've rounded up and reviewed the finest golf balls of 2023.
In this guide, we'll take you through each product's features, pros and cons so you can evaluate your options thoroughly. We'll also share some helpful tips and information to keep in mind as you're shopping so you can find the right golf balls for you. Whether you're a casual weekend golfer or a competitive player looking to take your game to the next level, we have you covered.
Best Overall: TaylorMade Distance+ Golf Ball Set
Most Versatile: Nitro Ultimate Distance Golf Ball Set
Best Spin: Bridgestone Golf e12 Contact Golf Ball Set
Most Beginner-Friendly: Vice Golf Drive Golf Ball Set
Best Feel: Callaway 2023 Supersoft Golf Balls
Reviewing the Top Golf Balls of 2023
List Price: $19.48
First up on our list is the TaylorMade Distance+ Golf Ball Set, which earned its top spot thanks to its performance-focused design. Made from premium plastic material, these balls feature a dual-layered composition and an ionomer cover. The deep dimples provide a 342 aerodynamic design to minimize drag while enhancing speed and distance. The core of each ball is optimized for high speed and low driver spin.
Sold in a set of 12, these golf balls also have stamps printed on them to facilitate proper alignment and immediate feedback. They have a compression rating of 77 and are backed by a two-year manufacturer's warranty, allowing you to purchase with confidence and peace of mind. They're available in white and yellow color choices for easy visibility on the course.
Pros
Two-year warranty coverage
Available in two colors
Alignment aid markings
Cons
Not ideal for putting
Ball surface is easily scuffed
List Price: $12.99
Our runner-up, the Nitro Ultimate Distance Golf Ball Set, has a versatile construction, making it suitable for players of all skill levels, including novices and professionals. These golf balls are approved by the United States Golf Association (USGA) and meet all criteria for official gameplay. They come in a pack of 15, so you'll have plenty of extras on hand. They're also available in white, yellow, pink and orange for optimal visibility on the green.
In terms of the construction of these golf balls, the titanium core is ultra-reactive to optimize club-to-ball energy transfer, offering less spin and better distance and stability. The ionomer resin cover adds to the product's durability by resisting abrasions and scratches. The aerodynamic, dimpled construction improves lift and reduces drag for longer-distance shots.
Pros
Excellent energy transfer
USGA-approved design for official use
Durable ionomer cover
Cons
No mention of warranty coverage
Only comes in one quantity
List Price: $29.99
The Bridgestone Golf e12 Contact Golf Ball Set stands out from comparable products thanks to its spin-optimized design. It offers excellent friction for improved spin on the links. Its triple-layered construction consists of a gradational core, an acceleration mantle and a dimpled cover, helping you drive the ball longer and straighter.
The dimples are designed to increase surface contact by 38% for enhanced energy transfer while the soft core elevates the feel. These golf balls come in a pack of 12, and they're available in white, red, green and yellow color options, all of which are highly visible and easy to spot on the course.
Pros
Includes 12 golf balls
Offers excellent friction for superior spin
Comes in four bright colors
Cons
May chip over time
Could be harder than expected
List Price: $18.68
If you're new to the sport and looking for a product that offers excellent quality and value, consider the Vice Golf Drive Golf Ball Set. These golf balls are specifically designed for beginners and casual players with low- and medium-speed swings. The core is ultra-sturdy and cut-resistant, and the cover is made from premium ionomer resin material for optimal durability and long-lasting use.
Sold in a set of 12, each ball has a symmetrical, dimpled design that offers superior buoyancy, extended roll and maximum drive length. They also feature an easy-to-see alignment guide to help you line up your shots with ease. Overall, this is a great starter pack for novices due to the durability and soft feel of these golf balls.
Pros
Cut- and abrasion-resistant cover
Guided alignment for better accuracy
Excellent buoyancy and drive length
Cons
Only two balls in the pack
No additional color choices
List Price: $24.99
Golfers love the Callaway 2023 Supersoft Golf Balls for their exceptional feel. The hyperelastic core offers an ultra-soft feel while providing a speed boost on each shot. Available in a wide range of color choices, this ball comes in white, pink, green, red, orange and yellow shades, as well as two whimsical designs featuring shamrocks and tacos. With eight colorful and playful options to pick from, you'll have no trouble finding one that appeals to your style.
The hybrid cover of these golf balls is softer than that of the brand's previous model, offering enhanced feel, control, spin and distance. Sold in a set of 12, they're designed for recreational gameplay and are packaged in an attractive box so you can easily gift them to the golf enthusiast in your life.
Pros
Exceptional, soft feel
Improved cover and core construction
Superior distance, control and spin
Cons
Not ideal for professional play
Some colors are less visible than others
Buying Guide: Golf Ball
The right golf ball can have a significant impact on your performance on the course. To make sure you select the best one for your needs, keep the following factors and features in mind as you're shopping.
Compression rating
A golf ball's compression rating indicates how hard or soft it is. If you tend to swing at a high speed, look for a ball with a lower compression rating, as this will give you more forgiveness and control. Conversely, if you swing at a slower speed, a ball with a higher compression rating will help maximize distance.
Spin rate
The ideal spin rate of a golf ball largely depends on the type of shot you're trying to achieve. Generally, players with higher swing speeds require lower spin rates, while those with slower swing speeds require higher spin rates. Look for golf balls with a spin rate that best suits your game.
Cover material
The cover material of a golf ball affects its feel and performance. Modern covers are made of several different kinds of materials, such as urethane or an ionomer blend. Urethane balls are ideal for advanced golfers, as they offer better spin and control. Ionomer balls are best for new players and those with high handicaps due to their affordability and reduced spin. Experiment with different materials and test out the feel to figure out which one works best for you.
Core design
The core is the most integral part of a golf ball, as it affects the initial launch and distance off the tee. A golf ball's core design can have a significant impact on its playability and performance. Some of the most common core materials include rubber, zinc and titanium. Softer cores offer higher compression, lower flights and longer distances. Research each core type thoroughly before making your final decision.
Durability
Durability is essential for golf balls since they are hit by golf clubs during play. Look for durable covers that can withstand various weather conditions and outdoor elements without tearing or cracking prematurely.
Weight
The weight of a golf ball will affect its launching speed off the tee, as well as its ability to stay in the air before hitting the ground for longer-distance shots. If you want more control over your shots, then opt for heavier balls; if power is what you're after, then lighter balls are best.
Dimple design
Dimples play an integral role in creating lift, minimizing drag and improving overall stability and performance during play. Opt for balls with deeper dimples if you want more accuracy and control over trajectory levels.
Brand reputation
Purchase from a brand with a long track record of producing high-quality golf equipment and having good customer service. Research different manufacturers online, and check reviews to gain insight into how satisfied customers are with each one's products.
Price
Golf ball prices can range from very affordable to quite pricey depending on the brand and model you choose. Keep in mind that spending more doesn't always guarantee better performance though; you should evaluate all product features mentioned here before making your purchase. Choose a set of golf balls that fits your budget but doesn't compromise quality.
Common Golf Ball Questions
What is the best golf ball for my handicap?
The best ball for your handicap depends on your individual playing style and skill level. If you're a beginner, look for a golf ball with a good combination of distance and control. These tend to be two-piece balls with low-compression cores, soft covers and large dimple patterns that reduce drag and create more carry.
What's the best type of golf ball for distance?
To achieve optimal distance, aim for a two-piece golf ball with a large, symmetrical dimple pattern and a low-compression core. This type of ball will generate less drag in the air and provide a longer flight path. You may also want to consider using a golf ball with a firm cover, which can help produce more spin and a straighter trajectory.
How much do golf balls cost?
The price of a golf ball depends on its quality and materials. Expect to pay anywhere from $1 to $5 a ball. Generally, the per-unit price of golf balls will decrease if you purchase them in larger quantities.
When should I replace my golf balls?
Between hitting trees and being hit by clubs, golf balls often take a beating on the course. For optimal performance, you should replace your golf balls when you notice scratches, scuffs or other physical signs of wear, as these can negatively impact the ball's distance and trajectory.
How do I clean my recovered golf balls?
To clean your recovered golf balls, place them in a bucket filled with warm water and a few drops of mild soap. Avoid abrasive scrubbers and harsh chemicals. Wipe and dry the balls with a soft towel and store them until your next game. Alternatively, some players choose to clean their balls in the dishwasher or use a golf ball washer.
How should I store my golf balls?
When they aren't in use, it's essential to store your golf balls properly to keep them in tip-top shape. They should be kept indoors at room temperature and away from direct sunlight. Avoid leaving them outdoors or in your vehicle, as exposure to extreme temperatures and solar rays can shorten their service life.
How long do golf balls last?
This depends largely on the product's quality and how often it's used. With regular use, most high-quality two-piece models will last between five and seven years, whereas three-piece options typically last two to three years.
Why Trust Us
Our commitment to customers begins with a carefully curated product selection process, ensuring we provide high-quality and reliable options. We meticulously vet each golf ball, analyzing quantitative aspects, such as star ratings and review count, and qualitative factors, including review content and product features. Our dedicated team of bargain hunters consistently prioritizes your budget by meticulously scouring the market and identifying the best golf balls available without compromising on quality or performance. Our panel focuses on presenting the pros and cons of each golf ball and converting technical specs into understandable insights. We aim to ensure remarkable gameplay and performance on the course with top-rated golfing equipment.