The Best Golf Simulators for Your Money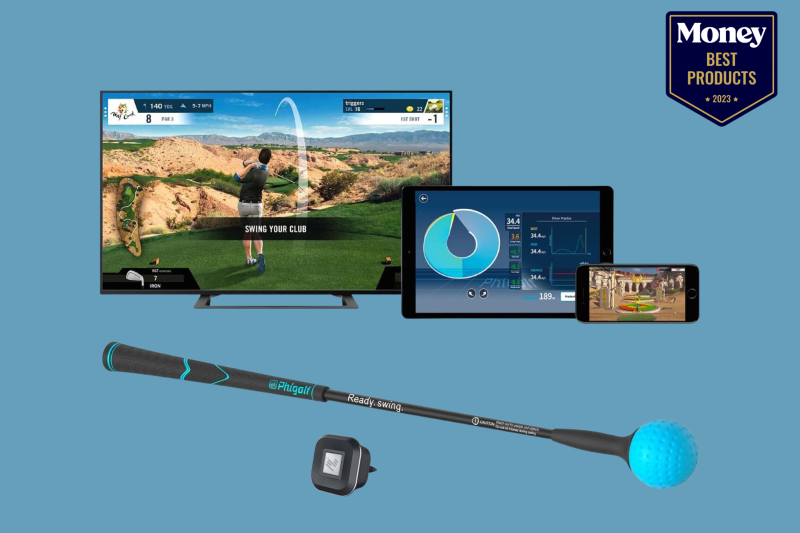 Golfing is a great way to get out and enjoy the beauty of nature while also engaging in physical activity. But if you don't have access to a course or your local weather is not conducive to playing outdoors, why not try the next best thing? Golf simulators are a great way to get a golfing experience without having to leave your home.
In this article, we'll break down the highest-rated golf simulators in 2023, exploring their pros, cons, features and details of each pick. We'll also share some helpful buying tips so you can find the ideal product for your budget and needs. So, if you're looking for a way to enjoy the gold course from home, keep reading to learn more about our favorite golf simulators.
Best Overall: PHIGOLF 2 Golf Simulator
Most Realistic: OptiShot 2 Season Pass Golf Simulator
Most Inclusive: SwingLogic SLX MicroSim Home Golf Simulator
Best Feedback: FlightScope Mevo+ Portable Golf Simulator
Reviewing the Finest Golf Simulators of 2023
List Price: $249.00
The PHIGOLF 2 Golf Simulator is the best overall option thanks to its beautiful, scenic courses and multi-app compatibility. This system offers a total of 76 stunningly realistic courses across three different applications: World Golf Tour (WGT) by Topgolf, E6 Connect from TruGolf and the manufacturer's own exclusive app. Each app offers various game modes and multiplayer options.
Play with the swing stick or attach the included sensor to your own clubs for a more authentic feel. This golf simulator is great for practicing, as it provides detailed feedback and analysis of your swing, speed, putting posture, angle and distance. Join the community of more than 120,000 golf enthusiasts who use this product and enjoy playing and networking with others who share your passion for the sport.
Pros
Suitable for beginners and pros alike
Swing stick and sensor included
Ideal for practice and competitive play
Cons
Subscription required to access some features
No net included
List Price: $449.95
If you're looking for a product that offers a realistic gameplay experience, consider the OptiShot 2 Season Pass Golf Simulator. With its turf-covered platform, you'll feel like you're on an actual golf course. The system connects easily to your computer, smart TV or projector via a USB port. The base is fitted with a total of 32 precise infrared sensors to track your swing path and club face data.
This golf simulator is excellent for practicing your swings and honing your skills. There are 15 breathtaking courses to choose from, and the set comes with two practice balls and several rubber tees to get you started. Your purchase is protected by a one-year warranty on electronic components and a one-month warranty for parts so you can buy with confidence.
Pros
Practice balls and tees included
Easy to set up and use
One-year warranty coverage for electronics
Cons
Incompatible with MacOS
Other infrared sources may cause interference
List Price: $230.00
The SwingLogic SLX MicroSim Home Golf Simulator is a highly accessible option that can be enjoyed by players of all ages, skill levels and abilities. It's compatible with Windows and Apple operating systems as well as the SLX Connect app and E6 Connect. Play with foam balls and the included swing stick or real golf balls and clubs for a more realistic experience.
The system's firmware will update regularly to ensure you always have the latest, most accurate version. This golf simulator offers fast, real-time feedback and data to help you capitalize on your strengths and improve your weaknesses. The swing stick is useful for perfecting your form, swing, accuracy and consistency.
Pros
Suitable for all ages and abilities
Swing stick included
Detailed, timely feedback
Cons
Difficult to calibrate
Time-consuming registration process
List Price: $2,199.00
Perfect your skills while enjoying a realistic golfing experience with the FlightScope Mevo+ Portable Golf Simulator. This product provides detailed feedback across more than 20 parameters to help you identify your strengths and improve your weaknesses. It measures flight time; maximum height; vertical and horizontal launch angles; spin axis, rate and loft; carry and total distances; club head and ball speeds; and more.
Featuring a portable design, it's suitable for indoor and outdoor use so you can enjoy six courses and 17 practice ranges from the comfort of your home or backyard for a more immersive experience. The golf simulator even records and stores videos of each swing so you can review your performance. It uses high-speed image processing and three-dimensional Doppler radar tracking technologies to deliver precise, accurate feedback in real-time.
Pros
Carry case and charging cable included
Suitable for indoor and outdoor use
Video recording and playback features
Cons
Higher price point than other models
No swing stick or balls included
Golf Simulator Buying Guide
While shopping for a golf simulator, there are many factors to consider to ensure you find the ideal product to suit your needs and budget. This buyer's guide will provide a comprehensive overview of these features to help you make an informed purchase.
Accuracy
If you'll be using a golf simulator to improve your gameplay and strengthen your skills, then accuracy is paramount. Look for a model that uses advanced technology and sensors to deliver precise and accurate feedback. Check customer reviews for real-world accuracy assessments to understand how closely the simulator matches actual ball speed, launch angle, spin and distance.
Durability
A high-quality golf simulator should be designed to last. Look for options that are durably constructed from premium materials that can withstand plenty of wear and tear as you swing away. It's also a good idea to choose a model that's backed by a manufacturer's warranty in case you experience any post-sale issues.
Size
Some golf simulators take up more space than others. Before purchasing, it's essential to measure your available space so you can choose a model that won't take up more room than you have. Simulators that work with your existing smart TV, tablet or phone generally take up less space than other styles that require you to set up additional devices.
Integrations
Many golf simulators feature pre-loaded courses, but to get the most out of your purchase, you may want to opt for a product that offers additional integrations with third-party software or mobile applications. This can give you access to additional courses, online play options, multiplayer modes and more accurate simulations.
Compatibility
Before purchasing a golf simulator, you must check its specs to ensure it's compatible with your computer hardware and operating system. Most golf simulators are designed to work with Windows and Apple operating systems, but this isn't always the case. Additionally, if you opt for a simulator that requires a projector, make sure it's compatible with your existing projector type and model. Most modern golf simulators are compatible with 4K or LED projectors.
Analytical features
The best golf simulators have analytical features to help you review your performance and identify your areas of weakness. Such features can be immensely helpful in improving your gameplay. Opt for a model that has high-quality sensors and will track various metrics such as ball flight, swing speed, launch angle and ball speed.
Camera system
For an immersive experience, aim for a golf simulator with a sophisticated camera system that enables three-dimensional visualizations of the ball's flight path as well as video recording and replay capabilities so you can watch and review your performance with ease.
Ball launch system
The ball launch system is one of the most important components of a golf simulator. Make sure it's durable enough to withstand regular play over time. If you plan to use the simulator in different locations, aim for a ball launch system that's portable and easy to carry and set up. If you want an authentic feel that mimics the feel of an actual golf course, consider a product with a turf-covered launch pad. Many modern systems use advanced technology for more accurate ball launches with an adjustable tee height to accommodate different types of clubs.
Software updates and upgrades
Look for a golf simulator with promised software updates to enable ongoing improvements over time such as graphics updates, bug fixes and additional features. Ideally, these updates should install automatically and regularly to ensure you always have the most up-to-date features.
Community and networking
If the social aspect of golfing is important to you, opt for a golf simulator that supports online and multiplayer gameplay. Many models are app-compatible and allow you to be part of a community of like-minded golfers. Connecting with other golf enthusiasts is also great for asking and answering questions and giving or receiving advice regarding gameplay or issues related to your chosen product.
Ease of installation
Golf simulators typically require some degree of setup and installation before they can be used. Installation requirements often vary depending on the product, so make sure you aim for a model that's easy to set up. Additionally, some accessories, such as projector screens and golf nets, may require specialized mounting, so plan accordingly for any extra time or money you may need to spend on setup.
Price
Golf simulators can range significantly in price. Before buying one, consider your budget as well as the features you want and any additional software, accessories or equipment you may need, as these can significantly add to the cost of a golf simulator. Look at the features and prices of different models to find one that meets your needs and fits your budget without compromising quality.
Golf Simulator FAQs
Are golf simulators realistic?
Most golf simulators aim to mimic the on-course golfing experience as closely as possible. For an authentic feel, aim for a model that features real, scenic courses and utilizes high-end hardware, such as laser trackers and advanced launch monitors, to accurately measure data and provide a more life-like experience.
How much does a golf simulator cost?
The cost of a golf simulator system will depend on its hardware, software and features. On average, most products cost somewhere between $200 and $5,000.
Can I use a golf simulator outdoors?
While most golf simulators are designed for indoor use, some manufacturers do offer outdoor models that are weather-resistant and portable. It's important to check the specifications of your particular system to make sure it's suitable for outdoor use.
Can I use my own clubs with a golf simulator?
Yes, you can usually use your own clubs with a golf simulator. Many systems are designed to work with any standard club. However, it's a good idea to check the product's specs before buying to ensure compatibility with your personal golf clubs.
Are golf simulators accurate?
The accuracy and precision of a golf simulator will depend on the type of hardware and software it uses as well as the environment it's used in. Most modern systems offer a high level of accuracy and precision that mimics real-life conditions quite closely.
Do golf simulators come with accessories?
This depends on your particular model. Some simulators include extras such as tees, balls and swing sticks, whereas others require that you purchase accessories separately. Before buying, read through the product description to ensure you know what's included (and what's not) in your purchase.
Why Trust Us
Our commitment to customers begins with a carefully curated product selection process, ensuring we provide high-quality and reliable options. We meticulously vet each golf simulator, analyzing quantitative aspects, such as star ratings and review count, and qualitative factors, including review content and product features. Our dedicated team of bargain hunters consistently prioritizes your budget by meticulously scouring the market and identifying the finest golf simulators available without ever compromising on quality or performance. Our panel focuses on presenting the pros and cons of each golf simulator and converting technical specs into understandable insights. We aim to ensure remarkable gameplay and performance on the course with top-rated golfing equipment and tools.