The Best Golf Sunglasses for Your Money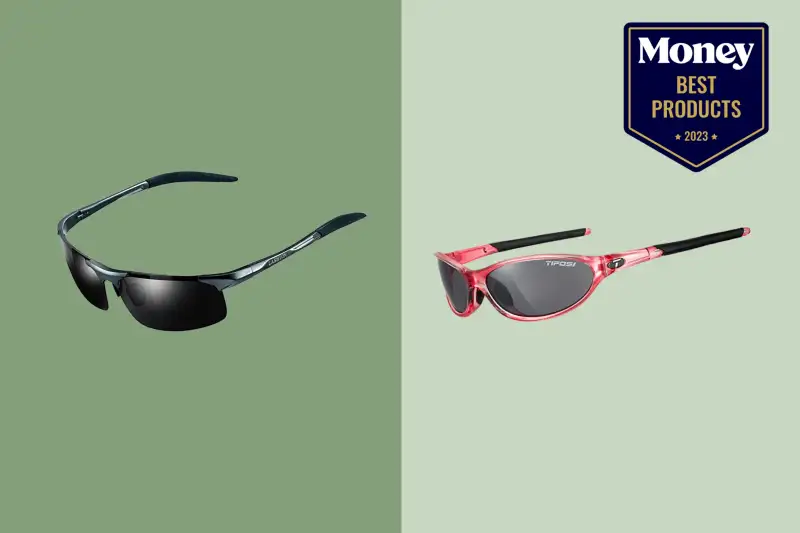 Imagine stepping onto the green, where the morning sun casts a golden glow over the rolling fairways. And as you prepare to tee off, squinting against the blinding light, you realize the importance of investing in golf sunglasses. Beyond mere fashion, these sleek, purpose-built shades are a golfer's secret weapon, providing a winning edge on the course. With precision-engineered lenses, they enhance your vision, allowing you to track the flight of your ball with unmatched clarity. Shielding your eyes from harmful UV rays, they safeguard your delicate sight, ensuring a lifetime of vibrant golfing experiences.
But with various options available on the market, making the right pick can be daunting. To help you find the ideal pair for your needs, we've listed the highest-rated golf sunglasses available in 2023 that will help you elevate your performance and keep you at the top of your game.
Best Overall: Duduma Polarized Golf Sunglasses
Most Durable: INFI Polarized Golf Sunglasses
Most Lightweight: ROCKNIGHT HD Polarized Golf Sunglasses
Best Wind Protection: Tifosi Alpe 2.0 Women's Golf Sunglasses
Most Versatile: LASHION Men's Polarized Golf Sunglasses
Comparing the Leading Golf Sunglasses of 2023 in Detail
List Price: $23.99
The Duduma Polarized Golf Sunglasses offer superior quality and performance that make them perfect for any outdoor activity. These sunglasses feature top-end UV-resistant technology on both the lens and frame to ensure maximum performance and durability. The lenses are polarized and feature a UV400 protection coating that blocks harmful UVA and UVB rays. In total, they feature seven layers for durability and protection. The frame is made of high-quality stress-resistant polycarbonate material, making it lightweight yet long-lasting for daily protection.
The ergonomically designed arms provide a comfortable fit and a secure hold when engaging in active sports like running, cycling, cricket, fishing, climbing, skiing, or golf. The full-rimmed design wraps the eyes to provide maximum protection. Available in 12 different styles, the aesthetically pleasing appearance also makes this pair of sunglasses stand out from the crowd. So, whether you're looking for a comfortable and stylish way to protect your eyes from the sun's harmful rays or a fashionable accessory to wear during sports activities, these golf sunglasses are the best overall option on our list.
Pros
Durable frames and shatterproof lenses
Nice quality for the affordable price
Full-rimmed design wraps face comfortably
Cons
Frames may be lopsided
Some lens colors may be too dark
List Price: $35.99
The INFI Polarized Golf Sunglasses are a great choice for anyone looking for a stylish and durable pair of sunglasses. Made from high-grade TAC film and reinforced materials, the lenses of these sunglasses are robust and resistant to scratches and other damage. They offer superior UV400 protection from intense UV rays while providing a clear view, ideal for outdoor activities such as fishing, running, and golf. The construction is designed to offer high weathering resistance to varying temperature and moisture levels.
Plus, sold in seven styles, the lenses are designed to naturally contrast the environment, making them an ideal choice for sport-oriented activities. They come in a stylish square frame with arms that fit comfortably over the ears while providing maximum support for extended wear. This pick also includes a sunglasses strap, storage case, cleaning cloth, and microfiber pouch. With a long-lasting design and attractive unisex style, these glasses maintain a classic look that's sure to draw compliments for years to come.
Pros
Flexible frames fit multiple head sizes
Lightweight and stylish color combinations
Polarized and clear lenses
Cons
Some users find them blurry
Lens coating may wear off
List Price: $24.00
The ROCKNIGHT HD Polarized Golf Sunglasses are designed to provide optimal vision clarity and protection during outdoor activities without bulky weight impacting your experience. Constructed with an ultra-lightweight Al-Mg metal rectangular frame that's comparable to the weight of just two pens, they're unbreakable and anti-corrosion, making them ideal for intensive sports like biking, cycling, trekking, golfing, and more. With adjustable soft nose pads and flexible metal hinges, these sunglasses can be adjusted to fit any size comfortably, while the carved temple tips on the arms are anti-slip for maximum comfort and convenience.
Available in 15 colors, the HD polarized lenses of these golf sunglasses eliminate glare and reflective light, allowing for vivid colors and natural vision while you're on the course. They also feature UV protection coating to filter out harmful rays, blue light, UVA, and UVB up to 400nm and reduce eye fatigue. All of these features combine to make this pair of golf sunglasses a lightweight and comfortable choice for those looking for optimal eye protection during outdoor activities.
Pros
Provides excellent peripheral vision
Comes with a crush-proof hardshell zipper case
Fits large heads comfortably
Cons
Some users find them a little heavy
Not ideal for wind protection
List Price: $39.95
If you're looking for an option that stays put and protects your eyes on windy days, the Tifosi Alpe 2.0 Women's Golf Sunglasses are a great choice. Featuring a wraparound design that fits comfortably over the eyes, this pick excels at blocking out wind, harsh sunlight, and rain, making them ideal for outdoor activities. The frame of these sunglasses is made from Grilamid TR-90 and is both durable and lightweight, with adjustable ear pieces and hydrophilic rubber ear and nose pads that increase their grip even more when you sweat. They also feature shatterproof polycarbonate lenses, making them ideal for UVA and UVB protection from harmful UV rays.
Designed to stay put during intensive physical activities like golfing, hiking, or running, this product offers an anti-bounce fit so your eyes will stay protected against the elements. They also come with a zippered hardshell case and a microfiber cleaning bag to help you keep them safe when not in use. These stylish women's golf sunglasses are an ideal choice for anyone looking for an option that looks great and provides excellent protection and comfort in any weather. With their impressive features and quality craftsmanship, you can wear them for years.
Pros
Polarized lenses provide a crisp, non-glaring view
Lightweight and stays in place during activity
Great for small or narrow faces
Cons
Frames are too small for some
Adjustability may be limited
List Price: $39.99
The LASHION Men's Polarized Golf Sunglasses are an ideal choice for various activities, from golf to driving to hiking. Designed for long-term use, they're made from lightweight yet durable Al-Mg metal, making them shock-resistant and allergy-resistant. Their TAC HD polarized lenses reduce reflected and scattered light for crystal clear vision and feature a UV-protective coating to prevent harsh glare and damage from UVA and UVB rays.
This product is designed to fit most face sizes, while the silicone part at the back of the frame prevents them from slipping off your nose, making them excellent for intensive sports. They come in a total of 15 color combinations to suit any taste. Each pair also includes a glasses case, cleaning cloth, polarized test card, and instruction manual. These golf sunglasses offer the perfect balance between style, comfort, and durability, making them an ideal choice for anyone looking for quality eyewear for outdoor activities.
Pros
Good coverage over a wide area
Sturdy yet lightweight construction
Metal frame enhances its durability
Cons
Some find brackets hard on the nose
Lenses may be too large for some
Buying Guide: Golf Sunglasses
Picture yourself on a vibrant golf course where the lush greens stretch out as far as the eye can see, inviting you to embark on a round of golf. But as the sun climbs higher, its intense glare threatens to throw off your concentration and ruin your swing. That's where a pair of golf sunglasses comes into play.
With their advanced lenses specifically designed to combat the harsh sunlight and enhance visual clarity, these sunglasses not only protect your eyes but also optimize your performance on the course. With the array of options on the market, however, finding the perfect pair can feel like navigating a complex maze. That's where our detailed buyer's guide comes in to help. Below, we've broken down the most important factors to consider when selecting the ideal pair of golf sunglasses to elevate your game to new heights.
Lens color
When selecting golf sunglasses, it's important to evaluate lens color. Look for lenses that reduce reflective glare while allowing natural light to pass through. Some common lens colors include gray, brown, green, blue, yellow, and amber. Gray or brown lenses are ideal for bright sunny days, while yellow or amber lenses are great for low-light conditions. Blue lenses are designed to reduce glare from the sky.
Lenses material
The type of material used in the lenses is also significant when selecting golf sunglasses. Polycarbonate or Trivex lenses are lightweight and have excellent impact resistance, making them ideal for sports like golf. These scratch-resistant materials offer long-lasting and effective UV protection from the sun's harmful rays.
Lens treatment
Look for lenses that are treated with an anti-reflective coating (AR) and polarized technology to improve contrast and clarity. Anti-reflective coatings help reduce glare and reflections from buildings or trees. Polarized technology helps eliminate reflected light from surfaces such as water and cars. Together, these features can make you better equipped to keep your eyes on the ball.
Durability
Durability is another essential factor when choosing golf sunglasses. You want a pair that can withstand any weather conditions or impacts you may encounter on the golf course. Always look for metal frames made of stainless steel, titanium, or aluminum for increased durability. Plastic frames can be lightweight and more affordable in the short term but aren't as durable or long-lasting as metal frames.
Comfort and fit
Another critical aspect to consider before buying golf sunglasses is comfort and fit. Look for a pair of frames that provide a snug fit around your face and temples. If possible, try different styles until you find ones that fit securely on your face without slipping off or pinching your nose or ears too tight. Many frames come with adjustable nose pads or temple tips for increased comfort.
UV protection
When it comes to UV protection from the sun's damaging rays, look for frames with 100% UV protection from both UVA and UVB rays. This will ensure proper eye protection in even extremely bright conditions outdoors. Look for a label indicating UV400, which provides the highest level of UV protection available in sunglasses today.
Style and design
The style and design of your golf sunglasses shouldn't only be practical but also flatter your face shape and look good when wearing them out on the course. Choose frames in a shape and design you feel confident in (such as aviators or wayfarers), as well as a lens color, size, and style you prefer. Aesthetics aside, always ensure the golf sunglasses you pick include the essential features for improved golf performance and safety while out on the course.
People Also Ask
Is it worthwhile to wear sunglasses while playing golf?
Yes, it's worthwhile to wear sunglasses while playing golf. Sunglasses can help protect your eyes from the sun's harmful UV rays, reduce glare and increase visibility and enhance your golfing performance by improving your accuracy and focus.
What is the best lens color for my golf sunglasses?
When choosing golf sunglasses, lens colors like brown, amber, rose, and copper are ideal for sunny days on the course. These shades will provide a great color contrast between the sky and the green while still allowing you to track the ball on each swing.
Are all golf sunglasses suitable for use in all weather conditions?
Most golf sunglasses are suitable for use in all weather conditions. They provide 100% UVA and UVB protection to protect your eyes from the sun's harmful rays in sunny weather. They help reduce glare which can improve visibility during cloudy or overcast days. They can also be used at night to block out bright light sources like headlights and streetlights. Some pairs also feature weather-resistant coatings to resist changes in moisture and temperature as the day goes on.
How much do the ideal golf sunglasses cost?
The cost of golf sunglasses can vary depending on factors such as brand, lens technology, frame materials, and additional features. Generally, you can find decent golf sunglasses starting from around $20 to $50. Premium brands and models with advanced lens technologies can range from $100 to $300 or more. It's important to balance quality and budget when making a purchase based on your needs.
Do all golf sunglasses have adjustable features for a customized fit?
Most pairs of golf sunglasses come with adjustable nose pieces and temple pieces, so you can customize their fit to your individual preferences for optimal comfort while playing golf.
Why Trust Us
Our commitment to the consumer begins with product selection and ends with the last word we write in each article. Each pair of golf sunglasses is carefully vetted quantitatively through star ratings and the number of reviews qualitatively through careful examination of reviews and the features each one has to offer. Leveraging our team of bargain hunters, we're also always sure to keep your budget in mind while we find the best golf sunglasses on the market. Our team of experts is dedicated to accurately depicting the pros and cons of each pair of golf sunglasses, translating technical product specifications into information you can understand. We aim to offer unbeatable value on golf equipment purchases by providing high-quality products, ensuring a remarkable experience to improve your performance on the course.