The Best Hose Reels for Your Money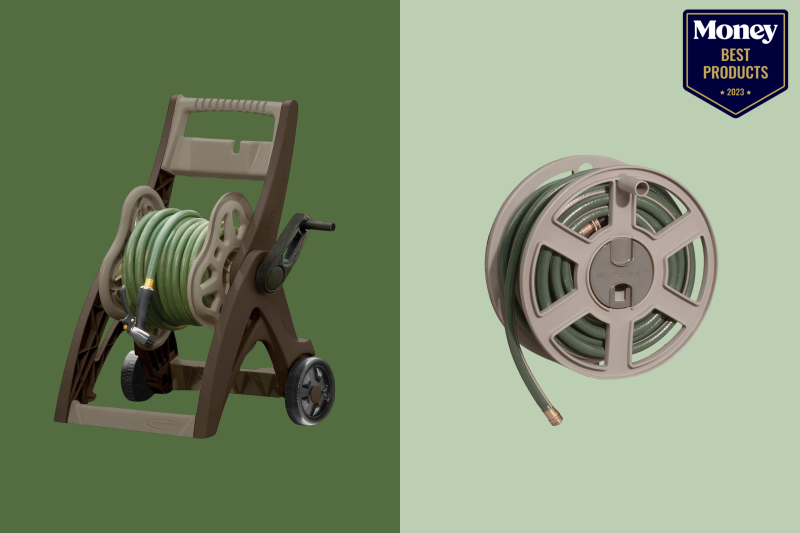 Hose reels are must-have tools for every yard. Not only do they keep your garden and outdoor space neat and organized, but they can also save you a lot of time and energy when you're watering your plants, flowers and lawn or hosing down surfaces. These products come in a wide range of sizes and styles, which can make it difficult to find the right one for your needs.
To make the choice easier, we've rounded up the top-rated hose reels in 2023 for your consideration. From automatic models to wall-mountable styles, there's something on our list for everyone. Read on to learn more about how the right hose reel can help you maintain your outdoor space.
Best Overall: Giraffe Tools Retractable Garden Hose Reel
Best Minimalist Pick: Suncast Sidetracker Garden Hose Reel
Most Stylish: Liberty Garden Products 704 Garden Hose Reel
Best for Large Yards: KLZ Hose Reel Cart
Most Durable: Gardena 18515-80 Hose Reel Cart
Comparing the Finest Hose Reels of 2023
List Price: $229.99
First up on our list is the Giraffe Tools Retractable Garden Hose Reel, which earned its spot as our favorite option thanks to its convenient features and high-quality construction. This two-in-one product comes complete and pre-installed with a garden hose, and it's made from heavy-duty, weather-resistant polypropylene material for long service life. The hose is 130 feet long, offering plenty of reach, and the reel can be locked at any point for convenience.
This hose reel is retractable and features an automatic rewind mechanism that neatly winds the hose back up after use. It keeps the hose hidden and contained when it's not in use, further protecting it from the outdoor elements. This pick is easy to put together and just as easy to take apart. Plus, it comes with two-year warranty coverage, so you can purchase with confidence and peace of mind.
Pros
Hose nozzle has nine settings
Space-efficient storage solution
Installation hardware included
Cons
Hose may kink during automatic rewind
Instructions could be clearer
List Price: $44.99
If you're looking for a high-quality product with a straightforward, space-efficient design and an affordable price tag, consider the Suncast Sidetracker Garden Hose Reel. This product arrives fully assembled and is ready to use right out of the box. It features a simple crank-style handle for winding and unwinding any garden hose with a maximum length of 100 feet. It can be mounted to a wall, fence or the side of your house, and it can be easily dismounted for off-season storage.
Made of top-quality, durable plastic material, its neutral taupe color will complement any yard, garden or outdoor space. It requires minimal maintenance and is easy to clean. Thanks to its UV- and water-resistant construction, this hose reel is highly durable and can withstand exposure to various weather conditions. With a low weight of just 3.1 pounds, it's easy to carry and relocate as needed.
Pros
Easy-to-use crank-style winding system
Garden hose included
Pre-assembled and ready to use
Cons
May be too small for larger yards
Comes in only one color
List Price: $109.23
Are you looking for a hose reel that'll add some style and decorative flair to your outdoor space while also keeping your hose neatly contained? If so, the Liberty Garden Products 704 Garden Hose Reel is a great choice. Featuring a balance between aesthetics and function, this wall-mounted option has a beautiful bronze finish and an ornate, eye-catching design. It's made from top-quality aluminum with a powdered coating for additional durability and rust resistance.
The hand crank has a rubber cover for slip resistance and a comfortable grip, while the built-in storage tray offers a convenient place to keep your gardening gloves and other small outdoor tools. It's designed to accommodate a ⅝-inch hose with a maximum length of 125 feet. Best of all, this hose reel ships fully assembled, so you don't have to worry about putting it together.
Pros
Stylish, intricate details
Slip-resistant, easy-grip crank handle
Durable aluminum and brass construction
Cons
Hose not included
Mounting hardware not included
List Price: $80.50
With its portable design and larger-than-average capacity, the KLZ Hose Reel Cart is a great choice for anyone with a large garden, yard or outdoor space. It features a wheeled design and a convenient handle with ergonomic grooves for a secure grip, making it easy to transport and relocate as needed. While most comparable hose reels are designed to hold hoses with a maximum length of 100 to 130 feet, this model can accommodate hoses measuring up to 175 feet long for better reach across larger spaces.
Featuring a discreet design, the neutral, earth-tone, taupe color will blend seamlessly with any outdoor décor. This product arrives completely assembled so you don't need to worry about time-consuming assembly or having the right tools on hand. Whether you need to water your garden beds or wash your car, this mobile hose reel is ready to go wherever it's needed.
Pros
Comes pre-assembled for convenience
Has wheels for effortless mobility
Accommodates up to a 175-foot-long hose
Cons
Doesn't come with a hose
Requires manual cranking
List Price: $99.99
The Gardena 18515-80 Hose Reel Cart is made from premium polypropylene material for maximum resistance to UV rays and frost, making it suitable for year-round use and ensuring a long service life. If you do experience any issues with the product or are dissatisfied for any reason, you can rest assured knowing that it's backed by a five-year manufacturer's warranty.
The wheels and slip-resistant handle make transporting this hose reel a breeze while the kickstand ensures that the cart stays securely in place. When it's time for storage, the kickstand folds in, reducing the cart to a compact size for space efficiency. This pick comes in bright turquoise, adding a pop of color to your outdoor space, and it can accommodate hoses that measure up to 165 feet.
Pros
Three size choices are available
Mobile design for convenience
Adjustable, easy-grip handle
Cons
Some assembly required
Garden hose not included
Buying Guide: Hose Reel
When choosing the best hose reel for your needs, there are several features and details to consider. This buyer's guide will walk you through the various factors to keep in mind as you're shopping so you can make a successful purchase.
Durability
Durability is an important factor to take into account. Look for a hose reel that's made from high-quality materials that'll be able to stand up to the outdoor elements. Construction materials like powder-coated metal or heavy-duty plastic are great options, as they're usually more resistant to weathering over time.
Size and hose capacity
The hose reel you choose should be able to accommodate your hose's length and circumference. Consider how long your hose needs to be to comfortably reach the spaces you plan to use it in and opt for a reel that can accommodate its size.
Portability
If you have a large yard or need to use your hose in more than one location, you'll want to choose a hose reel that's lightweight and easy to move. Some of the best and most mobile options feature wheels and a cart-like construction for effortless movement to different areas.
Ease of use
No one likes a difficult-to-use product, so make sure the hose reel you choose is user-friendly. Some models feature automatic retraction for hands-free storage, while others may have a hand crank or require you to coil up your hose manually. Regardless, the one you select should have an intuitive design and ergonomic features, and it should come with detailed instructions.
Installation and assembly
Some hose reel models are freestanding, while others need to be mounted to a wall or fence. If you choose a mountable option, make sure it comes with detailed instructions and all of the necessary installation hardware. Additionally, some products require assembly and others come pre-assembled. Consider which type of reel would best suit your needs and abilities.
Storage
For maximum convenience, look for a hose reel that's easy to store as needed. The best options are made from weather-resistant materials and are built to withstand exposure to moisture and extreme temperatures, allowing you to leave them outdoors year-round. However, if you plan to store the product in your shed or garage, aim for one that has a space-efficient construction such as a foldable or collapsible design for easy off-season storage.
Materials and quality
A hose reel's quality depends on its construction materials. Choose a product that's made with strong, weather-resistant materials such as powder-coated metal or heavy-duty plastic to ensure a long service life and optimal quality.
Price
When selecting the best product for your needs, consider your budget. Many hose reels are available at different prices based on their features and quality, so aim for an option that's within your budget and has the features you want.
Warranty
Before making a purchase, ensure the model you're considering includes warranty coverage and check to see what the policy includes and how long it'll remain in effect. This will ensure that you're covered in case of any issues with the product down the line.
People Also Ask
What is the best hose reel for a large garden?
The best hose reel for a large garden is one that has a large capacity to accommodate longer hoses. Depending on the size of your space, consider opting for a model that can accommodate a hose that measures more than 150 feet in length.
Do hose reels come with a warranty?
Yes, many reputable brands offer limited warranties against defects or other issues. Generally, these policies remain in effect for one to three years from the purchase date. Be sure to check the fine print before buying to ensure your product comes with adequate warranty protection for your standards.
What materials are used in the construction of hose reels?
Construction materials may vary depending on the model. Generally, these products have stainless steel hardware and are made with heavy-duty plastic and metals like aluminum or galvanized steel for added strength and protection against corrosion. Some models also feature powder-coated finishes or polyvinyl chloride (PVC) tubing for added resistance to UV rays and extreme temperatures.
How much does a hose reel cost?
Hose reel prices vary greatly from model to model. Generally, you can expect to pay around $50 to $150, depending on the product's features and quality. Keep in mind that spending extra money upfront on high-quality models may save you money in the long run due to their typically superior durability.
Is it easy to operate a hose reel?
Most hose reels have intuitive features and are easy to use. Generally, automatic models are less physically taxing than manually operated reels, making them ideal for those with limited hand mobility or upper-body strength.
Why Trust Us
Our commitment to customers begins with a carefully curated product selection process, ensuring we provide high-quality and reliable options. We meticulously vet each hose reel, analyzing quantitative aspects, such as star ratings and review count, and qualitative factors, including review content and product features. Our dedicated team of bargain hunters consistently prioritizes your budget by meticulously scouring the market and identifying the best hose reels available without compromising on quality or performance. Our panel focuses on presenting the pros and cons of each hose reel and converting technical specs into understandable insights. We aim to ensure convenience and space efficiency with top-rated gardening and yard equipment.