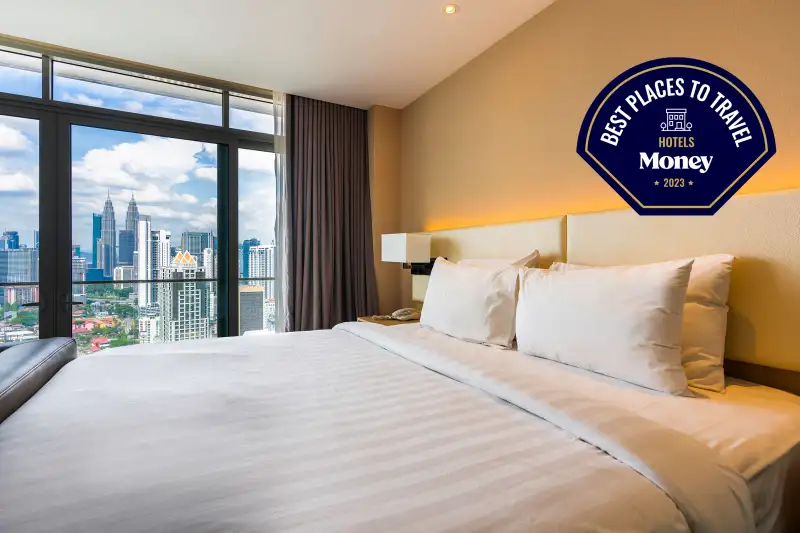 If you've stayed at a hotel lately, you probably felt the financial jolt of average room rates that are more than 50% higher than at the same time last year. It's especially smart now, then, to select lodging with care. You'll not only pay less for your room, potentially, but get more of what matters most to you from a hotel.
Our recommendations are by hotel chain, each of which includes many lodging brands (which we list beneath the chain's name). We also list the dedicated credit cards affiliated with each chain, since the ability to get additional rewards from a hotel's loyalty program by using the right card may affect your lodging choice.
Here are Money's picks for the five best hotel chains of 2023:
The Best Hotels of 2023
La Quinta + Wyndham Grand + Ramada + Days Inn + Super 8 + Travelodge + more
Pros
Wide variety of lower-priced hotels
Largest network of any chain we considered
Cons
Fewer upscale options than the other brands on our list
Why we chose it: Wyndham has the most hotels of all the companies we considered, a large proportion of which fall into the midscale and budget price ranges. These moderately priced properties rank highly for customer satisfaction.
Wyndham's portfolio of more than 9,000 properties encompasses a number of brands that are popular with travelers looking for a clean, comfortable room that won't break the bank — think Days Inn, La Quinta and Ramada. A few luxury properties fall under the Wyndham umbrella, too, including the Registry Collection.
Wyndham's rewards program makes it easy for travelers to take advantage of deals and save money on their trip. Recently, Wyndham offered a $100 credit for guests who stayed three consecutive nights at certain hotels. It also offers a 15% discount to guests who book and pay for their stay at least a week in advance.
Other Wyndham brands: Howard Johnson + Wyndham Garden + Microtel + Wingate + TRYP + more
Credit cards: Wyndham Rewards Earner by Barclays, Wyndham Rewards Earner Plus by Barclays
Courtesy of Westin Hotels & Resorts
Westin Hotels & Resorts + SpringHill Suites + TownePlace Suites + Four Points by Sheraton + more
Pros
Highly rated on multiple customer satisfaction surveys
Enormous network of varied hotel types
Popular rewards program
Cons
Fewer budget options than other major brands
Why we chose it: Marriott ranked highly on multiple measures of customer satisfaction.
Marriott is one of the largest and most beloved hotel companies in the world, and it's not hard to see why. The company's vast network includes more than 8,000 properties across 31 brands in 139 countries, and there's something for just about every type of traveler under that umbrella. There are ultra-luxury options like St. Regis and Ritz-Carlton, sleek urban destinations like JW Marriott and W Hotels, tried-and-true standards like Westin and Sheraton, budget options like SpringHill Suites and extended stay brands like Residence Inn — to name just a few.
Marriott hotels ranked highly in all categories on J.D. Power's 2022 North America Hotel Guest Satisfaction Index Study, and the brand was ranked first on the 2022 American Customer Satisfaction Index.
Other Marriott brands: Marriott Hotels + Fairfield Inn & Suites + Renaissance Hotels + Aloft Hotels + Autograph Collection Hotels + Moxy Hotels + more
Credit cards: Marriott Bonvoy Boundless from Chase, Marriott Bonvoy Bold from Chase, Marriott Bonvoy Bevy from American Express, Marriott Bonvoy Brilliant from American Express
Kimpton + Hotel Indigo + Holiday Inn + Crowne Plaza + StayBridge Suites + more
Pros
Very pet-friendly, especially at Kimpton properties
Variety of hotel types, from luxury Intercontinental Hotels to budget-oriented Holiday Inns.
Cons
A smaller network than some other chains
Why we chose it: IHG's ultra-pet-friendly Kimpton brand makes traveling with an animal companion a breeze.
Pets stay free at Kimpton hotels, where they also enjoy dedicated pet beds, food and water bowls and more. There are no restrictions on size, weight or breed, and Kimpton guests even get access to the Wag! Premium platform to book walking or sitting services during their stay.
Kimpton isn't the only IHG brand that welcomes pets. Others like Hotel Indigo, Holiday Inn, Holiday Inn Express and Staybridge Suites also allow pets at some locations. Be sure to confirm any restrictions before you book, and be aware that you may be responsible for a pet fee or deposit.
Other IHG Brands: Intercontinental Hotels & Resorts + Six Senses + Even + Avid + Candlewood Suites + more
Credit cards: IHG Rewards Traveler from Chase, IHG Rewards Premier from Chase
Hampton Inn Suites / Hilton
Waldorf Astoria + Embassy Suites + Hampton by Hilton + Homewood Suites + More
Pros
Rewards accumulate quickly and deliver welcome perks
Large network of varied brands
High ratings for customer satisfaction
Cons
Rewards points can expire
Why we chose it: Hilton Honors, our top pick in hotel rewards programs, offers great extras and discounts and allows travelers to earn top-tier status after just 42 nights.
Hilton's 7,000+-property network has a wide variety of options for travelers to choose from, from the luxury Waldorf Astoria and Conrad hotels to family-friendly Embassy Suites to the extended stay Homewood Suites brand. Members don't pay resort fees on stays they book with points, and they get great perks on sign-up, including free WiFi and guaranteed discount rates. Rewards members can earn and transfer points with dozens of partner programs, including those of Lyft, American Express and a number of airlines, including Delta and United.
Other Hilton brands: Conrad + Canopy + Curio Collection + DoubleTree + Hilton Garden Inn + Tru + more
Credit cards: Hilton Honors by American Express, Hilton Honors Surpass by American Express, Hilton Honors Aspire by American Express
Park Hyatt + Grand Hyatt + Hyatt House + Andaz + Thompson Hotels + more
Pros
Wide array of properties aimed at upscale business travelers, with locations in major cities
Growing portfolio of all-inclusive resorts
Cons
Smaller network than the other brands on our list
Fewer low-budget options
Why we chose it: Hyatt has lots of hotels in big cities and its extended stay brand, Hyatt House, gets great reviews from customers – many of them business travelers.
With lots of locations (and brands) to choose from in major cities around the globe, Hyatt hotels are a great choice for business travelers. Brands like the Grand Hyatt and Hyatt Regency cater to upscale business travelers and offer amenities like meeting rooms and in-room work spaces. Hyatt House, the company's extended-stay brand, ranked first in the upscale extended stay category of the J.D. Power 2022 North America Hotel Guest Satisfaction Index Study.
Frequent business travelers should be sure to sign up for Hyatt's rewards program. Hyatt's Inclusive Collection — a group of more than 100 hotels and resorts in popular vacation spots like Cancun, the Caribbean and Europe — is a great place to put rewards points to good use.
Other Hyatt brands: Hyatt Regency + Hyatt Place + Miraval + Caption by Hyatt + Destination by Hyatt + more
Credit card: World of Hyatt by Chase
Other Hotel Brands We Considered
This chain's offerings are very similar to those of Wyndham and it, too, is a fine choice for travelers on a budget.
Why we didn't choose it: Choice has fewer brands than Wyndham, so its properties are less ubiquitous.
This brand, too, is aimed at budget travelers, so it too is worth considering if its locations work for you.
Why we didn't choose it: Best Western has half the number of hotels of Wyndham. Its rewards program is also less robust.
A Guide to Hotels
In most destinations, travelers face a plethora of lodging choices. Here's information to help you decide among types of hotels (and how hotels differ from motels, resorts and short-term rentals) and some tips on how to choose a place to stay on your next vacation or business trip.
What to consider before booking a hotel
For many consumers, cost and location will be key drivers of the property you choose. But here are five other potentially important factors beyond those that might affect your selection.
Customer reviews
Our hotel picks consider, among other factors, how the chain on the whole stacks up in satisfying its customers. But there are variations, sometimes significant ones, in satisfaction by brand within the chain's family and even between facilities within the same brand. Check TripAdvisor and other such crowdsourcing sites/apps to determine the satisfaction (and other visitor pros and cons) for locations you are considering.
Amenities and extras
If an amenity such as a swimming pool is a must-have for you, don't rely only on whether it is listed for a particular property; rather, confirm that it will in fact be open at the time of your visit. Similarly, if a property promises that complimentary breakfast is included, those who care about the first meal of the day should check on what's actually offered, and during which hours – as well as checking user reviews for issues such as overcrowding in the breakfast area.
WiFi reliability
A wireless web connection you can count on is important, even on a leisure trip. Some chains provide free access and/or upgraded network speeds to members of their rewards program. Network reliability is highly local, though, so it's best to check platforms such as TripAdvisor for comments from past visitors to the specific property you're considering visiting.
Hidden fees and taxes
The most notorious hidden charges, especially at the moment, are resort fees (which are sometimes known as "urban destination fees" at un-resort-like city hotels). Targeted for eventual legislation by President Joe Biden in his 2023 State of the Union address, the charges can swell your final bill by 50% or more, and are often not disclosed in advance of check-in. If they are not mentioned when you reserve, ask in advance of arrival whether there is such a charge, and consider it in your buying decision. (Alternatively, some advocates suggest simply refusing to pay the charge once you're at the property.)
The most common tax at U.S. hotels is an occupancy tax (which may be known as the hotel tax or lodging tax), charged by the local municipality. Depending to the property and its location, this and other taxes may not be disclosed when you reserve, so research what to expect on the hotel's website or that of the local tourism authority.
Accessibility
If you or one of your party are disabled, be aware that the American Disabilities Act requires all hotels, motels, inns and other places of lodging designed or constructed after January 26, 1993 to be accessible to, and usable by, persons with disabilities. If you're unsure of a hotel's age, contact the facility, which is required to provide information on its accessibility.
When is the best time to book a hotel?
Travel experts sometimes advise booking a hotel room as close to your actual stay, since it can yield the lowest price. As dates loom, the hotel fears being left with unused "room inventory," and so it cuts rates in order to recoup at least some revenue on as-yet-unclaimed rooms.

However, this strategy comes with a risk. Rooms may sell out ahead of those last few days before your arrival — especially in high season or when special events have brought an unusual number of travelers to the facility or its area.

An alternative timing plan can provide the best of both worlds, provided you're prepared to do a little extra work. It begins by booking a room — or multiple rooms at competing properties — as soon as your travel plans begin to firm up. Resist options that dangle a lower rate but are non-refundable. Instead, choose the least expensive refundable option at the time you book.
Then monitor prices for the property as your trip approaches, perhaps by setting weekly reminders to do so – followed by those every day or two as departure time approaches. If prices drop, you can usually make another booking at the lower price, and then cancel the original, more costly booking.
How hotels differ from resorts
Both of these lodging types offer dining and often such other amenities as meeting rooms. But here are the distinctions between the two.
Hotels are places to stay
When you stay at a hotel, you're at your destination mostly to do something other than hang out at the facility itself — like spend time sightseeing or at nearby attractions like theme parks. Examples are most lodgings within major cities, and near airports and attractions such as national parks. A hotel may have recreational facilities such as swimming pools or health clubs, but these are more additional perks during a stay than a major focus of activity.
Resorts are destinations unto themselves
In contrast to hotels — which are lodgings located near attractions that will consume much of your time during a stay — resorts are destinations unto themselves. Their recreational facilities aim to be more than conveniences after a day spent sightseeing beyond the facility. They're typically more extensive and luxurious than those at hotels; resorts may boast multiple swimming pools, for example, and full-service spas with services such as masseurs and yoga classes.
Hotels/resorts compared with other lodging
Here's how the amenities and experience of choosing alternative lodging options compares with staying at a hotel.
Hotel vs. motel?
Hotels generally offer more amenities to guests, including restaurants and exercise rooms, and cater to those who arrive by car, as well as via taxi, bus or ride-share vehicle. Motels, by contrast, generally offer a more Spartan experience and cater almost exclusively to drivers. Parking is usually in closer proximity to the room, and sometimes even directly in front of it.
A hotel compared to a bed and breakfast?
A hotel is a structure that's dedicated exclusively to hospitality, and is usually owned by a corporation. Breakfast may or may not be included in the price of the room. A bed and breakfast, by contrast, is typically a private home in which the owners rent rooms within their property by the night to visitors, and almost always include breakfast.
How does a hotel differ from a short-term rental such as an Airbnb?
Hotels are mostly purpose-built as lodging facilities, and are used in that manner on a full-time basis. A professional staff caters to guests' needs, such as providing fresh linens and arranging optional services.
A short-term rental, by contrast, typically provides the use of a private home, often arranged through such agencies as Airbnb and VRBO. It's rare for professional staff to support the stay, although the home's owner may be nearby to provide some services and assistance.
How to get discounts on hotels
In addition to the strategy outlined above — of booking early and monitoring prices as your trip approaches — here are three other tips to getting a room for less, or at least for getting more room for your money.
Use apps
The likes of Kayak and Travelocity allow you to easily compare prices across chains and properties at a destination, and often to track prices over time for a destination or particular property. Even if you've booked a room through the hotel chain itself, such apps allow you to price-check what you paid — and some chains pledge to match any lower price you find on an app. Finally, the apps themselves often have their own loyalty programs, which may allow you to earn rewards, in addition to those you earn on hotel rewards programs.
Bundle your room with your flight and more
Travel apps and sites such as Kayak and Travelocity – and sometimes even the airlines themselves — frequently offer bundled packages that extend discounts if you buy your hotel stay with a flight or car rental, or both.
Join the hotel's loyalty program
While designed primarily for those who travel a lot, these programs can also deliver perks to occasional travelers. For one, regardless of your status in the program, experts say you're more likely to be upgraded to a bigger, better room if you're part of the hotel's loyalty program. Programs are free to join.
How We Chose the Best Hotels
To compile our list of the best hotels, Money editorial staff used a wide range of criteria to independently assess seven major hotel chains. For starters, we evaluated the breadth of the brands, including the number of locations and the price range encompassed by their various hotel lines.
In addition, we considered the rewards perks of each hotel network and considered several measures of customer satisfaction, including the J.D. Power 2022 North America Hotel Guest Satisfaction Index Study and the American Customer Satisfaction Index. We also considered average daily rate data from public filings, when available.
We made our picks with the understanding that no single hotel is the best choice for every traveler on every trip — each hotel group has strengths and weaknesses, and our aim is to highlight the strengths that differentiate the winners. Money only evaluated major hotel chains with locations in the United States.
Summary of Money's Best Hotels of 2023
No one hotel chain suits all travelers, and not only because some lodging brands specialize by budget — and so may tend to be more luxe than you're able to afford or more Spartan than you prefer. If spending less is your highest priority, we suggest the Wyndham chain, whose brands (including La Quinta, Ramada, Days Inn, Super 8 and Travelodge) have high satisfaction scores given their low prices. A room within the Marriott chain, on the other hand, is more likely to be satisfying, even if it may cost you a bit more than at most chains.
Pet lovers should consider IHG Hotels & Resorts, especially its Kimpton properties, where dogs and cats stay free and enjoy such perks as pet beds. If scoring rewards is a priority, the Hilton chain allows you to accumulate points more quickly than most chains. And business travelers — especially those who favor longer stays — should give a first look to the Hyatt hotel family.