This $100 Gadget Is Taking Over Kitchens Everywhere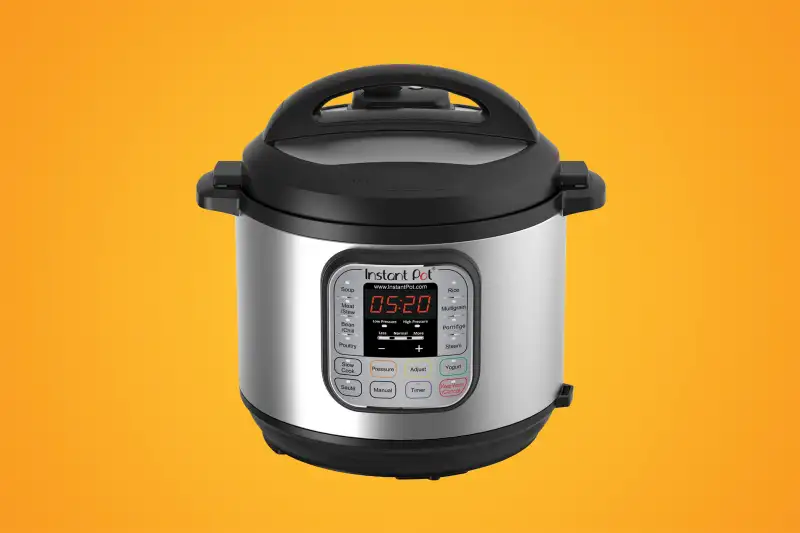 Kitchen appliances don't normally stir up super strong emotions. The Instant Pot, a multitasking pressure cooker that's become a cult favorite among cooks, is one of the exceptions.
The six-quart Instant Pot DUO60 7-in-1 Multi-Functional Pressure Cooker ($100) is not only Amazon's top seller in the Home & Kitchen category, it also has inspired customers to write the most reviews by far of any bestseller: At last check, there were nearly 18,000 reviews, 84% of which were five stars. For the sake of comparison, the highest-rated pressure cooker that's not an Instant Pot product is a Cuisinart six-quarter unit ($70) that's generated "only" about 1,300 reviews.
Instant Pot, which functions as a pressure cooker, slow cooker, rice cooker, steamer, sauté pan, yogurt maker and warmer, tends to draw the kinds of over-the-top reviews that seem plucked directly from infomercials. "I seriously can't believe how many foods can be cooked in here!" one reviewer wrote. "Love this!! I was scared to buy a pressure cooker but with all the functions on this it is a breeze to use," another said. The word "love" comes up a lot in these reviews.
The cult of Instant Pot has gotten so big it attracted the attention of old-media foodies, most of whom initially laughed off the possibility it could live up to the hype. Yet in the typical independent tryout, the skeptical reviewer is bowled over by how good the Instant Pot really is.
"After cooking a pork shoulder in the electric pressure cooker, I could easily see why the appliance has struck a chord," wrote the New York Times' Melissa Clark. "It was that pork shoulder that turned me into a believer."
"The Instant Pot sounds like something you see when you're channel surfing late at night," Bon Appetit said in its write-up. "In reality, it's just a really good pressure cooker that does some other cool things too." The title of the writeup, by the way, was "The Instant Pot Will Change Your Life — No Joke."
"Even us recipe professionals have fallen head over heels," a TODAY show correspondent declared of the Instant Pot.
Amazon sold an astounding 215,000 Instant Pots on on Amazon Prime Day last summer when they were marked down to $70. But Instant Pot's rise began long before then.
"We got the first ones about five years ago and they sold out right away. They really fly off the shelves," a kitchen-supply store owner told the Ottawa Citizen last fall (at which point the product had only about 12,000 reviews on Amazon). "It's one of those appliances that not many people know about, but there's a huge, almost cult, following."
How could such a hit product still remain relatively below the radar? The main explanation is that Double Insight, the Canadian firm that makes Instant Pots, has used very unconventional marketing strategies. In fact, the Instant Pot's runaway success was entirely viral.
"Instant Pot initially did not go into traditional media," Double Insight spokeswoman Anna Meglio said. Instead, the company went for "grassroots marketing initiatives." Basically, the company identified top cooking bloggers and sent them freebies, and then let the Instant Pot's capabilities speak for themselves.
Instant Pot has been very involved in low-cost social media marketing as well. The company encourages Instant Pot owners to join its Facebook community — which has nearly 450,000 members — where they can share recipes and crowdsource cooking advice.
Instant Pot runs recipe contests and has a slew of cooking videos on its site — which is good, because one of users' few complaints is the steep learning curve for figuring out how to best use it. There's a small but growing number of Instant Pot cookbooks too.
Of course, none of the marketing initiatives would have mattered if the Instant Pot didn't produce delicious food. "Cooking is very much a social behavior. If people make good food, they will be raving about it, including the tools used," Instant Pot CEO Robert Wang told NPR.
Wang credits a combination of social trends and dietary preferences for Instant Pot's success. He told the Ottawa Citizen that increasing demand for healthier food, faster meal prep and energy-efficient appliances have helped the Instant Pot find a niche in people's kitchens. What's more, Instant Pot was designed from the outset to appeal to cooks across the ethnic and cultural spectrum — there are preset buttons for beans, porridge, rice and yogurt — and the user manuals come in French, Spanish and Chinese as well as English.
The company has come out with a few different models, which often incorporate features requested by customers. In addition to the top-selling DUO60 ($100), there is the Instant Pot DUO80 ($130), which performs the same functions but is eight quarts instead of six.
Then there is the high-tech Instant Pot "smart" cooker, which features Bluetooth connectivity and a mobile app, so you can program the pot and monitor cooking right from your phone. In spite of its hefty $180 price tag, the "smart" Instant Pot is so popular that there's currently a 10-to-12-week wait period for orders.
We've included affiliate links into this article. Click here to learn what those are.