The Best KitchenAid Hand Mixer for Your Money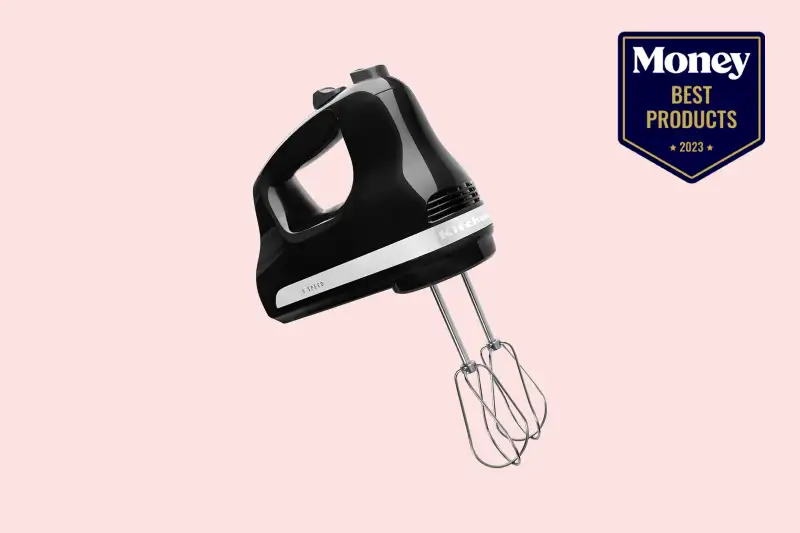 Compact and lightweight, this no-fuss KitchenAid Hand Mixer is an entry-level addition to the brand's extraordinary range of kitchen accessories and appliances. While it doesn't feature all the bells and whistles of other models, it's a high-quality piece of equipment that can help you fast-track tedious baking tasks and whip up your favorite desserts.
Here, we'll give you a rundown of what we love about this hand mixer, its standout features, and some other details you might be interested in. So whether you're whipping up batter for a birthday cake or your famous mashed potatoes recipe this holiday season, this KitchenAid hand mixer can make things easier each step of the way.
Things we love
Lightweight and easy to maneuver
Quick setup process
Requires little storage space
Compatible with any bowl
Wide color range
Stainless steel beaters
Lockable swivel cord
Things we miss
Dough hooks and whisk attachments
A storage case
A recipe booklet
KitchenAid Hand Mixer: What we love
Whether you're getting this hand mixer for a tween, a grandparent, or a new homeowner, there's a color to suit pretty much every style: from green apple and guava glaze to ice blue and matte black, you'll be able to choose from a wide range of colors. While color can be important, functionality is vital, and two standout features make this appliance a popular choice with home chefs.
The first is its low-speed setting. While other models may offer a greater number of speed settings, their lowest speed is often powerful enough to spray your whipped cream across the kitchen, reducing your mixture by as much as half before you're able to achieve soft peaks.
The starting rotation of this five-speed KitchenAid hand mixer, though, is slow enough to prevent any thin liquids from splattering outside the bowl. Once the mixture starts to thicken slightly, increase its speed and you'll have perfectly whipped cream in no time.
The second standout feature is its lockable swivel cord. A seemingly insignificant feature, the cord's attachment point is designed to rotate either left or right. This makes it easy to use the appliance from any angle without the cord getting in the way, and it also allows you to stand the unit upright when it's not being used.
Designs that don't take plug location into consideration end up being off-balance, leading the machine to fall over when you try and stand it up. This means you'll have to lie the mixer on its side in between mixing sessions, causing the beaters to drip batter all over your counter. Because you can move and lock this hand mixer's cord entirely out of the way, though, it will stay stable and in an upright position, giving you better control over your work area and helping you keep your counter clean.
We should also mention that this mixer is fairly quiet. You'll be able to have a conversation while using it without having to raise your voice too much.
KitchenAid Hand Mixer: Design
This KitchenAid hand mixer's color range perfectly suits its retro design. Bright pastels make this an ultra-fun appliance, while black, white, or silver turn its retro style into a timeless piece for those who prefer a more classic look.
This device is super lightweight, weighing in at just two pounds. This allows it to strike a great balance between being easy to handle and offering enough sturdiness for mixing medium-density batters. Models that are too heavy cause wrist and hand strain, and you risk losing control when you can't hold them properly. On the other hand, mixers that are too light don't have the robust quality required to beat heavier batters.
This KitchenAid hand mixer's compact size makes it easy to store in a drawer, a cupboard, or even in your mixing bowl. Speaking of mixing bowls, the great thing about hand mixers is that their design allows you to use them with any bowl you have, making them incredibly versatile. For example, you can leave some spuds to cool in their bowl before whisking up fluffy mashed potatoes with your hand mixer, all without having to dirty more dishes.
The back of this unit is flat enough to allow it to stand upright, while the front has a rounded design with air vents to prevent overheating. Two large buttons on top make this mixer easy to handle and change speeds while using it.
One design feature we love about this KitchenAid hand mixer is its beaters. Older-style beaters come with a center post surrounded by the beater cage, but this design is free from such a post, which offers some great benefits. First, it lowers the possibility of batter getting stuck around the fixtures, and second, it's much easier to clean, even if batter does get into the middle.
Beaters with a thicker design are generally better for mixing cake and cookie batters, while a thin whisk design is ideal for incorporating small air bubbles without beating out air in the process. This KitchenAid hand mixer's beaters occupy a nice middle ground, and you'll be able to use them for either purpose. They're sturdy enough to whisk batters, but they're also thin enough to incorporate small pockets of air into egg whites, frosting, and whipped cream, allowing you to use a single set of beaters for all kinds of jobs. They're also made from stainless steel, so they won't rust and can be popped into the dishwasher for easy cleaning.
KitchenAid Hand Mixer: Features
This entry-level hand mixer has five speed settings, which is fewer than many higher-end models but perfect for what it's designed to do. Always start mixing on a low setting, slowly increasing the speed as the batter incorporates wet and dry ingredients together or as liquids start to thicken. Low speeds are generally better for thicker batters, while high speeds are effective for aerating fluid mixtures. Shifting the speed button from Zero to One starts the spinning motion, so there's no need for an ON/OFF button, making it simple enough for even children to use (while being supervised, of course).
This hand mixer's eject button is located just in front of the speed settings. When pressed down, it effortlessly ejects the beaters from the device for easy cleaning.
Its cord is 36 inches long, making it a breeze to maneuver this KitchenAid hand mixer between the power outlet and your work area without having to rearrange your entire kitchen.
If you've worked with a hand mixer before, the instruction manual probably won't be necessary, but there's one included for any troubleshooting and to act as a guide for the speed settings and attachments.
Things to consider
While this KitchenAid hand mixer is a compact device that can quickly be whipped out for various uses, there are a few things to consider before making your purchase.
The five-speed entry-level model comes with beater attachments only. Although these double up as both beaters to mix batter and a whisk for aerating egg whites, some customers expect a separate whisk attachment, along with dough hooks as well. Dough hooks are ideal for effortlessly kneading bread and pizza dough, but this isn't possible with a beater attachment, so expect to knead dough the old-fashioned way.
The good news is that additional beater and whisk attachments can be purchased separately. If you've lost or broken one (or if you just really miss the dedicated whisk attachment), you can easily purchase it as an add-on.
While this KitchenAid hand mixer is easy to store, we do wish it came with a storage container for the beaters, or at least a protective pouch to keep them safe.
Who the KitchenAid five-speed mixer is recommended for
If you bake casually and mainly want something to whip up cream, cake, cupcake, waffle, and pancake batters, this gadget can be ideal for you. It's great for compact kitchens, small families, and cooks who don't plan on mixing bulk batters, and if you have an avid young baker in the house who's just learning the ropes, this can make a perfect gift. Its easy operation and fun colors can allow them to practice their skills, stay inspired and build their collection of cooking and baking accessories.
For perfectionists who want to ensure they get the finest results by using precise methods, a stand mixer with a paddle beater, balloon whisk, and dough hooks will allow you to optimize every little detail; the single attachment on this model will most likely leave you wanting more.
If you're a seasoned baker who loves making bread, donuts, and pizza dough, or if you have a home baking business that requires bulk mixing, you'll be better off with a sturdier, large-capacity stand mixer. A stand mixer will also allow you to whip and mix batters much faster. We do, however, recommend always having an emergency backup, and for that, this little KitchenAid hand mixer is perfect.
Why trust us
As part of our commitment to make your money go further, we aim to offer the most accurate and up-to-date product information so you can shop with confidence. Every guide undergoes a rigorous process of research, expert insights, fact-checking, and careful editing. Since our kitchen experts have a background in catering, restaurants, and home cooking, they know exactly what to look for when it comes to making culinary magic.