The Best KitchenAid Stand Mixers for Your Money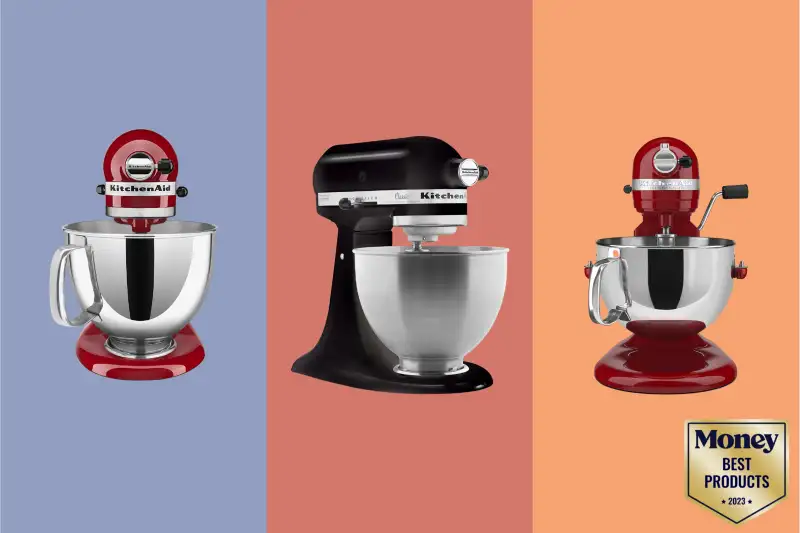 Whether you're making a simple meal or an elaborate feast, you'll want it to come out perfectly. Various appliances can make cooking easier, but one of the most versatile is the KitchenAid stand mixer. With a KitchenAid stand mixer, you're able to handle a wide variety of tasks from shredding cheese and slicing vegetables to grinding meat and kneading dough — all without requiring extra bowls. To help you choose the perfect one for your needs, we've listed some of the top-rated KitchenAid stand mixers of 2023 down below.
Best Overall: KitchenAid Artisan Stand Mixer
Sleek: KitchenAid Classic Series Stand Mixer
Ideal for Professional Chefs: KitchenAid Professional Series Stand Mixer
Most Compact: KitchenAid Artisan Mini Stand Mixer
For Bulk Baking: KitchenAid Commercial Stand Mixer
Comparing the Top KitchenAid Stand Mixers of 2023
List Price: $349.00
The KitchenAid Artisan Stand Mixer is a must-have appliance for every kitchen. This machine boasts 59-point planetary mixing action that ensures your ingredients will be evenly distributed, while its 10-speed slide control allows you to adjust its speed for the job at hand. Equipped with a 5-quart stainless steel bowl, this mixer also features a non-hinged hub cover to make sure that everything stays secure during operation.
This stand mixer comes with three different attachments, including a wire whisk, a flat beater, and a dough hook. You can also purchase various compatible attachments that will allow you to use it to make pasta, shred cheese or accomplish a whole host of common kitchen tasks. Because of its variable speed setting, unique mixing action, and versatile attachments, this stand mixer is unquestionably our top pick.
Pros
Stainless steel bowl included for maximum durability
Comes with a pouring shield
Easy to clean and maintain
Available in a range of colors
Cons
Short power cord
Pouring shield may arrive warped
List Price: $329.99
The KitchenAid Classic Series Stand Mixer is ideal for the modern kitchen. Boasting all-metal construction, this mixer comes equipped with a 4.5-quart stainless steel bowl and a powerful motor that offers 59-touchpoint mixing action. Its tilt-head design allows you to easily add ingredients, and it also lets you scrape down the sides of the bowl when necessary to make sure all ingredients are incorporated.
With this KitchenAid stand mixer, you'll get a flat beater for making cakes and bread, a coated dough hook for kneading dough, and a wire whisk to make whipped cream or beat egg whites. For maximum versatility, you can also purchase over 10 optional attachments for this mixer, from spiralizers to ice cream makers. With its sleek design and elegant colors, this KitchenAid can look good on any countertop.
Pros
Flat bottom for increased stability
Features easy-to-use speed controls
Attachments are dishwasher-safe
Comes with a one-year limited warranty
Cons
Bowl doesn't have a handle
Loud while mixing
List Price: $599.99
If you're looking for a durable, high-performance stand mixer that can last for years, look no further than the KitchenAid Professional Series Stand Mixer. With 67-point planetary mixing action, this workhorse of an appliance offers incredible bowl coverage to thoroughly mix ingredients, which is something that every professional can appreciate.
This stand mixer comes equipped with a 6-quart bowl that can help you make large batches of treats, while its bowl-lift design offers increased stability for heavy-duty mixing. It features 10 adjustable speed settings that, along with the included burnished flat beater, power knead spiral dough hook, and wire whip, make this mixer versatile enough for practically any recipe you can imagine. Not only that, but this KitchenAid mixer is also compatible with a variety of attachments that you can purchase separately, allowing you to make everything from pasta to purees.
Pros
Large stainless steel bowl
Ergonomic bowl handle for increased comfort
Bowl-lift design for maximum stability
Available in a wide range of colors
Cons
Doesn't come with a splash guard
Not ideal for heavy dough
List Price: $379.99
If you need a mixer that's small but powerful, look no further than the KitchenAid Artisan Mini Stand Mixer. This appliance features 10 speed settings and offers 67 touchpoints around its bowl to provide fast, thorough mixing. With a 3.5-quart stainless steel bowl that's big enough to mix a large batch of cookie dough, this mixer can handle pretty much any common baking task you throw its way.
This stand mixer comes with a flex edge beater, a dough hook, and a six-wire whip so that you can mix everything from chocolate chip cookies to bread dough. If you need more attachments than those three options offer, you can purchase one (or all) of more than 10 additional attachments to tackle every kitchen task with ease.
Pros
Highly efficient motor for quick mixing
Comes with three attachments
Tilt-head design for easy ingredient adding
Available in a range of attractive colors
Cons
Attachments might be a bit flimsy
May wobble while mixing
List Price: $799.00 - $849.00
The KitchenAid Commercial Stand Mixer is the perfect choice for bakers, chefs, and aspiring home cooks who demand a high-quality product. This mixer delivers optimal torque without overheating thanks to its Powercore technology, so you can be sure that your dough will rise to the occasion. It features an 8-quart brushed stainless steel bowl, making it a breeze to mix ingredients for large batches of tasty treats.
This stand mixer boasts a tilt-head design with a smooth lever that makes it easy to switch between its various attachments. Its bowl guard offers increased safety while using it, and you'll also receive a power spiral dough hook, a wire whisk, and a flat beater with your purchase so that you can make everything from pizza dough to nut butter without missing a beat.
Pros
Strong, durable stainless steel bowl
J-style handle for easy maneuverability
Variable speed setting for maximum efficiency
Comes with a bowl guard
Cons
Not very durable
Low-quality motor gears
Buying Guide: KitchenAid Stand Mixers
A stand mixer can be an amazing addition to any kitchen, but finding the right one from the many options available can quickly become overwhelming. KitchenAid is a brand that has stood the test of time when it comes to stand mixers, and they offer plenty of great choices, from affordable options to heavy-duty machines that are ideal for professionals. In this buying guide, we'll break down the basics of these appliances to help you get your hands on a top KitchenAid stand mixer in 2023.
Factors to consider when purchasing a KitchenAid stand mixer
Bowl size
The size of your KitchenAid stand mixer's bowl determines the amount of batter or dough you can make. If you like to prepare a batch of cookies or knead pizza dough for the week ahead, you'll want a stand mixer that comes with a 6-quart bowl at the very least. If you're someone who bakes in smaller batches, a 4-quart bowl should suffice.
Speed settings
Because mixing speed directly affects both the consistency of ingredients when they're mixed and the time it takes to mix them, most KitchenAid stand mixers come with three or more speed settings. There are also some high-end models available that feature additional speed levels beyond the traditional low, medium, and high settings, offering you even more control over the mixing process.
Tilt-head or bowl-lift mixer
When buying a KitchenAid stand mixer, one of the biggest decisions you'll have to make is whether you should get a model with a tilt-head or a bowl-lift design. The main difference between these is the way the bowl is attached to the mixer: in tilt-head models, the mixing bowl is attached directly to the motor base, allowing you to easily add ingredients while mixing or swap out attachments by simply tipping it back.
A bowl-lift model, on the other hand, has a broad base and features a special lifting mechanism for raising or lowering the bowl. This not only gives you more control over how much batter you can beat/mix at once, but it also makes it much easier to scrape down the sides of the bowl.
Different KitchenAid stand mixer attachments
Flat beater
A flat beater features a rectangular paddle and is used to mix ingredients that need a thorough beating. If you want to try out the famous Dalgona coffee at home, a flat beater is an amazing tool to have.
Dough hook
A dough hook looks like a loop of cable and fits onto the shaft of your KitchenAid stand mixer's motor. While most people only use them for kneading bread dough, this amazing attachment can also come in handy for mixing cookie dough or cake batter.
Wire whisk
A wire whisk features interconnected wire loops to whisk different ingredients together while also keeping them aerated. It helps you make light, fluffy baked goods, as you can use it to whip egg whites into stiff peaks or make whipped cream frosting for desserts.
Meat grinder
If you're a meat lover, you can't make the most of your KitchenAid stand mixer without a meat grinder. This attachment helps you grind red meat quickly to make everything from patties to minced meat. A meat grinder usually comes with two plates: the coarse plate is ideal for making hamburger patties, while the fine plate can help you make sausage links or homemade dog food.
Tips to maintain your KitchenAid stand mixer
While most people believe that keeping their KitchenAid stand mixer clean does little more than add to its aesthetics, it's actually a matter of safety: using a dirty mixer runs the risk of exposing you and your family to a wide range of bacteria that can cause food poisoning. If you want to keep your KitchenAid stand mixer in pristine condition, follow these easy tips:
Clean the mixing bowl and attachments after every use to prevent grease build-up and inhibit the growth of bacteria that can damage the surface and put your family's health at risk
You should never use steel wool or an abrasive cleaner to wash off your stand mixer or its attachments
Always scrape off the sides of a metal mixing bowl with a silicone spatula or spoon to avoid scratching the bowl's finish
To keep your KitchenAid stand mixer's bowl and paddle attachment in tip-top shape, apply a small amount of vegetable oil to each
People Also Asked
Q: Which KitchenAid stand mixer attachment should I use to prepare mashed potatoes?
A: You can use a flat beater to prepare mashed potatoes as it will easily break up the potato lumps, giving them a smooth, creamy texture.
Q: How long should I knead the dough in my stand mixer?
A: The time it takes to knead dough depends on the type of dough and the mixer's speed. Generally speaking, though, it only takes 5 to 10 minutes to knead perfect cookie or pizza dough.
Q: Why should I use pouring shields for my KitchenAid stand mixer?
A: Pouring shields help keep ingredients from splattering or flying out of the mixing bowl. These shields also prevent spills and splashes when pouring ingredients, saving your shirt from wearing your ingredients and making cleanup a breeze.
Q: What can I make with a KitchenAid mixer?
A: You can use a KitchenAid stand mixer to mix batter for cakes, knead dough for pizza and whip cream and egg whites, plus a whole lot more.
Q: Can a KitchenAid stand mixer be used as a food processor?
A: KitchenAid stand mixers are compatible with a wide range of accessories that allow them to do the jobs of food processors and other common kitchen appliances. If you want to cut down on culinary clutter, consider picking one up.
Why Trust Us
Our commitment to the consumer begins with product selection and ends with the last word we write in each article. Each stand mixer is carefully vetted quantitatively through star ratings and number of reviews qualitatively through careful examination of reviews and the features each one has to offer. Leveraging our team of bargain hunters, we're also always sure to keep your budget in mind while we find the best mixers on the market. Our team of experts is dedicated to accurately depicting the pros and cons of each stand mixer, translating technical product specifications into information you can understand. Our mission is to make sure you get the most bang for your buck…or in this case the most dough for your dime.